July 20, 2022 | Jonathan Gieg, John Munson, Tony Sakich & Nick Zurick

The responsibility we have to our founders doesn't end when the investment is announced — it continues, through the good times and the bad.

Sometimes founders need help managing publicity for a major announcement; at other times introductions to other industry players. Not to mention the never-ending security audits. These aspects of a business aren't sexy but they are necessary for builders to continue building.

The Pantera Platform team is always looking ways we can add value, so that we can better serve our portfolio companies and continue building the future of decentralized finance.

A lot of what we do is behind the scenes — as it's meant to be. But we are excited to share some of our favorite things we were a part of in 2022.
Expanding The Platform Team
This year, we more than doubled our Platform team by adding four new members to the organization in areas we feel will benefit our portfolio companies. These new hires represent the best in talent, community and event management, marketing, communications, and legal.
Nick Zurick is Head of Talent – @NickZurick1 – Follow Nick on LinkedIn
Nick supports our portfolio companies by providing talent strategy consultations, talent process audits, and executive search. Previously, Nick was the first leadership recruiter at Robinhood and led international recruiting. 
John Munson is Head of Community – @JohnWMunson – Follow John on LinkedIn
John's role is to build a vibrant community for the 215+ portfolio companies that make up the Pantera family. Through a combination of in-person, virtual, and remote experiences he aims to facilitate and support relationships amongst these amazing founders and teams.
Andrew Harris is Senior Platform Associate – @Andrayday – Follow Andrew on LinkedIn
Andrew provides legal support in everything from business development, strategy, strategic partnerships growth, M&A advisory, governance, structuring, general legal and regulatory matters, and more. 
Tony Sakich is Director of Marketing & Communications – @Tony_Swish – Follow Tony on LinkedIn
Tony's role at Pantera is to work with founders on funding announcements, marketing strategies, design, branding and PR. Previously, Tony was a founding member of Augur with Pantera Co-CIO Joey Krug and managed many pioneering crypto marketing campaigns and industry firsts, including the first nationally televised Bitcoin commercials.
Pantera Bazaar
In 2022, we launched the Pantera Bazaar, the crypto-native portal for our portfolio founders to search, compare, and acquire the tools/partners they need to be successful, such as: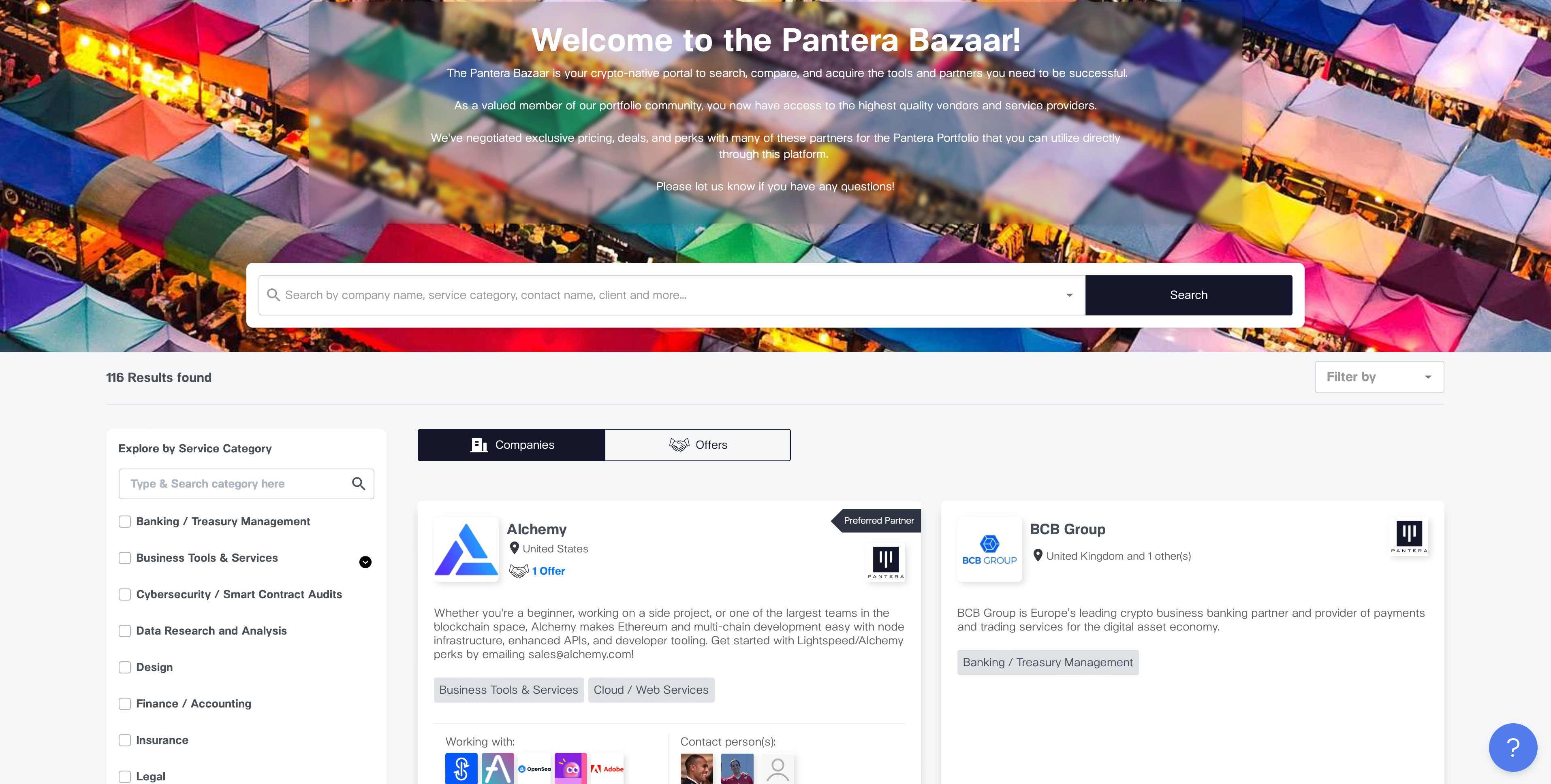 So far over $1.2 million in discounts from 100+ companies have been redeemed on the Pantera Bazaar.
The Pantera House
A home away from home for Pantera founders
Midway through an especially intense year of travel, it occurred to us that there was one challenge all our founders faced, surviving the conference circuit. What if we created a place that offered everything to both work and relax, apart from (but near) the hubbub of a conference?
Our Head of Community John Munson envisioned The Pantera House as a hub for founders and execs from our portfolio to relax, work, eat, drink, and socialize in a comfortable location away from the congestion and chaos of a large crypto conference. 
Our first two versions of Pantera House in Lisbon, Portugal and Bogota, Colombia were successfully packed with founders and Pantera team members throughout the day. The vibe was intimate, the conversation and drinks flowed, old friends caught up, and new friends were made.
Watch for more Pantera House events throughout 2023 around the world!
Learn more about Pantera House here.
Pantera Blockchain Summits
The Pantera Capital Blockchain Summit is an annual conference that brings together investors, partners, and portfolio company founders for a day of networking, learning, and inspiration. This year, the Summit was held in two locations: San Francisco and Singapore.
The San Francisco Summit featured a range of panels and keynotes from 30+ industry experts and thought leaders. Over 500 attendees had the opportunity to network with other investors and founders and learn about the latest trends and developments in the blockchain industry. After a full day of panels, we wrapped up the Summit with whiskey tasting and our Pantera poker tournament!
Videos of all San Francisco Summits speakers and panels can be found here.
The Singapore Summit was our first Summit held outside of the United States and focused on the growing blockchain ecosystem in Asia. We presented speakers from Amber Group, Coinbase, Temasek, Bybit, Anchorage and more to an audience of over 275 institutional investors and partners. We also had an amazing custom NFT gallery that featured 6529 Fund, Origin Protocol, and MakersPlace!
Videos of all Singapore Summit speakers and panels can be found here.
Talent
In Q4 2022, we:
Testimonial from Rift Finance: 
"

Any early stage company should do a Talent Audit like this to help spot the gaps in their talent processes. I'm a second-time founder and I found it super helpful. There were gaps in our candidate experience, pipeline management, and talent evaluation. Nick helped us set up the behind-the-scenes infrastructure to level up on all of these dimensions."

 

"As CEO, one of my top priorities is getting the best talent on our team to help us achieve our mission. It's one of the most difficult things when you're growing a company. Nick's Talent Audit and hands-on setup is helping our team hire faster, close more candidates at the finish line, and mitigate bad hires." **
Testimonial from Stride Labs:
"Nick's talent audit kicked our recruiting process into high gear. After reviewing all our docs and processes on his own time, he spent 4 hours 1:1 with our founding team. He revamped our hiring funnels, JDs, ATS system, candidate pitch, technical interviews SLAs, offer process, interview evaluation rubrics, and much more. On top of that, rather than reinventing the wheel he shared the best templates he created based on what has worked for other Web3 portfolio companies – basically all the nitty gritty docs and frameworks you need to land top talent." **
We've defined our function. And going into 2023, we are planning to focus our efforts on three core offerings:
Talent Strategy – we will help our portfolio companies structure your search, the process, put them in touch with the right partner, and help them manage the search & any applicable 3rd parties.

 

Example: helping portfolio companies negotiate and manage a contingent/retained search for the first time with an external vendor, talent mapping, compensation questions, ad-hoc questions, etc.
Talent Audit – we will help portfolio companies build best practices that allow them to take a data-driven approach to hiring. We will also help them implement processes – i.e. standardization and SLA's that will give them a competitive advantage over the competition. 

 

Example: we will perform a talent audit with portfolio companies to identify gaps in process, to increase interview efficiency, and to maximize candidate experience.
Executive Search – we will run the most critical searches for highly-qualified executives. We will be there when they say: "If I don't hire this VP of Engineering by the end of the year, this company will fail."

 

Example: End to end executive search, etc. 
Reach out and let us know if you would like a Talent Audit or help in any of these areas!
Partnerships
Throughout the past year, the Platform team has continued to negotiate with some of the industry's top organizations on deals and partnerships that will benefit portfolio companies. This initiative is slated to grow greatly in 2023, as we develop high-level partnerships with the best organizations in the industry.
Our most recent partnership with Quantstamp enables our portfolio companies to "skip the line" to access their services, most importantly security audits which often have a lengthy wait time. In addition to expedited audit services, companies can access audit readiness preparation and open office hours with Quantstamp professionals. In October, we partnered with CryptoCurrencyJobs.co, one of the leading job boards in the space to share content and new opportunities.
In 2023, our partnerships will continue to expand and a variety of new offerings will be made available to our portfolio companies.
**Certain statements in this blog post have been made by former or current executives of portfolio companies managed by Pantera or its affiliates (collectively, "Pantera"). While none of the executives quoted in this blog post were compensated for their participation in or statements made in the blog post, conflicts of interest may nevertheless exist in that Pantera, including funds managed by Pantera, and/or the executives of the portfolio companies could benefit from the success of the portfolio company. [In addition, some executives of portfolio companies managed by Pantera may also be investors in funds managed by Pantera and may receive certain economic benefits, including, but not limited to, receiving reduced fee arrangements, co-investment opportunities and/or other economic arrangements. None of these economic arrangements were provided in exchange for statements made in the blog post.