Portfolio Compensation Survey
December 6, 2022 | Nick Zurick
It may be a bear market but it's not a bad time to get into Web3 and blockchain with an average global base salary of $128,606. On average, professionals in the crypto-asset industry make significantly more than their peers in Web2. Now, If only there was a resource like Glassdoor (but for crypto) to help companies and potential employees make better informed decisions about working in our industry…
As part of our platform initiatives to support the success of our portfolio companies, we have identified that, for the relevant industries we invest in (blockchain, DeFi, Web3, etc.), there is no "go to", let alone sufficient, database for salary/compensation statistics. Providing access to such data would serve our portfolio companies, and perhaps the industry more broadly, in making better hiring and compensation decisions, and in turn lead to greater success.
With our Portfolio Compensation Survey, we have sought to address the lack of such a resource. We acknowledge that salaries change fast in the Web2 space and we know first hand that Web3 salaries have a tendency to change even faster! We'll conduct this survey bi-annually to provide our portfolio companies with current data in increasing degrees of granularity.  
For our first Compensation Survey, we took a look at 15 geographically distributed startups in the crypto space. The companies surveyed vary from teams of < 5 to companies 115 plus, Seed to Series B investment stages, with 87% of personnel being fully remote. 
Engineering: 
We compared our sample of 224 crypto engineers across the globe with that of Carta Total Compensation (primarily Web2 data) in the $25-50mm market cap peer group and this is was the result: 
The average base crypto engineering salary came in at $144,892, with a median of $150,000. U.S. and Canadian engineering salaries average at $177,653, with one standout engineer making $346,500. In Web2, a senior engineer (IC5) in the Bay Area can expect $183,000 while a mid-level engineer (IC2) can expect $140,000. We take this as an indicator that engineers (particularly senior engineers) in crypto are generally making more than their peers at Web2 companies.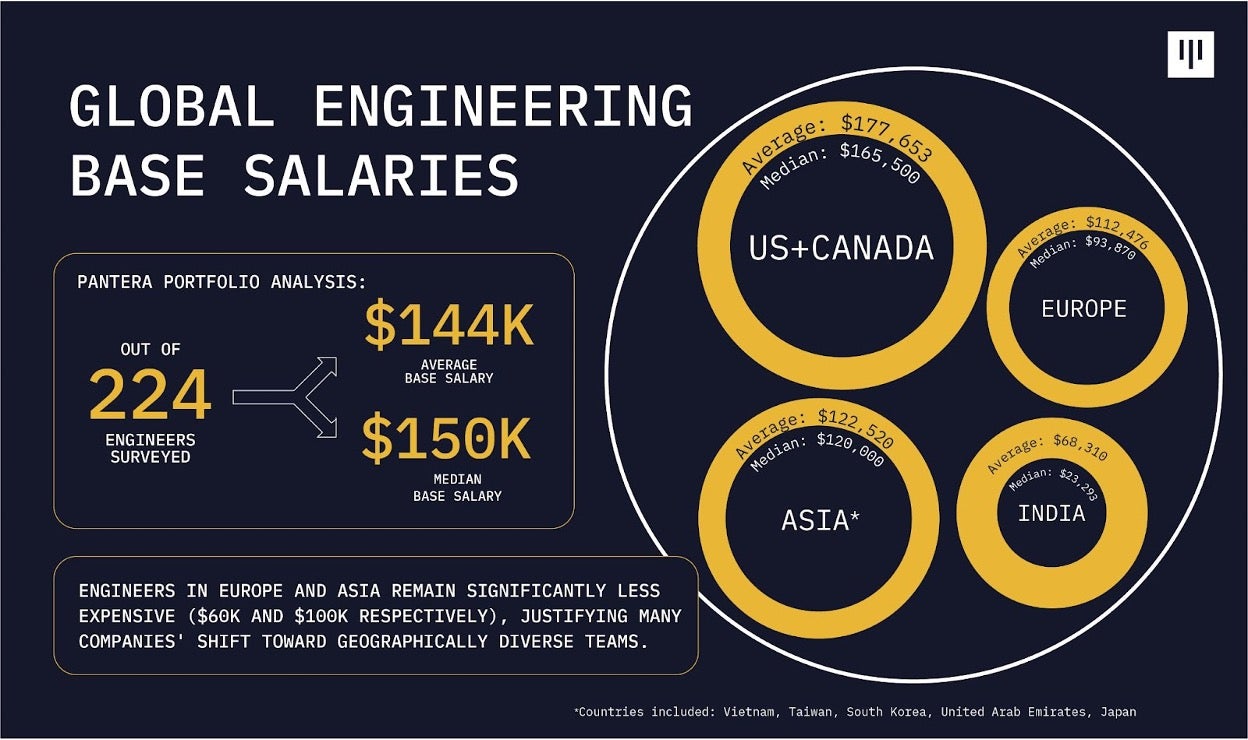 We found token incentives particularly interesting, with the average token package totalling at $341,157, with a median of $87,500. We initially thought this made sense due to the variety of stages of the companies surveyed, but after taking a closer look, there does not seem to be a clear industry standard around token incentivization. Our own Lauren Stephanian said it best in a blog post on token incentivization earlier this year. 
Global Engineering Base Salary Data:
Average U.S. and Canada: $177,653
Median U.S. and Canada: $165,500
Average Europe: $112,476
Median Europe: $93,870
Average India: $68,310
Median India: $23,293
Average in Asia: $70,919
Median in Asia: $85,000
Engineers in Europe and Asia remain significantly less expensive ($60K and $100K respectively), justifying many companies' shift toward geographically diverse teams. 
Business Development: 
When looking at business development professionals, where the primary facet of compensation is commission, base salaries only tell half of the story. Across the globe, we found the average salary to be $136,545. As for the U.S. and Canada, the average base salary was $160,853, with a mean of $150,000. We note here that the sample size of 34 sales professionals is rather small and leans heavily toward senior business development professionals. 
Executive and CEO Compensation:
According to Carta Total Compensation data ($25-50mm market cap peer group), the base salary of CEOs of 506 Web2 companies was reported as $283,000. According to our survey, the average salary of a Web3 CEO was $192,957. While this roughly $100K differential seems significant, keep in mind that Web3 CEOs have a significant upside potential from equity and ownership of their project. 
Here's the data we collected around marketing, finance, and product:
Marketing
Within the crypto ecosystem, the average marketing professional can anticipate a salary of $127,318 globally, while in the U.S. and Canada they can expect $163,459. The highest paid Marketing professional salary we saw was $275,000. 
Finance
Average Global Salary: $109,214
Average U.S. and Canada Salary: $199,558
Highest Financial Professional (CFO): $425,000
Product
Average Global Product Manager Salary: $143,844
Average U.S. and Canada Salary: $178,565
Highest Paid: $250,000
While this sample size is relatively small, we believe it is enough to glean some insight into appropriate compensation packages for various roles in the crypto-asset industry. We will continue to iterate on these surveys on a regular basis to provide the industry verticals in which  we invest with more transparency. In the surveys to come, we will provide even more in-depth analysis into token incentivization structures and more. 
The vast majority of our portfolio companies are actively hiring. So, if you or a colleague are interested in breaking into crypto, blockchain, Web3, DeFi, or the other verticals in which we invest, check out some of the positions our portfolio companies are hiring for! 
Comment below and let us know what you would like to see in our next survey!
The Pantera Team