Vega Protocol Alpha Mainnet: Revolutionizing DeFi and Decentralized Trading
July 27, 2023 | Justin Chen, Jonathan Gieg
DeFi witnessed remarkable growth and innovation in recent years and amid the dynamic landscape, Vega Protocol built a native derivatives layer designed for high-throughput trading at scale. By leveraging the power of smart contracts and a high-performance blockchain network, Vega's platform enables users to create, trade, and access a wide range of financial products. Unlike traditional gate-kept and centralized systems, Vega's core principles include true decentralization, ensuring that decision-making and governance are driven by the community. This approach gives users the freedom to create markets, design products, and contribute to the growth of the ecosystem.
With the highly anticipated launch of Vega Protocol's Alpha Mainnet a couple weeks ago, we're excited to explore some key features of the protocol. A quick note before we begin, Vega's Alpha Mainnet is the initial version of the software, and it's expected bugs and edge cases that don't perform well will be discovered, and need to be fixed. This period of time is especially important for the project to gain real-world data to iterate and improve Vega. It's advised to exercise caution.
Vega is an Appchain Protocol, But What Does That Mean?
An appchain is a specialized blockchain network designed for specific applications or use cases. It operates independently or as a sidechain, often with its own consensus algorithm and tailored features optimized for the intended purpose. Appchains provide a focused and efficient environment for running decentralized applications or executing specific functions, such as trading derivatives, decentralized finance, gaming, or supply chain management. Core benefits include providing developers with customizability and improved performance and scalability, all while leveraging the security of the main blockchain. 

Vega's appchain is a specialized and independent blockchain network designed specifically for trading derivatives. It operates as a standalone proof-of-stake blockchain using the CometBFT consensus algorithm (formerly Tendermint). The appchain architecture is optimized to deliver high-performance trading and currently incorporates an Ethereum bridge, allowing participants to utilize ERC-20 assets on-chain. The appchain provides a permissionless environment for market creation, and currently enables  users to customize and launch cash-settled futures, and in the coming months spot swaps, options, perpetual swaps, and more. 
What Makes Vega Special?
Founded in 2018, Vega Protocol stands out among its competitors by introducing a unique kind of DeFi platform into the ecosystem: a DEX with decentralized infrastructure capabilities that facilitate the creation of new markets. This is quite a bit to unbundle, so let's look take a deeper dive into the 5 key value-adds of the protocol:
1. Purpose-built Blockchain with Full On-Chain Order Book
Contrary to most decentralized trading platforms, Vega offers a full on-chain order book. Key advantages with this approach include yielding users with complete visibility into trading activities, ensuring transparency and eliminating any information asymmetry. Other major benefits include enhanced liquidity, improving price discovery and reducing slippage, and seamless integration with smart contracts, streamlining the efficiency of trade execution.
2. Permissionless Creation of New Markets and Derivatives
Compared to common gatekeeping of market creation and trading in traditional finance, Vega allows any user to build and trade a wide range of financial products, including new markets and derivatives. Users are able to create and customize their own strategies that are tailored to their specific needs. Unlike traditional DEXs, users can also create and trade derivatives linked to different assets, such as cryptocurrencies, commodities, and traditional financial instruments. 
3. Improved Trading Experience
Vega features ultra-low latency (block times of under one second), APIs that are similar in richness to those of centralized exchanges yet decentralized, and no gas fees delivering an enhanced and cost-effective trading experience. 
4. Capability Toolbox & Top-Notch UI/UX
Vega provides a comprehensive toolbox for traders, offering advanced features such as cross-margining, interoperability, and portfolio risk evaluation. Their design simplicity and functionality aims to improve the user experience of DEX's and compete with centralized counterparts. 
5. Open Participation and Community-Driven Principles
Many major protocols are limited in scope because of their lack of adequate community principles. In contrast, Vega empowers its community to participate in decision-making processes and workflows through robust governance. Contributors have the ability to shape the future of the protocol by introducing new improvements, products, and markets.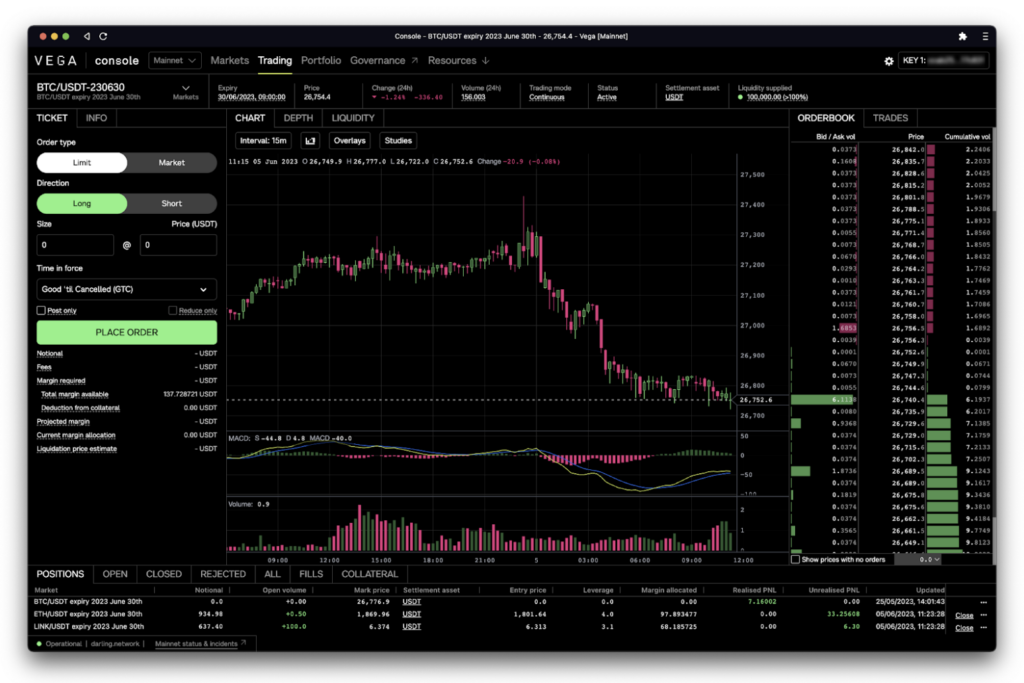 Roadmap
Looking ahead, Vega has an extensive roadmap that aims to further expand the platform's capabilities and improve the user experience. 
Vega's current status is the Alpha Mainnet released last week. In the second half of this year, Vega has planned to release Mainnet V1 (highlighted in white).  
The next couple of months will be the most exciting for Vega, with key new improvements from collected feedback (e.g., successor markets, governance transfers, stop orders and iceberg orders) and the introduction of spot markets, perpetuals, liquidity SLAs & upgraded LP mechanics, Ethereum oracles and margin segregation/isolation in the pipeline. Beyond those, new capabilities will be released such as browser extensions & wallets, additional market types, new liquidity mechanisms.
Early Rewards: An Opportunity to Contribute
Taking part in Vega Protocol's ecosystem at an early stage presents a unique opportunity to benefit from a suite of tailored reward programs. At present, the rewards are primarily distributed in Vega/USDT and categorized into three primary buckets: price taking, price making, and liquidity provision. 
1. Price Taking: Rewards encourage market activity by incentivizing traders who take liquidity from the order book, promoting trading dynamism.
2. Price Making: Participants adding liquidity to the order book are rewarded, bolstering market depth and efficiency, vital for seamless trading and improved price discovery.
3. Liquidity Provision: Vega incentivizes liquidity provision to various markets on the protocol, promoting overall market stability and reducing price slippage.
In essence, these rewards act as rebates, where trading fees are not only refunded but can even generate a net profit for the trader. This structure is made possible by protocol emissions funded by Vega's treasury, incentivizing participation and contributing to a vibrant trading ecosystem. A thought out design, this system seeks to reinforce principles of decentralization, fairness, and user-governance. For more details, check out Vega's trading rewards section.
As Vega continues to grow and mature, the expectation is that this rewards program will become increasingly self-sustaining, further underpinning the protocol's long-term success. You can learn more about the specifics of each reward category and observe the ongoing rewards distribution for each epoch on Vega's governance website and in the detailed rewards overview.
Team
Behind Vega protocol is an experienced team of software engineers, financial mathematicians and entrepreneurs. They bring unique skill sets and deep technical expertise to the protocol having worked at organizations like Accenture, Capco, The University of Edinburgh, JP Morgan, Chainspace, BNP Paribas and Meta.
They've grown the project team to 60 full-time employees and are currently hiring: https://vega.xyz/careers/
Joining Vega's Journey
The launch of Vega Protocol's Alpha Mainnet marks a significant milestone in the evolution of decentralized trading. Vega has always been designed for a capital-efficient and user-governed market, enabling permissionless access and collective creation at scale. 
If you're interested in learning more, you can join the growing community of traders, liquidity providers, and DeFi enthusiasts on Vega by visiting their website and creating your Vega wallet.