July 20, 2022 | Paul Veradittakit, Franklin Bi, Jun Sun

Authenticity is King
In 1996, Bill Gates published the essay "Content is King." He predicted that the still-nascent Internet would empower people to create, publish, and earn a living from their work at near-zero marginal cost, unleashing "a marketplace of ideas, experiences, and products – a marketplace of content."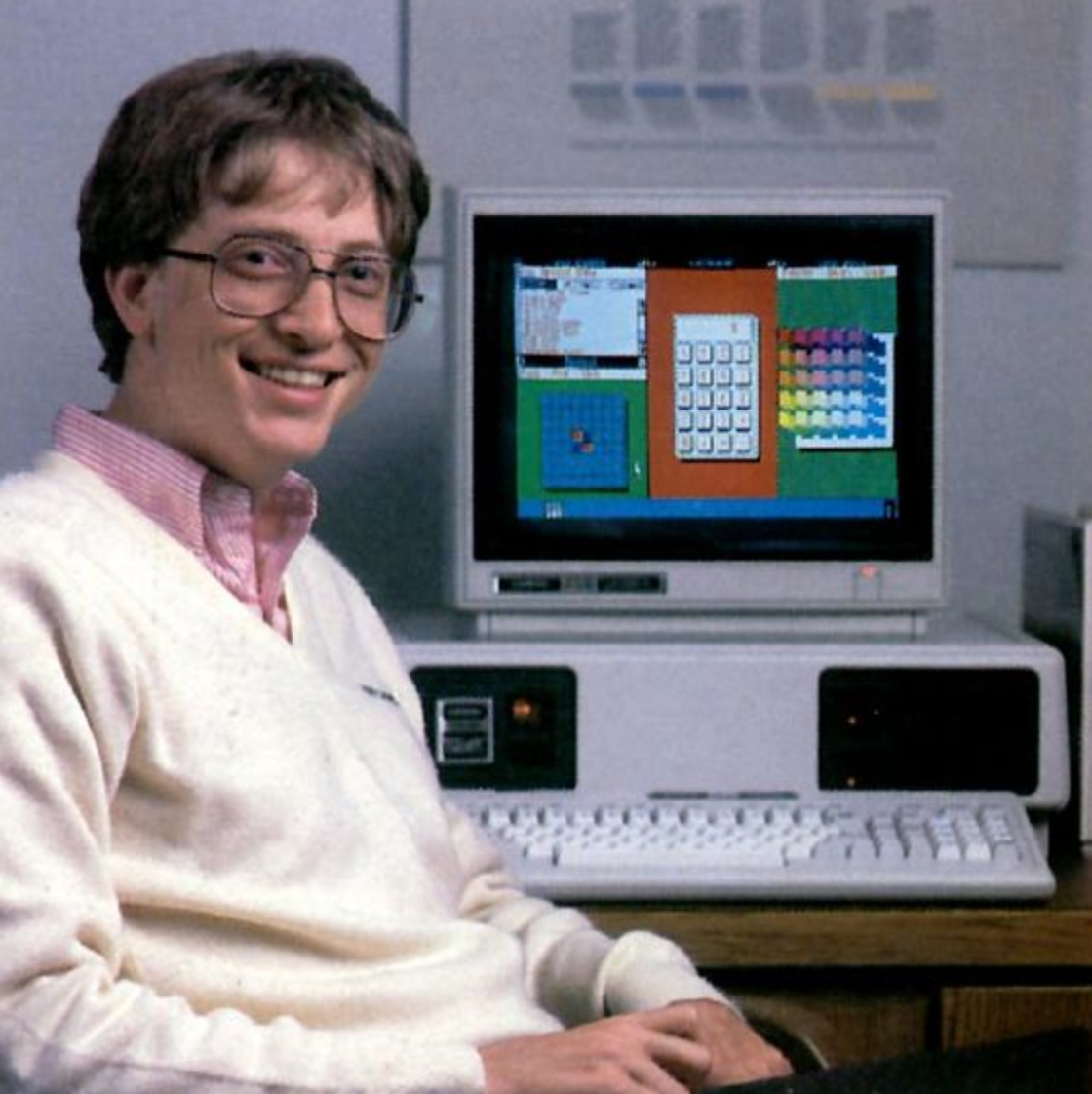 Bill Gates enjoying some content (source: BYTE magazine, December 1984)
Today, that vision is playing out. The barrier to creating and distributing content is near-zero. As a result, content is practically infinite. 3.2 billion images are shared online per day. Every minute, another 500 hours of video are uploaded to YouTube. Creators are earning a living through subscriptions, advertising, and more recently, NFT's or non-fungible tokens. 
NFT's have unlocked new economic opportunities for artists and creators to distribute their work and earn a living directly from their supporters. An artist's unique digital signature and access to a blockchain network is all that's needed to create or "mint" their next masterpiece and bestow it with a stamp of authentication. Marketplaces like MakersPlace and OpenSea facilitated over $13 billion of NFT volumes in 2021 alone. (see our Sep 2021 Blockchain Letter for more of our thoughts on NFT's)
In a world where content is both infinite AND valuable, Authenticity is King. 
The combination of 1) the near-zero cost to content creation and distribution through the Internet, and 2) the direct linking of content and value through NFT's, leads to a world where the "blue checkmark" is all-powerful and where authenticity can unlock the full potential of the "marketplace of content." 
The big challenge is then: how do we enable authenticity at scale?
Introducing Optic
When Andrey Doronichev led the YouTube Mobile team, one of the company's biggest priorities was building its anti-counterfeit ContentID system and, in particular, using artificial intelligence to solve a problem too big for even an army of human reviewers. 
In March 2022, he recognized a similar problem with NFT's, as "copymints" of popular collections like Bored Apes were proliferating across NFT marketplaces and scamming collectors with near-duplicates of existing works. He teamed up with his co-founders, Romain Doronin and Vlad Vinogradov, world-class AI researchers and previously founders of Eora Data Lab, an AI studio that designed image retrieval neural nets and delivered projects for multi-billion dollar enterprises. 
Together, they launched Optic, an AI-powered engine for NFT authentication. Optic processes millions of newly-minted NFT's per day and identifies visual similarities, such as image flips or color changes. In doing so, Optic helps creators, marketplaces, and brands to find potential counterfeits and empowers them to protect their communities at scale. Today, NFT marketplaces like OpenSea use Optic's Marketplace Moderation tool as a key weapon in fighting NFT fraud.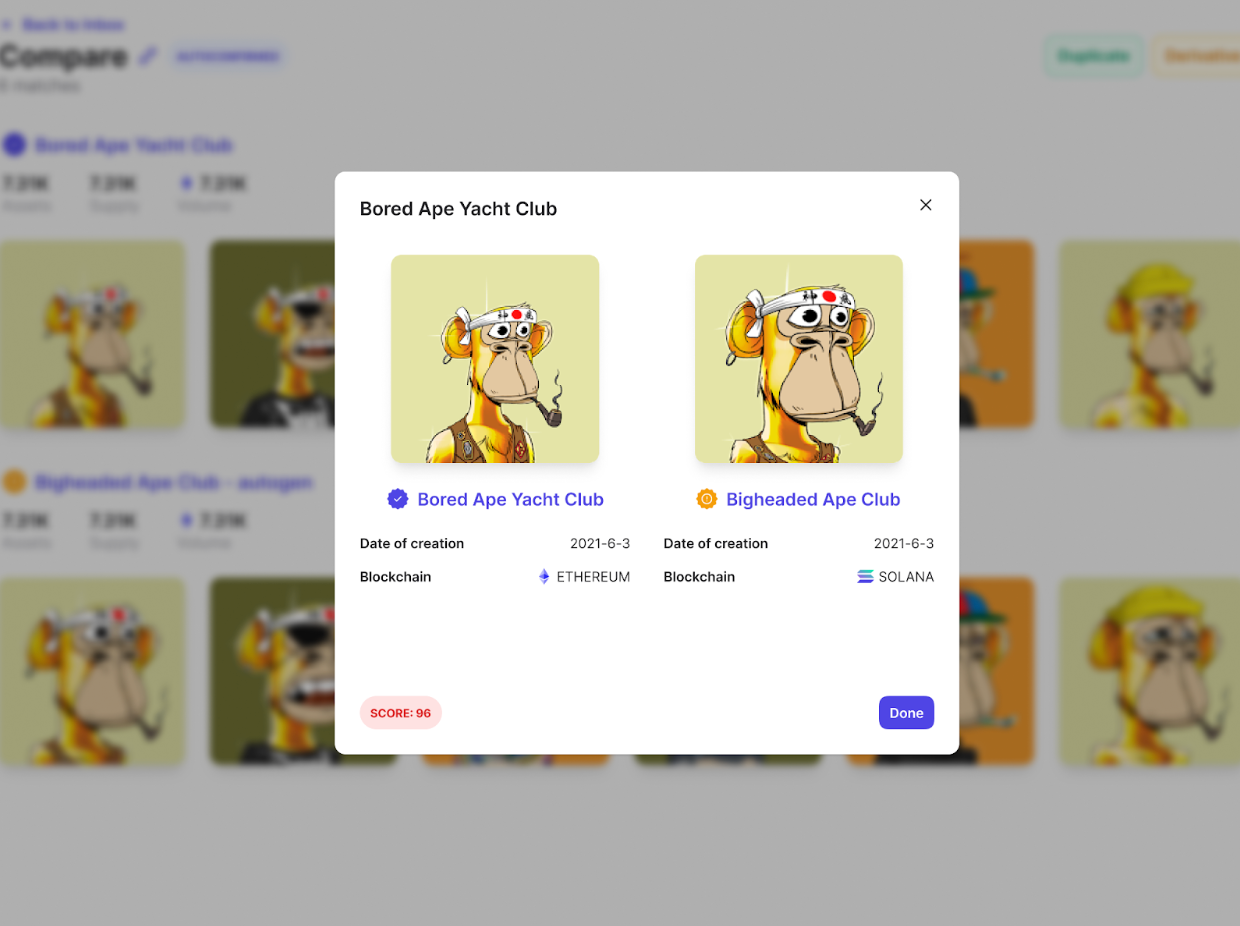 Example of Optic in action
We're thrilled to partner with Andrey, Romain, Vlad and the Optic team and to lead their seed round, alongside Kleiner Perkins and with investors like OpenSea, Polygon, Lattice Capital, Circle, Flamingo DAO and others.
Mapping the Value of Art
The NFT market raises the age-old question of whether we can, or should, assign value to art (and more broadly, all content). What we know with certainty is that art has value. 
Art has funded wars and ended wars. Art has fueled religions and revolutions. Art holds power. 
It's important that new technologies like NFT's are restoring control and ownership to the original artists and creators and new tools like Optic are helping creators to protect their work at scale. We believe all content will eventually migrate to "NFT-native" formats of ownership. When this happens, Optic's AI engine will play a vital role in mapping the relationship between a work of art, its derivatives or related works, and the value they hold. 
What's Next for Optic
With this round of financing, Optic will continue building out their core AI infrastructure and defining a decentralized protocol. In the near-term, the team plans to release new tools for NFT creators, collectors, as well as a public API for web3 developers.
If you are an NFT marketplace, creator, or brand, you can reach out the Optic team for a demo. The team is actively hiring for great talent in research and engineering – you can check out their open roles here.