Investing in Avantis Labs
September 26th, 2023 | Jonathan Gieg

SCALABLE ON-CHAIN DERIVATIVES, ACROSS ASSET CLASSES
Scalable infrastructure, composability, and bringing real world assets on-chain and available for trading are crucial steps to closing the derivatives volume gap between CeFi and DeFi exchanges. Much of DeFi today is positioned in opposition to "centralized finance" and distanced from traditional financial markets, such as commodities and forex trading. Rather than existing outside of it, we believe that the role of DeFi is to innovate within the broader financial ecosystem, rather than solely contrasting itself with it.
WHY WE'RE INVESTING IN AVANTIS
Avantis is building a perpetual futures trading and market making protocol that aims to expand the realm of decentralized finance to include traditional financial products and real world assets. While tokenization of real world assets itself is not new, these offerings are not easily available to retail users and are designed to benefit long-term investors rather than traders. Avantis is an entirely novel platform where both crypto and real world assets can be seamlessly traded with up to 100x leverage.
While on-chain derivatives such as perpetuals have existed for over 2 years, there has been limited scalability of non-orderbook solutions with architectures that are fully on-chain and powered by liquidity providers. The primary reason for this is that liquidity providers(LPs) of on-chain derivatives markets are passive and unable to customize their risk-return profile. However as evidenced by the invention and rapid adoption of Uniswap V3, which enabled risk management for LPs in on-chain spot markets, they possess the sophistication to do so. Avantis allows its LPs to tune their risk exposure to traders, as well as lock their capital in the protocol for higher rewards. This creates a two-dimensional surface which accommodates a wide-array of risk-return perspectives, which is attractive to a diverse base of LPs.
Avantis is being built on the Optimism Superchain, a Layer 2 Ethereum scaling solution, and  which we believe offers an enhanced user experience for traders and liquidity providers that rivals centralized exchanges. Liquidity providers are given advanced tools such as the ability to customize their risk-reward structure, and traders have seamless access to leverage across several asset classes, while maintaining full control of their assets through smart contract wallets.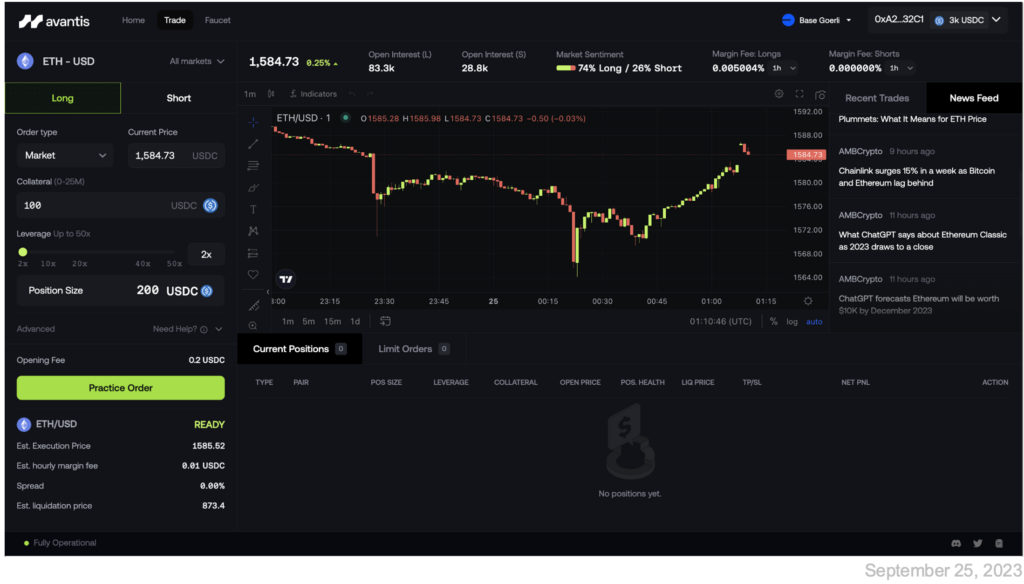 Avantis co-founder, Harsehaj Singh, is uniquely suited to tackle this new intersecting market. As a UC Berkeley graduate and most recently a member of the Investment team at Pantera Capital, he brings deep expertise in both traditional and crypto markets and extensive experience working with a variety of asset classes. Harsehaj was a former Investment Banker at Lazard doing M&A and a Game Economist at Illuvium where he helped design the land sale that saw $50M in primary sales. At Pantera Capital, he focused on consumer infrastructure, gaming, and DeFi and was involved in the closing of 14+ seed and Series A investments. 
We are proud to lead Avantis Labs' seed round with participation from Founders Fund, Galaxy, Base Ecosystem Fund, and Modular Capital to build the future of on-chain derivatives. Avantis is currently in a private testnet but plans to launch by the end of 2023. For early access to the platform, you can sign up for their waitlist here.