Employer of Record Services
April 19, 2023 | Nick Zurick, Andrew Harris

For the first time in history, startups are able to be borderless and Web3 is leading the charge! Employers of Record or EORs are one of the major factors in this movement.  
Let's start with the basics; what is an EOR Service? 
An Employer of Record (also known as an EOR) is a third-party organization that handles the hiring and/or employee management process for companies that employ individuals internationally. The EOR typically handles HR, financial, and legal functions such as payroll, taxes, benefits, and regulatory compliance related to employees in those locations. Think of an EOR as a localized partner that gives you the ability to hire in virtually any location.
The use of EORs is a relatively new and game changing trend that accelerated during the Pandemic. Historically, small to mid-sized businesses were confined to hiring in their local markets. However, as remote work became more of a common practice throughout the pandemic, EORs became a go-to solution for both hiring employees outside of a company's local market and managing the ongoing administrative aspects of a company's remote workforce. As a result, EORs have completely changed the hiring landscape by removing the barriers associated with hiring and managing remote employees.
Why are EORs important for Web3 startups?
Due to the distributed nature of the crypto ecosystem, Web3 companies, by nature, have a geographically diverse workforce. Some teams have never met in person and are dispersed across dozens of countries. This places tremendous pressure on founders when trying to hire and manage top-tier talent given that each country has its own local employment regulations and practices. 
Think of a startup with a founder in New York with an engineering team in Eastern Europe and a freelance designer in South Africa. EORs solve the problems that arise from a geographically diverse workforce  by breaking down geographic hiring barriers. This is why we at Pantera find that EOR services fit perfectly within the framework of the borderless nature of crypto (and we love services that help to break down international barriers!). 
With the advent of remote work, EOR providers have been a hot topic among our portfolio companies. Typical questions that we receive from our portfolio companies are: "what is an EOR provider", "do I need one?", "which provider should I use", and "why not set up an entity on my own to hire a remote employee?". Below is a FAQ and some insight on the EOR provider market that we hope will simplify your decision making process if you're debating whether or not an EOR provider makes sense for you!   
What can an EOR do for you?
EORs at a high level allow you to hire non-local employees quickly, efficiently, and compliantly.  They save you the time and money that would be required in order to form an entity in the jurisdiction that you are planning to hire in. They also eliminate the need to deal with the ongoing administrative headaches associated with hiring a foreign employee. For example, if a U.S. based company wanted to hire a Canadian employee, it would typically need to:
Engage local attorneys to set up an entity in that jurisdiction to employ the new hire, draft a locally compliant employment agreement, and ensure that the company remains in compliance with local employment laws and regulations;

Engage accountants to file the entity's annual tax return;

Hire a payroll provider to pay the employee and deal with any statutory holdbacks for the employee; and

Engage a benefits provider to provide the employee with benefits. 
EORs step in and act as the employee's employer of record, eliminating the need to set up an entity and onboard a payroll and benefits provider. This ultimately means that you can hire a non-local employee within weeks instead of months and for a fraction of the cost. 
Another benefit that certain EOR providers offer is helping to secure a visa for an employee that wants to move to a new country. The level and breadth of support provided by EOR providers in this context differed among providers we've researched. For example, Deel acquired Legalpad to bolster its visa support capabilities and, as a result, offers the service in a large number of countries in which it operates Velocity Global employs a team that specifically assists clients with obtaining visas for their employees and supports most of the countries in which they operate. OnTop does not provide Visa assistance yet and Rippling provides visa support services in the countries in which they operate with the exception of the U.K. Costs for this service vary amongst the different providers and, while typically not inexpensive, it reduces the headaches associated with hiring an immigration attorney,dealing with the corresponding paperwork, and many questions that your employee may have. 
Does it ever not make sense to use an EOR provider?
In certain scenarios – namely when a company intends to hire many employees in a given jurisdiction – it may make more sense from a cost perspective to set up an entity and forgo the use of an EOR provider. The threshold of employees differs based on the jurisdiction and there is rarely a consensus with respect to the number of employees. This was the case when we asked this question to various EOR providers, all of whom provided a different response. As a result, in order to make that determination, we advise weighing the costs of setting up and maintaining an entity, ensuring that you are in constant compliance with that jurisdiction's employment laws as well as the burden of having to onboard and directly deal with a payroll and benefits provider against the benefits of using an EOR provider. 
How to choose the right EOR provider for you!
As we've previously stated, the EOR space is still new and there is no solution that completely stands above the rest. The trick here is understanding which services are provided in the countries into which you are looking to expand. 
First things first; does the EOR provider you're considering operate in the country you're looking to hire in? Velocity Global and Deel operate in 185 and 150 countries, respectively, while other EOR providers such as Rippling and OnTop operate in a handful of countries but are continuously expanding their presence and capabilities across the globe. 

Does it make sense to use an EOR or to set up your own entity in the country in question? 

What type of services are you looking for from a provider? Payroll? HR? Benefits? Visa support? Immigration?

Does the EOR work with your current stack? Does the EOR integrate with your Human Resource Information Systems (HRIS) or Applicant Tracking Systems (ATS)?

How much does the service cost?
We built the below chart to help you with your decision making process!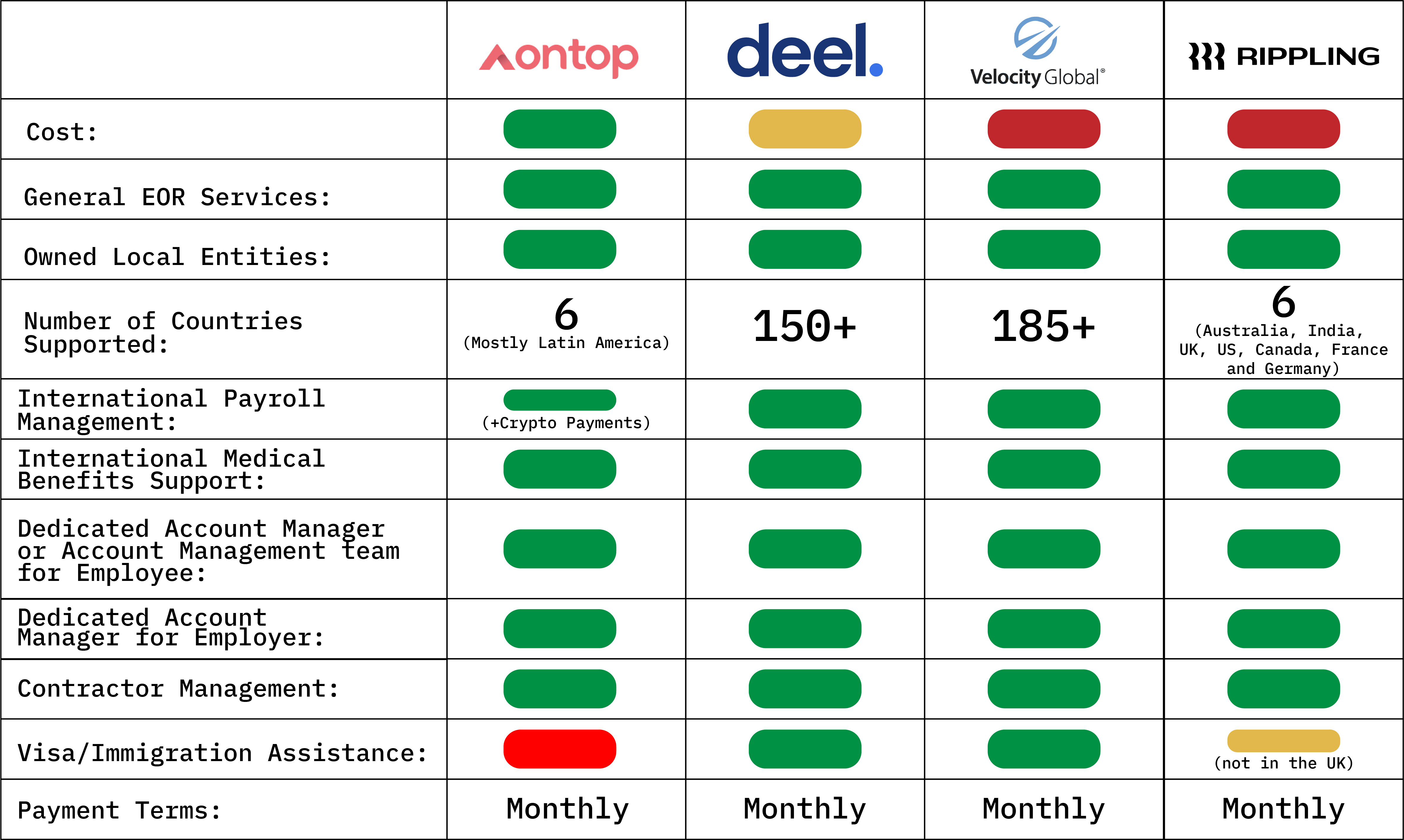 We provide preferred pricing and priority service lanes to all of these providers for our portfolio companies, so if you are a Pantera portfolio company let us know if you'd like an intro to one or any of these providers.