CIVIL LIBERTIES
"It is impossible to grasp the meaning of the idea of sound money if one does not realize that it was devised as an instrument for the protection of civil liberties against despotic inroads on the part of governments. 
"Ideologically it belongs in the same class with political constitutions and bills of rights.  The demand for constitutional guarantees and bills of rights was a reaction against arbitrary rule and the nonobservance of old customs by kings.  The postulate of sound money was first brought up as a response to the princely practice of debasing the coinage. . .
"Thus the sound-money principle has two aspects.  It is affirmative in approving the market's choice of a commonly used medium of exchange.  It is negative in obstructing the government's propensity to meddle with the currency system."
– Ludwig von Mises, The Theory of Money and Credit, 1912
 
THE NEXT BITCOIN PRICE ERA
The market **is** choosing — bitcoin and other cryptocurrencies — over paper money, with which governments are conducting a very dangerous experiment.
Last month, I said that I believe we were already on to the next cryptocurrency price era – that we had had a period of temporary insanity where a ban on Chinese bitcoin mining was thought to be negative and a few people had blockchain ESG upside down.  This new price cycle started with a bang!  Bitcoin is up 122% since July 20.
INFLATION
OK, so let's look at the government's propensity to meddle with paper currencies. 
Back in the day, the Federal Reserve fought to protect the U.S. currency — specifically to avoid debasing it and eroding its purchasing power.
All the arcane theories of central banking were best distilled into this classic line by an old school Fed Chairman — William McChesney Martin, Jr.:
"The Federal Reserve…is in the position of the chaperone who has ordered the punch bowl removed just when the party was really warming up."
– Fed Chairman William McChesney Martin, Jr., October 1955, speech to the Investment Bankers Association of America

 
I want to state upfront I'm not one of those "Hyperinflation is nigh!!!" nuts who has been droning on about inflation for decades.  I made my career predicting the secular decline in inflation and government bond yields around the world.
This is new, very real, and very dangerous.
Instead of taking away the punchbowl when the party is getting out of control — inflation is already at a 30-year high, housing affordability is at the worst level in 16 years, and a policy-induced labor shortage has pushed wage inflation to a 30-year high — our modern Fed is doing this:
Presenting the champagne graphically: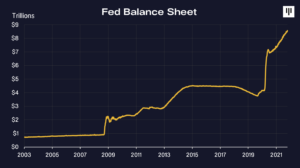 I'm definitely not here to Monday morning quarterback decisions made in the uncertain first days of the pandemic.  But, we're sitting here a year after five COVID-19 vaccines were produced and the Fed is still buying $120 billion of mortgage and government debt per month.  That is now clearly counter-productive to the old objective of preserving the purchasing power of paper money.
DON'T FIGHT THE FED
There's an old saying on Wall Street "Don't fight the Fed."  I agree.  Pantera's core post-pandemic macro theme has been:
The unlimited printing of money will push up the price of things whose quantity cannot be eased.
Jay Powell, the current Chair of the Federal Reserve, announced a major policy shift in 2020 aimed at bolstering the labor market — by explicitly increasing inflation.  The Fed promised to keep printing money until they have more than doubled the rate of inflation. 
"In conducting monetary policy, we will remain highly focused on fostering as strong a labor market as possible for the benefit of all Americans…
"Following periods when inflation has been running persistently below two percent, appropriate monetary policy will likely aim to achieve inflation moderately above two percent for some time."
It's a brave new world — when central bankers are promising to increase inflation.  I'm old enough to remember when they used to fight it.
Over the decades, not all central banks have been successful in fighting inflation.  It's complicated — takes commitment.  However, every central bank that has tried to create it has succeeded.  Venezuela is the current title belt holder, followed by Zimbabwe.  What these countries have shown is that when you increase the quantity of paper money, it takes more pieces of paper to buy things of real value.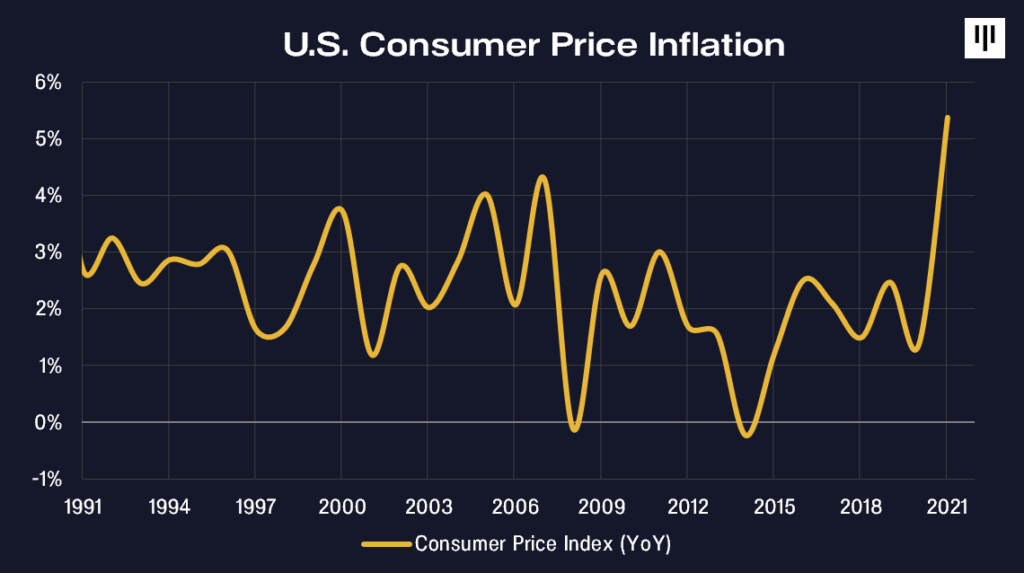 The Fed promised to keep printing money until they have more than doubled the rate of inflation.  It's now at a 30-year high.
As my kids say, "Nailed it!".
#BuyBitcoin
FED PRESIDENTS
The Congressional Budget Office projects the deficit for the fiscal years 2020 and 2021 to be $6.0 trillion — or $50,000 per American family.
Who decided that printing fifty grand per family in the United States was the most efficient policy response to an invisible virus?
Nobody asked me to vote.
(Cryptocurrencies let people vote with their wallets.  I voted crypto.)
You know who they asked to vote?  Twelve Fed Presidents and Governors.
Unfortunately, here is another bit of nostalgia or, as Ludwig Von Mises said, "the non-observance of old customs":
The old custom of sober Fed Presidents seems to be over.  We now have Fed Presidents doing multi-million dollar stock/REIT trading while on the job — trading in the stocks of real-estate investment trusts that buy and sell the same types of mortgage bonds that the Fed was buying in large quantities.
Whaa?  That's total banana republic stuff.
"The Federal Reserve on Monday released a rare public statement revealing an independent review by the Office of Inspector General for the Federal Reserve Board, over whether trading activity by top Fed officials 'was in compliance with both the relevant ethics rules and the law.' . . . the latest statement reflected a more concerted focus on the legality of the trades themselves.
"During testimony on Capitol Hill last week, Powell said the trading activity of two regional bank presidents, Eric Rosengren and Robert Kaplan, appeared to comply with the current guidelines, even if 'the appearance is just obviously unacceptable.'
"Those remarks came before Bloomberg News reported on the financial activities of Fed Vice Chair Richard Clarida, who moved between $1 million and $5 million out of a broad-based bond fund to broad-based stock funds on February 27, 2020, according to his disclosure forms. . .
"The revelations have raised questions about trading rules for Fed officials — and specifically what regulators at the Fed knew about the markets and financial system as the central bank turbocharged its pandemic-era policy response.  Some Fed critics have alleged that such trades also erode public trust in the central bank and, at the very least, distract from its heady responsibility of navigating the economy through a slowing recovery.
"On Friday, Bloomberg News also reported on February 2020 trades made by Clarida that came the day before the Fed issued a rare statement saying it would 'act as appropriate to support the economy' as the pandemic tightened its grip on public health and the economy."
– Washington Post, October 4, 2021

 
As my friend Brett Messing said: 
"You don't need a Presidential task force to figure out why state-less money is appealing to millions of people."
– Brett Messing, SkyBridge President & Co-CIO

 
One of my favorite O.G.s, Jeremy Allaire, a co-creator of the USDC stablecoin, said it well:
"The Bitcoin thesis is that we are going to see continued growth in non-sovereign money.  People around the world are going to see the value of a censorship-resistant, highly-secure digital asset such as bitcoin."
– Jeremy Allaire, Circle CEO, CNBC, June 24, 2019
 
U.S. DOLLAR :: NEW ALL-TIME LOW
"The dollar may be our currency, but it's your problem."
– U.S. Treasury Secretary John Connally's infamous remark, 1971

 
It seems like the price of everything is surging up.  At first blush, this seems odd during a worldwide financial crisis.  A better perspective is that the value of most things is relatively stable — it's just the value of paper money that is being debased at a rapid rate.
To help visualize what money printing is doing to the price of the U.S .dollar, we've plotted the value of the dollar in terms of things that cannot be quantitatively eased:
| | | |
| --- | --- | --- |
| Sheets of copper | Board feet of lumber | Grams of sugar |
| Ounces of gold | Bushels of oats | Per bitcoin |
| Barrels of oil | Shares of S&P 500 |   |
Paper money has hit an all-time low against most hard assets.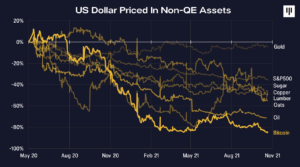 To some, the surprising one is gold.  It's the least-good performer.  Gold is losing market share to digital gold.
Bitcoin hit a new all-time high on October 20th, reaching $66,930.
The last time bitcoin retook its all-time high after falling over 50%, it went 3.2x above that shortly thereafter.  The average increase of the past three instances of making a new all-time high — 8.8x over a 166-day period.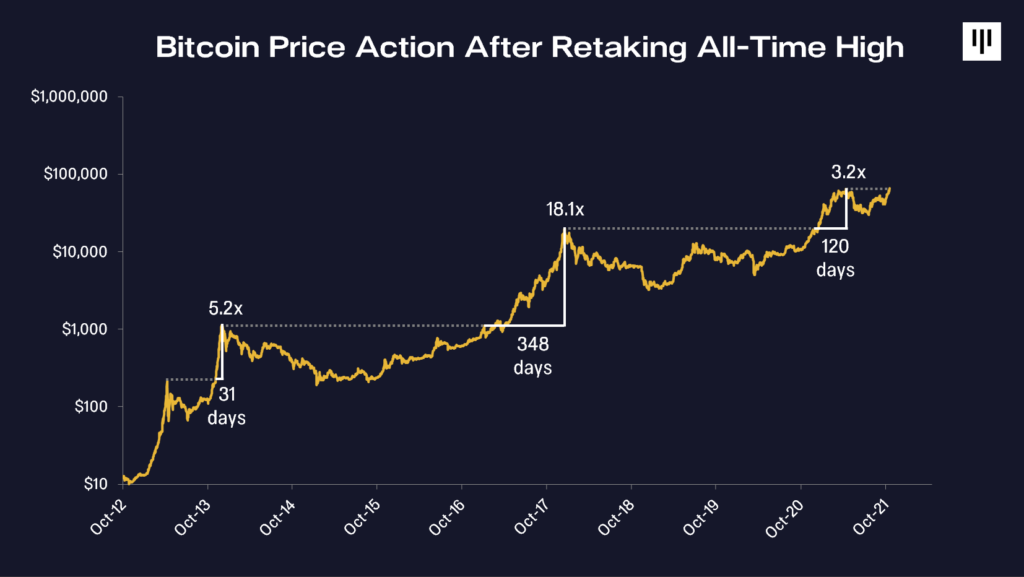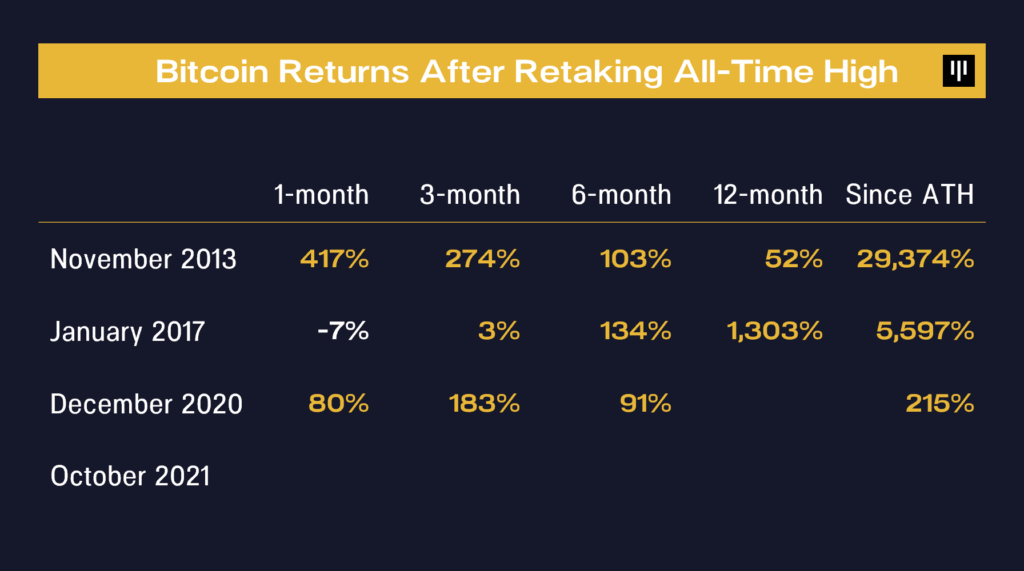 Ethereum also set a new all-time high this month, surpassing $4,362 previously set in May.
We've entered a new price era.  Buckle in.

STAGFLATION
The Fed's goal statement:
"The goals of maximum employment and stable prices are often referred to as the Fed's 'dual mandate'."
Unfortunately, policies have gotten it backward:  50-year low employment participation and 30-year high inflation.
The 1970s gave us stagflation — immortalized in the popularization of the "misery index" — the sum of the unemployment and inflation rates.  It has doubled in the past two years — a feat last performed in the mid-1970s.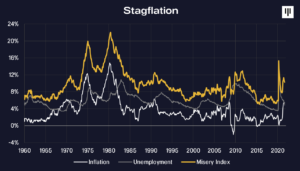 The consensus forecast is for inflation to hit 6.1% by December.
Wage inflation will cause persistent goods inflation.
Ultimately stagflation is bad for asset prices.  The Dow Jones Industrial Average was at the same level in 1979 as it had been in 1965.
INFLATION IS EVERYWHERE
"Inflation is always and everywhere a monetary phenomenon in the sense that it is and can be produced only by a more rapid increase in the quantity of money than in output."
– Milton Friedman, 1970, The Counter-Revolution in Monetary Theory

 
And, it is **everywhere**.  A quick survey of various inflation readings. . .
HOME PRICE INFLATION
With so many Americans out of work, how can we have the highest rate of home price inflation and the highest median home price in history?  This can only result from excessive money printing.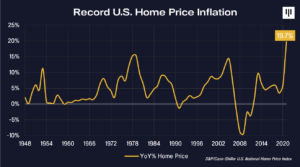 "The S&P CoreLogic Case-Shiller National Home Price Index, which measures average home prices in major metropolitan areas across the nation. . . marked the highest annual rate of price growth since the index began in 1987."
– Wall Street Journal, S. Home-Price Growth Rose to Record in June, August 31, 2021

 
It's a global phenomenon.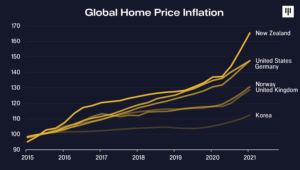 WAGE INFLATION
The unemployment rate doesn't reflect the fact that millions have left the workforce. 
4.7 million fewer Americans are working than before the pandemic.  Population growth has added more than a million who would have otherwise have been employed on trend.
Fueling the labor-market imbalance is the fact that many workers, particularly women, find it difficult to work outside the home.  This is particularly true of women with school-age children.  Extended school closings have driven the workforce participation rate for women to hit a 33-year low.

We'll feature another group — gig economy workers who have also left the labor force — below. 
The labor force participation rate is the lowest in 50 years.  At 61.6%, it's the lowest level since June 1976.  Maybe it's not a coincidence that the last time the Fed experimented with massive printed money all the same things happened.  This starting to look the like 70's again. 
I'm just glad this time we have crypto to protect our purchasing power.
Without all those talented people in the workforce companies are facing a labor shortage.  Job openings reached a record 10.1 million in June as unfilled jobs continue to outpace unemployed workers actively seeking employment.
With all these people who have left the labor force we have the paradox of a labor shortage while at the same time low employment.  Job openings surged to a record high.  Companies are actively trying to hire 10 million workers.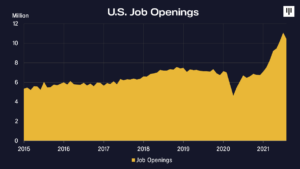 The labor supply shock is causing a surge in wage inflation.  The U.S. Employment Cost Index for private sector workers has already hit a 30-year high.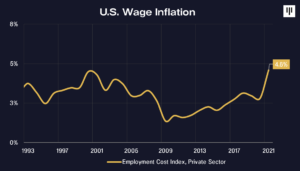 The wage-price spiral has started.
UBER INFLATION
One of my favorite real-time indicators of the labor market is Uber inflation.  It has the clearest wage-price transmission proof.
Gig economy workers are the flex load balancers in the system.  Changes in the labor market are immediately reflected in the price of Uber rides.
Gig workers and the self-employed have not paid into unemployment insurance and thus were not previously eligible for such payments.  Under relief bills passed by Congress, former gig workers get jobless benefits.  Those receiving benefits get an additional $300 a week on top of regular state benefits, which average $318 a week.  This has enabled many to leave the workforce.
"The cost of a ride from a ride-sharing app like Uber or Lyft increased 92% between January 2018 and July 2021, according to Rakuten Intelligence.
"In early July 2021, Uber and Lyft drivers were about 40% below capacity.  The companies have taken notice, and are investing millions worth of bonuses and base rates to convince drivers to return."
– CNBC, Why Many Uber And Lyft Drivers Aren't Coming Back, July 4, 2021
"An economic report Uber commissioned earlier this year found this disparity was particularly pronounced in the US, where the number of active drivers was still down more than 50 percent at the end of 2020 compared to 2019.  But just a few months later, in March 2021, Uber's bookings reached an all-time high, according to Insider."
– Popular Science, Why Your Uber And Lyft Rides Keep Getting More Expensive, August 31, 2021

 
UNINTENDED CONSEQUENCES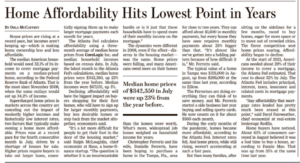 "In conducting monetary policy, we will remain highly focused on fostering as strong a labor market as possible for the benefit of all Americans."
Money printing is not a precision instrument.  Unlimited money printing isn't benefitting all Americans.  These policies are fostering a massive surge in income inequality.
35%[1] of Americans don't own a home.  These policies are unambiguously bad for those who don't own a home, own stocks, and for those of us who don't own mortgage bond REITs.
"Consumer prices have been rising faster than average wages — meaning that, on average, workers are seeing the purchasing power of their paycheck fall.  People looking to buy a car or build a house or obtain a wide variety of other products are finding it hard to do so.
"Wages and salaries in the private sector were up 3.6 percent in the second quarter from a year earlier, according to Employment Cost Index data, the strongest since 2002.  But the Consumer Price Index was up 4.8 percent in that same span, meaning workers lost ground.
"Jason Furman, a Harvard economist and former chairman of the White House Council of Economic Advisers:  'There is such a thing as too much stimulus, which becomes counterproductive, either because inflation eats away wage gains or the supply side of the economy can't keep up.' "
– Neil Irwin, Biden and the Fed Wanted a Hot Economy. There's Risk of Getting Burned, August 23, 2021
 
[1] https://policyadvice.net/insurance/insights/home-ownership-statistics/
"WHAT'S THE DIFFERENCE?  IT'S JUST A BITCOIN FUND"
I **know** it sounds counter-intuitive that it really matters which bitcoin fund you pick, but it does.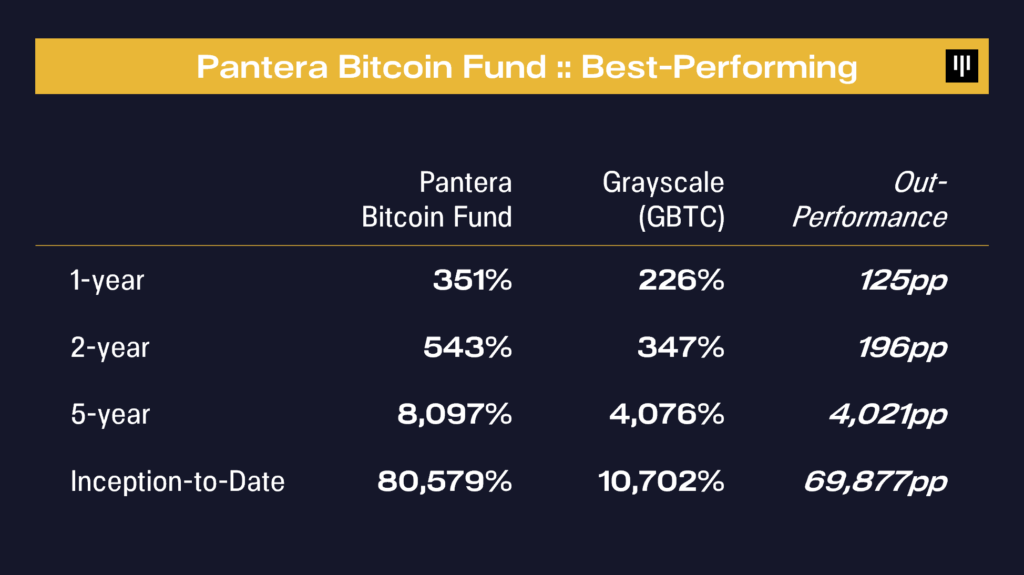 PANTERA BITCOIN FUND ADVANTAGES
Pantera Bitcoin Fund provides institutions and high-net-worth individuals quick, secure access to large quantities of bitcoin — without the burdens of buying and safekeeping them.  The Fund features daily liquidity and very low fees (0.75% management fee and no performance fee).
Pantera Bitcoin Fund offers many advantages over other products in the space.  We believe that it is the only bitcoin investment vehicle offering daily liquidity, no lockup, no premium to NAV, low fees, audited financials, and management by an SEC-registered investment advisor. 
The minimum investment is $100,000.  For additional information on investing in Pantera Bitcoin Fund, click this link.  Or, you can email our Investor Relations team at ir@panteracapital.com.
BLOCKCHAIN FUND FINAL CLOSINGS
Many investors view blockchain as an asset class and would prefer to have their managers allocate among the various asset buckets.  This compelled us to create Pantera Blockchain Fund, a new "all-in-one" wrapper for the entire spectrum of blockchain assets.  We believe this new fund is the most efficient way to get exposure to blockchain as an asset class.  It is a continuation of the strategies we have employed for eight years across eight venture and hedge funds which have collectively generated an average IRR of 105%.
The Blockchain Fund is like the super-set of our four existing sector funds.  The most important feature is that we can invest against the large swings in value between tokens and venture.  Tokens reset very quickly whereas venture is slow-moving.
We've already seen that in the short life of the fund.  In May and June tokens got slammed — DeFi down 65%.  However, in venture people were still executing term sheets from April, entrepreneurs still wanted the valuations in their minds at the peak — so venture pricing takes nine-ish months to reset.  In that circumstance, we were able to buy ETH and DeFi tokens very cheap relative to venture.  Over the years they will become expensive and we'll sell the tokens to fund venture deals.  For that reason, I think the new fund will out-perform the arithmetic average of the four sector funds.

We've already exceeded our target, but are committed to keeping the fund open through the December 31st and March 31st closings — to allow time for new investors to complete their evaluation process.
For investors who prefer venture, the fund offers a Venture-Only Class.  This class will have exposure only to all the equity deals we do — and will not invest directly in tokens.  It is essentially "Venture Fund IV" for Pantera.
The summary of terms can be found here.
Click the button below to begin the investment process online.


If you are interested in exploring this opportunity further, please email ir@panteracapital.com.
Also, please join us for our Pantera Blockchain Fund Launch Call on November 16th at 9:00am PST.  You can register here.
BLOCKCHAIN FUND INVESTMENTS
Blockchain Fund has invested in nine early-stage token projects and two venture equity deals, with a record pipeline.  Of those, Arbitrum is a leading layer-2 scaling solution powering some of the largest decentralized applications in the ecosystem.  In addition to a handful of DeFi investments, we participated in the $30mm Series B round for BitOasis alongside Alameda Research, DCG, and others.  The Fund has also invested in the gaming and NFT spaces, both of which are garnering lots of attention from consumers and investors.  Pantera has led or co-led four deals with more to be announced in the coming months.
STRONG VENTURE PIPELINE
We're running at a near-record level of new deals in our pipeline.  Very exciting times.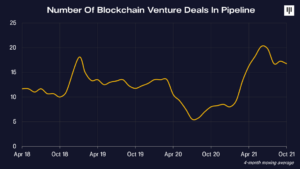 Press releases for some of the Pantera Blockchain Fund investments:
ALCHEMY :: THE PACE OF BLOCKCHAIN VENTURE
We've long advocated that our industry moves incredibly fast.  We see it not only in the liquid markets, but also in illiquid venture capital.  Just six months after completing their Series B at a $500 million valuation, Alchemy announced the completion of their Series C, valuing the company at $3.5 billion.
Alchemy is the leading blockchain development platform empowering developers to build blockchain-based products and applications.  Alchemy has grown over 15x since their Series A in 2019, powering the majority of applications on Ethereum, including over 95% of NFT activity and $45 billion in transaction volume.  Pantera participated in their latest $250 million Series C round led by a16z, with new investors including Lightspeed Ventures and Redpoint.  Pantera previously led Alchemy's $15 million Series A round in December 2019 and participated in the $80 million Series B round in April 2021.

AND…FREE PIZZA!!!
I did a presentation at a small college entitled "Cryptocurrency & Blockchain :: The Future of Money, Banking, and Payment". 
Totally sold out — students standing, sitting on the floor, just to get inside the room.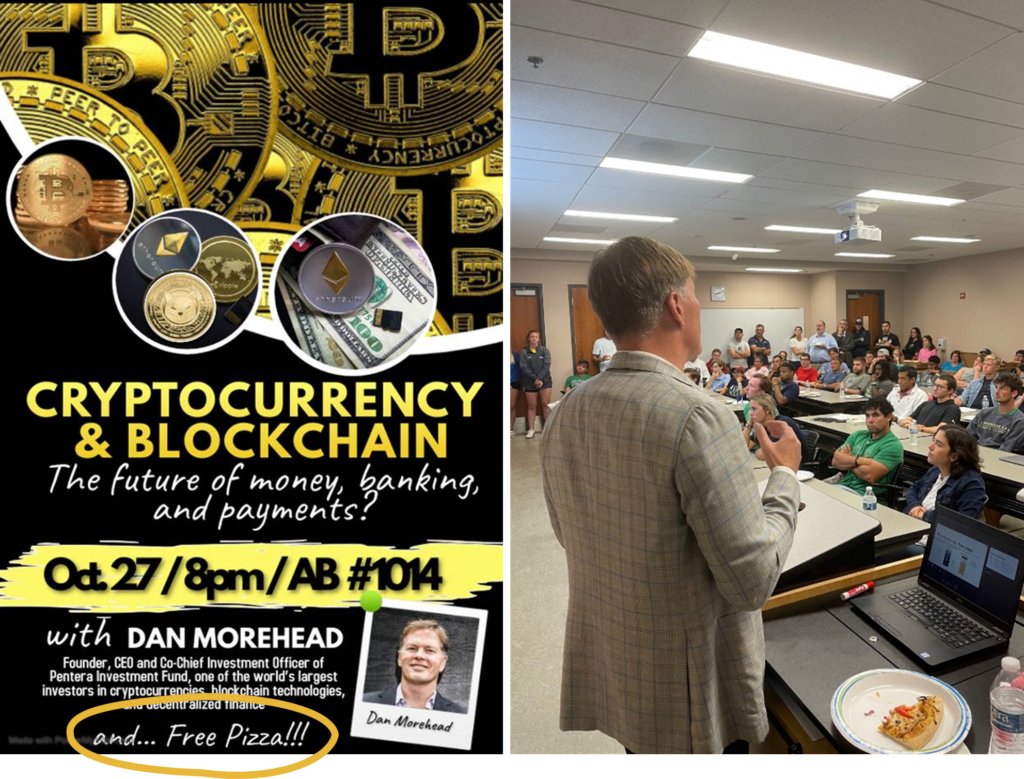 Maybe it was the "And…Free Pizza!!!".

UPCOMING TRAVEL
Our (vaccinated) Capital Formation partners and occasionally investment team members are traveling to discuss Pantera Blockchain Fund and the blockchain ecosystem with our Limited Partners and potential investors.
We also have organized Blockchain Lunches in some cities, should you want to learn more about blockchain and meet other investors who share your interest.  If you are interested in attending one of our Blockchain Lunches, please fill out the form on this page and we will be in touch regarding availability.
Portugal, Solana Conference, "Breakpoint", November 8-11

Denver, November 9

Salt Lake City, November 10 |  including a Blockchain Lunch at 12pm

Lansing, November 12

Kansas City, November 15

Minneapolis, November 17 |  including a Blockchain Lunch at 12pm

Atlanta, November 17

Tulsa, November 18 |  including a Blockchain Lunch at 12pm

Toronto, November 18 |  including a Blockchain Lunch at 12pm

El Salvador, "LABITCONF 2021", November 18-19

Montreal, November 19

New York City, November 29-30

November 30, Blockchain Lunch at 12pm

Los Angeles, December 1-2

Indianapolis, December 7 |  including a Blockchain Lunch at 12pm

Dallas, December 8-9

Houston, December 9-10

December 9, Blockchain Lunch at 12pm

Juneau, December 14
If you are interested in a meeting, please contact the Pantera Capital Formation team at +1-650-854-7000 or ir@panteracapital.com.

Take care,

"Put the alternative back in Alts"
---
CONFERENCE CALLS
Our investment team hosts monthly conference calls to help educate the community on blockchain.  The team discusses important developments that are happening within the industry, and will often invite founders and CEOs of leading blockchain companies to participate in panel discussions.  Below is a list of upcoming calls for which you can register via this link.
Pantera Liquid Token Fund Investor Call
Tuesday, November 9, 2021 9:00am PST / 18:00 CET / 1:00am China Standard Time (Nov 10th)
[Open only to LPs of the fund.]
Pantera Blockchain Fund Launch Call
A detailed dive into our new "all-in-one" blockchain fund.
Tuesday, November 16, 2021 9:00am PST / 18:00 CET / 1:00am China Standard Time (Nov 17th)
Please register (in advance) via this link:
https://panteracapital.com/future-conference-calls/
Investing In Blockchain Conference Call
A discussion of the blockchain opportunity set and how Pantera's four funds are structured to capture value in this rapidly evolving ecosystem.
Tuesday, December 7, 2021 9:00am PST / 18:00 CET / 1:00am China Standard Time (Dec 8th)
Please register (in advance) via this link:
https://panteracapital.com/future-conference-calls/
Pantera Blockchain Fund Launch Call
A detailed dive into our new "all-in-one" blockchain fund.
Tuesday, December 14, 2021 9:00am PST / 18:00 CET / 1:00am China Standard Time (Dec 15th)
Please register (in advance) via this link:
https://panteracapital.com/future-conference-calls/
Recordings of past conference calls are available on this page.
---
PORTFOLIO COMPANY UPDATES    
Aurora Raises $12 Million to Enable Ethereum Compatibility on NEAR
Aurora enables the seamless deployment of Ethereum-based smart contracts and asset transfers for scaling decentralized applications on NEAR.  It allows developers to operate their dApps on a high-throughput platform with low transaction costs for their users.  The raise comes amidst the launch of an $800 million ecosystem grant fund for NEAR Protocol, with a focus on decentralized finance.  Pantera co-led Aurora's $12 million round with Electric Capital and previously participated in NEAR Protocol's $12.1 million round in July 2019 and subsequent $21.6 million round in May 2020. 
Genopets Raises $8.3 Million Seed Round to Merge Physical Activity and NFT Gaming
Genopets is the first free-to-play, move-to-earn NFT game that incentivizes users to maintain an active lifestyle.  Genopets allows players to participate in their open gaming economy, where users can mint a Genopet that evolves and earns upgrades based on their physical activity, with full ownership over assets accumulated in-game.  The play-to-earn trend has emerged as a key use case for blockchain applications in gaming.  Pantera co-led the $8.3 million seed round with Konvoy Ventures, with participation from Alameda Research, Solana Capital, Mechanism Capital, CMS Holdings, and Animoca Brands.
BitOasis Raises $30 Million to Accelerate Crypto Adoption in Middle East
BitOasis has become the largest cryptocurrency platform in the MENA region, since first established in 2015.  BitOasis aims to offer the most secure and regulated infrastructure for digital asset trading and investing for retail and institutional clients.  In the first half of 2021, the exchange processed over $3 billion in trade volume, while doubling its userbase.  BitOasis recently raised $30 million in a Series B funding round co-led by Jump Capital and Wamda, with participation from Pantera as an existing investor, Alameda Research, and Global Founders Capital.
Bakkt Goes Public via SPAC and Announces Payments Partnerships
Bakkt is a digital assets manager that allows consumers to leverage their digital assets, including cryptocurrencies, loyalty points, and rewards, and provides digital wallet infrastructure for institutions and retailers.  Bakkt debuted as a public company in October 2021 via a SPAC merger.  The company announced partnerships with Mastercard and Fiserv to enable cryptocurrency-enabled wallet and payments services for consumers and merchants.  Pantera previously participated in a $182.5 million funding round in December 2018 and subsequent $300 million Series B funding round in March 2020, alongside M12, Boston Consulting Group, and PayU.