MAJOR BITCOIN PRICE CYCLES
I long advocated that as the market becomes broader, more valuable, and the more institutional ownership that the amplitude of prices swings will moderate.
While we've had two -80% bear markets already, I believe those are a thing of our primordial past.  Future bear markets will be shallower.  The previous two have been -61% and -54%.
Unfortunately, there's no free lunch.  The flipside is we probably won't see the 100x rallies any more either.
I think we're done with the bear market -50% and we're on to a new rally cycle.  The next 6-12 months are likely to see a massive rally as investors flee stock, bond, and real estate markets – for blockchain.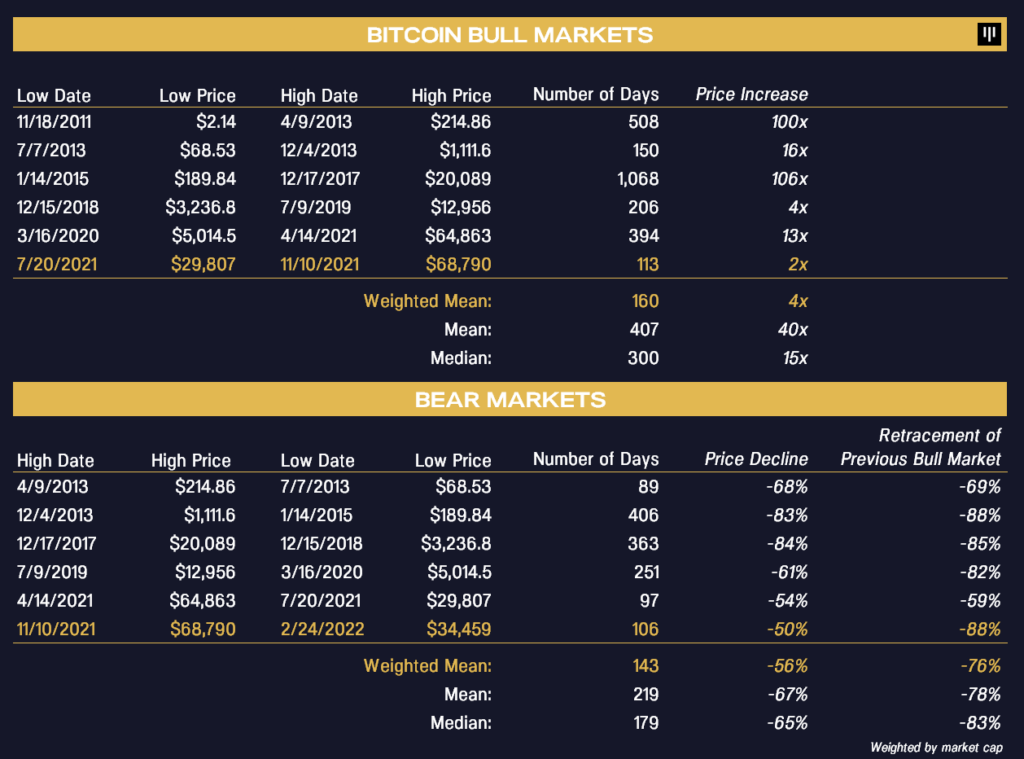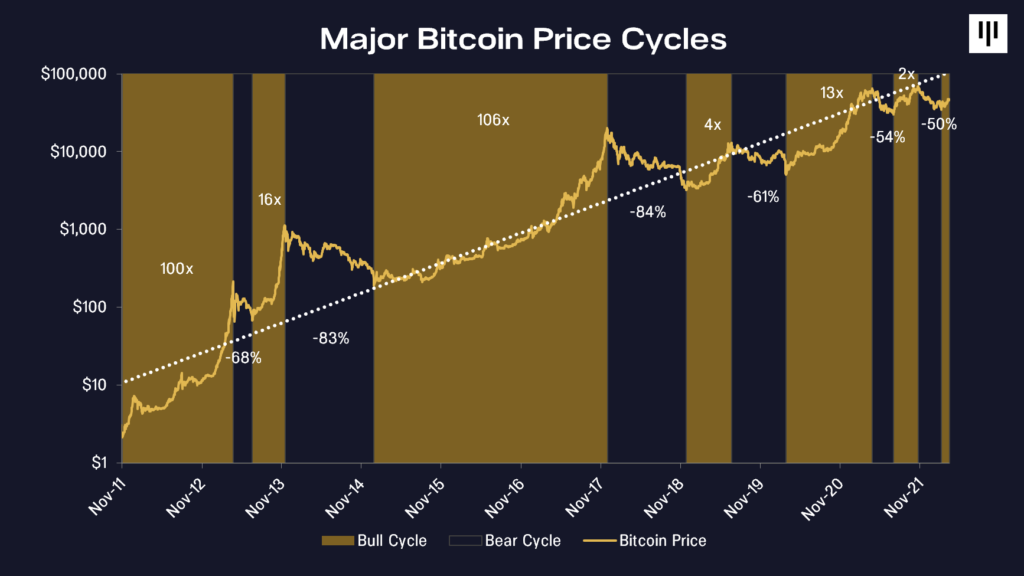 We are now -56% below the 11-year exponential growth trend.  The markets have rarely been so cheap relative to the trend.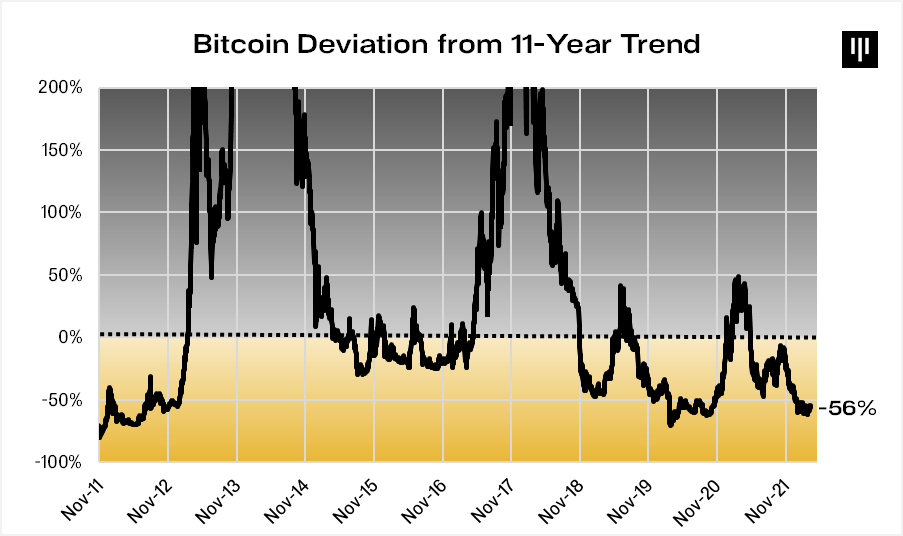 "Bitcoin goes in some pretty wild cycles.  Over the last nine years that I've been investing in it, it's had six bear markets that averaged about 60%.  This one's been 50%.
"I think that as institutions engage this space, all of those cycles will moderate, thankfully.  50% bear markets are probably all you're going to get going forward. 
"I think we're either at the lows or very close to it."
— Dan Morehead, Yahoo! Finance, March 30, 2022

PANTERA SELECT FUND
We have a record pipeline of deals – including many portfolio companies raising growth rounds.  Historically we've offered these opportunities to the Co-Investment Class of our venture vehicles such as Blockchain Fund or Venture Fund III.
For the first time in our nine years, we have three very compelling growth-stage deals locked in all at the same time.  That catalyzed us to offer a special fund to help Limited Partners gain exposure to these growth-stage deals plus seven to nine more we will invest in over the next year. 
The structure of this opportunity is a concentrated fund called:  Pantera Select Fund.  We are targeting $200mm.  We plan to have the first, and possibly last, closing on May 1st.  If you are interested in investing, please fill out this form.
We will primarily focus on more mature, revenue-generating companies than our typical Seed and Series A venture investments.  The Select Fund may also invest in a few earlier-stage opportunities that Pantera Blockchain Fund is leading.
The Fund expects to initially invest in three companies:
Amber: A leading cryptocurrency financial services provider for individual and institutional investors, serving as a digital asset gateway with institutional-grade tools and investment products.
[Company name confidential]: One of India's largest and safest cryptocurrency exchanges; known for its top-notch cryptocurrency financial services, provides a user-friendly experience in accessing different digital assets securely, and insurance and safety to its users
[Company name confidential]: The #1 provider of NFT domains on the blockchain; onboarding the world onto the decentralized web by building blockchain-based domain names which allows users to replace cryptocurrency addresses with human-readable names, host decentralized websites, and simplify crypto payments.
The fund will be smaller, more targeted, and therefore more concentrated than a typical growth fund. 
Timeline:
Subscription documents including the limited partner agreement are available

Pantera Select Fund Conference Call April 12th at 9:00am PDT. You can register here.

Fund closing: May 1st
If you are interested in exploring this opportunity further, please email invest@panteracapital.com.
Blockchain Deal Market Maturing
The market for blockchain deals is maturing as the industry has broadened to over $2 trillion in value.
Seed and Series A rounds account for 73% of blockchain deals, down from 92% in 2014 – around when we began investing in this space.
Pantera Select Fund seeks to capitalize on the industry's transition to more growth-stage opportunities.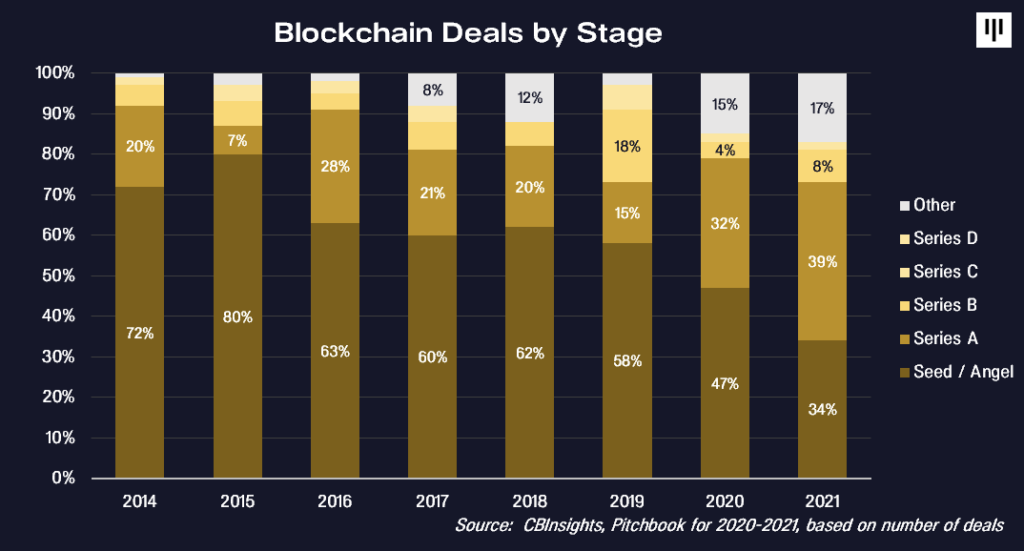 PANTERA BLOCKCHAIN FUND FINAL CLOSING
Pantera Blockchain Fund, a new "all-in-one" wrapper for the entire spectrum of blockchain assets, will close to new Limited Partners in April.
The Fund has invested in 48 early-stage token projects and venture equity deals.  We have a record pipeline behind that.  Pantera led the $12mm debut-funding round for Aurora – a bridge for the NEAR blockchain designed to provide Ethereum compatibility and scalability for NEAR smart contracts.  In addition to a handful of DeFi investments, we led the $50mm Series B for VALR – a leading cryptocurrency exchange based in South Africa – with participation from Alameda Research, Coinbase Ventures, CMT Digital, and others.  The team has also been sourcing deals in two of the hottest sectors – blockchain gaming/metaverse and NFTs.  Notable positions include GuildFi, a Web3 gaming platform, in addition to NFT infrastructure investments.  Pantera has led or co-led 26 deals, with more to be announced in the coming months.

The summary of terms can be found here.  Click the button below to begin the investment process online.

Please join us for Pantera Blockchain Fund Final Closing Call on April 19th at 9:00am PST.  You can register here.

THE GREAT UNWIND
No working-age person in America has invested in a rising rate environment.  I'm 56 and rates were already six years into the bull market.  10-year yields were almost 10% when I started as a bond trader in 1987.
A secular bull market continuously lowered yields – which increased the value of everything – stocks, bonds, real estate, everything.  Nobody is mentally ready for The Great Unwind.  Rates began rising in July 2020.  They will probably continue to rise for years.  Our forecast in December was for rates to triple.
The median forecast for the peak in fed funds is 2.1%.  That's below where they were just before the pandemic, even though the economy is massively overheated compared with two years ago.
If you buy a 2% 10-year note, the most you can make is 20 points over the life of the note.  I think they will go down more than 20 points this year.

IT'S CALLED THE 70'S
"Hindsight says we should have moved earlier. . . . But there really is no precedent for this."
— Fed Chair Powell, March 3, 2022
It's called the 70's.  We've been talking about it for six months.

CORE CPI
The Fed prefers to look at core inflation (CPI less energy and food).  Year-over-year (YoY) core CPI was up 6.4% in February, the highest since August 1982.  Even this is overly rosy.
Owners' equivalent rent (the amount a property owner would have to pay to be equivalent to the cost of ownership) was up 4.3% YoY in February and rent of primary residence was up 4.2%.  However, S&P/Case Schiller housing prices were up 19.2% and, according to the Redfin real estate brokerage, rent was up 18% over the last two years.
Using Case Schiller for OER, February YoY core CPI would have been up 10.7%, 4.5 percentage points higher than core CPI.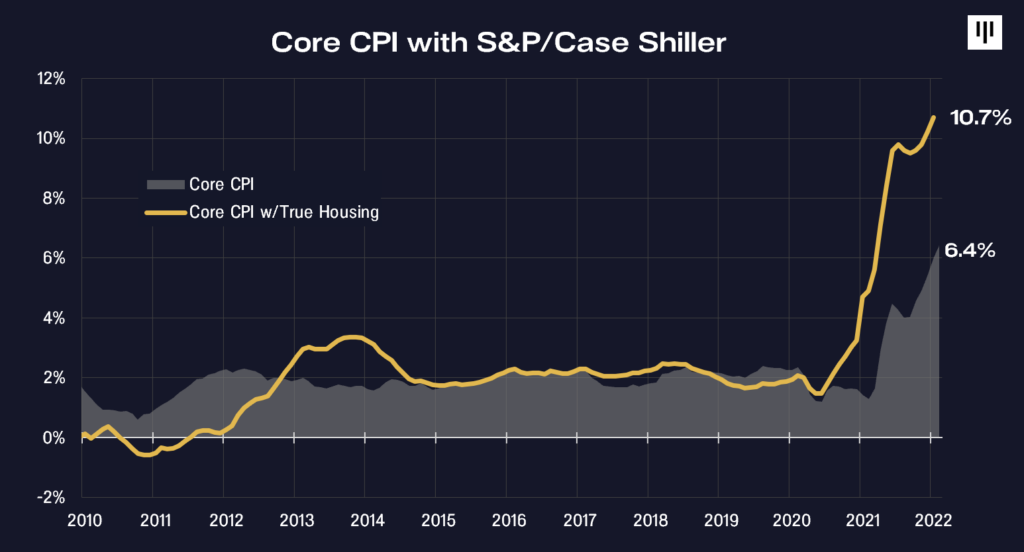 BACK TO THE PAST EVERYWHERE
The European Union's statistics agency said consumer prices were 7.5% higher in March than a year earlier, a jump from the 5.9% rate of inflation recorded in February.  It was the fifth straight record high in a data series that goes back to the start of 1997, two years before the euro was launched. 
National figures for the time before the Euro suggest that the current rate of inflation is higher than any time since 1981 in Germany.  Spain's was the highest since May 1985.

FIRST HUNDRED BASIS POINTS
Since calling the top of the bond bubble in early December, the 10-year Treasury yield is up +116bps.  Two to three hundred basis points to go.
The Fed has **finally** stopped manipulating the U.S. bond market.  Bonds are experiencing a Wyle E. Coyote moment.  Without the non-economic bid from the Fed below them – there is nothing…nothing but air.  They will fall 30 points before they find an economic buyer.
Without manipulation, I believe Treasury yields will triple to 5.00%.
Crypto will massively outperform stocks & bonds.


NEGATIVE REAL YIELDS
"The burden of the debt in real terms has actually been negative in the last several years, so this is affordable."
— Janet Yellen, U.S. Secretary of the Treasury, March 18, 2022
Gotta admit I admire her moxy, but why would anybody buy a bond from somebody who tells you straight out it's a negative return?
The answer is nobody – no rational economic actor would buy what the Fed has been manipulating.  Rational economic actors will wait until yields are around 5%.

WORST BOND BEAR MARKET SINCE 1949
"The return on government bonds is on track for its worst year since 1949, the year after the Marshall Plan was enacted…
"Deflation to inflation, globalization to isolationism, monetary to fiscal excess, capitalism to populism, inequality to inclusion, US dollar debasement."
— Michael Hartnett, Chief Investment Strategist at Bank of America, Weekly Flow Show Report, March, 2022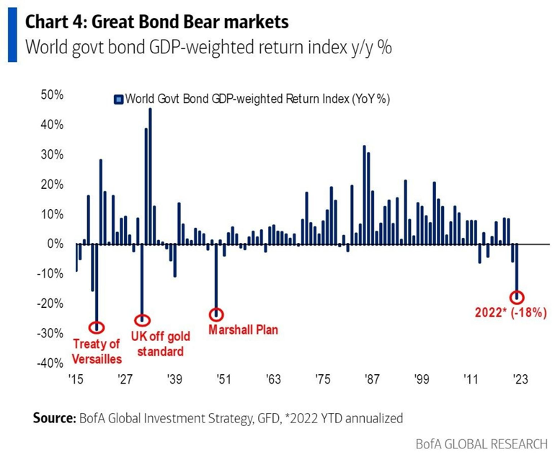 BLOOMBERG TV INTERVIEW :: "BITCOIN AMID FED INDUCED BUBBLES"
Q. Dan, the Fed are having to grapple with high inflation at a time when we're seeing growth start to slow down and they've got a $9 trillion balance sheet to unwind. What do you think?
"When I was starting in trading, the Fed reacted in real-time to reality.  Now, they have this forward guidance thing where there's this minuet that they're doing over quarters or even years, and I think they're way behind the curve here.
"Inflation is like it was in the '70s already – housing prices are +19.2% year-on-year.  The big difference is in the '70s, the Fed was fighting inflation.  Today, rates are only 25 basis points.  They should probably be 2%, 3%, 4% by now."
Q. What do you think of the unwind of the balance sheet, for asset prices/liquidity? Do you think that they will be caught off guard?
"Everything has changed a lot.  The Fed didn't used to buy long-term bonds, and they certainly didn't manipulate the mortgage bond market like they are now.  They've bought $9 trillion worth of mortgage bonds and driven the prices up $15 trillion higher than they would be at their 50-year average real rate, and so there is a bubble in the bond market.  There's really only one buyer – the Federal Reserve.  No rational economic investor would buy a bond that yields 2% when inflation's 7.9%.  That's obviously a losing trade.  So to my mind, being short the bond market's the most asymmetric trade I've seen since Bitcoin in 2013."
Q. Real estate getting hurt is a painful trade, considering how many Americans have been paying inflated prices over the past two years.
"That is part of the problem – the Fed is buying mortgages, driving rates artificially below where they should be, and it's basically daring someone not to buy a house.  If house prices are going up 19% a year, and you can borrow at 2% or 3% percent, you kind of have to do that, and that's what's happened.  That's why the economy's overheated."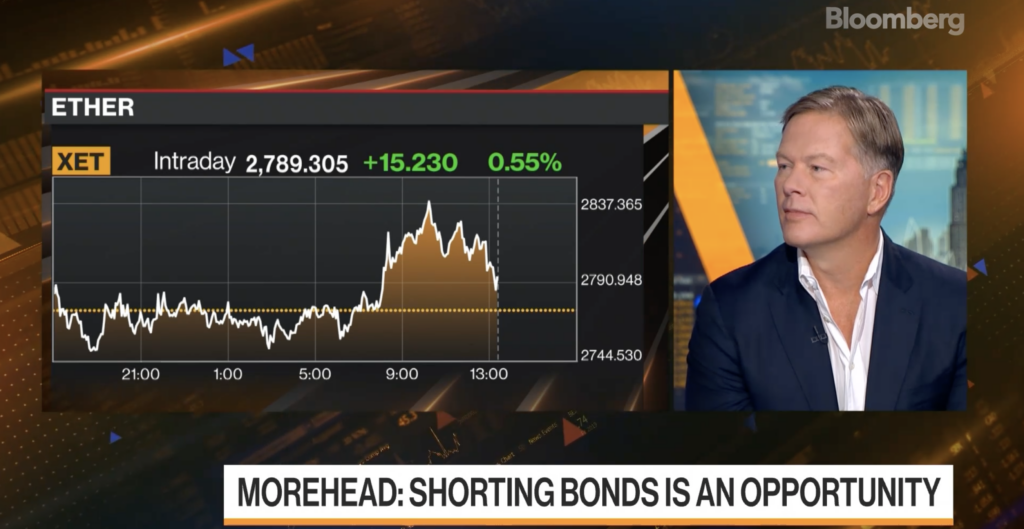 Q. As a longtime investor in macro trading, do you think that shorting bonds pays off?
"I'm always looking for asymmetric trades, trades where the upside's way more than the downside.  If you buy a 2% tenure note, you can only make 20 percentage points over the next 10 years.  I think they're going to go down 20 percentage points in the next year, so the risk of being long a bond or the opportunity of being short is much higher."
Q. Lastly, do you think that the de-dollarization happens at a much faster rate now? At what point does that make people turn to Bitcoin at a greater rate?
"I think within the next two or three years, you're going to see central banks buying cryptocurrencies like Bitcoin.  The current geopolitical issues are going to hasten that, but it was coming anyway.  In 10 years, central banks will go, 'Why do we store this antiquated thing called gold when I can own the future, Bitcoin or cryptocurrencies?'"
— Dan Morehead, Bloomberg, March 17, 2022

YAHOO! FINANCE INTERVIEW :: "BLOCKCHAIN 'TOTALLY INDEPENDENT' OF FED PIVOT"
Q. Shorting bonds and shorting mortgage back securities, the two major assets that the Fed loaded up in the magnitude of trillions, as you described with their $9 trillion balance sheet. Now, how does that relate to the crypto thesis? Are they completely unrelated or are they tied together?
"They are related in the sense that institutional investors are always looking for places to invest their capital that's going to have high returns and low correlations.
"If they come to share my view, that interest rates are going to go up 20x in overnight rates and 3x in tenure note, that's really a terrible place to be invested.
"If that happens, it's probably going to be tough for stocks and it's probably going to be tough for real estate.  And so they're going to be looking for assets that are uncorrelated to interest rates – blockchain is a good place to look.
"The important point is blockchain is a $2.5 trillion asset class – it's not a niche thing, like fine art, and so institutions can really put huge amounts of money to work.  We're seeing that in our own funds – the institutional appetite for investing in blockchain funds right now is so much higher than it was, even say, 12 months ago."
— Dan Morehead, Yahoo! Finance, March 30, 2022

WHAT FAIRY TALE IS THE FED READING?
"If we determine that we need to tighten beyond common measures of neutral and into a more restrictive stance, we will do that as well."
— Fed Chair Jerome Powell, March 21, 2022
"In January, the Fed expected inflation to diminish this year as supply-chain bottlenecks improved. 'That story has already fallen apart,' Mr. Powell said Monday. 'To the extent it continues to fall apart, my colleagues and I may well reach the conclusion we'll need to move more quickly.'
"He contrasted the potential shock to inflation from a surge in a range of commodities due to the Ukraine war with the oil-price shocks from geopolitical events in the Middle East in the 1970s. That history was 'not a happy one' for the Fed, as it led to double-digit inflation, Mr. Powell said.
— Wall Street Journal, Powell Says Fed Will Consider More-Aggressive Interest-Rate Increases to Reduce Inflation, March 21, 2022
The Fed's statements are mesmerizing.  Every inflation metric is running at 50-year highs, record number of job openings since World War II, and they're wondering if they should do more than go to a "neutral stance"?!?!? 
They've been saying the problem is a few container ships stuck off Long Beach.  There is a massive supply problem – in labor.  The supply shortage is because 1.6 million fewer people are working relative to February 2020.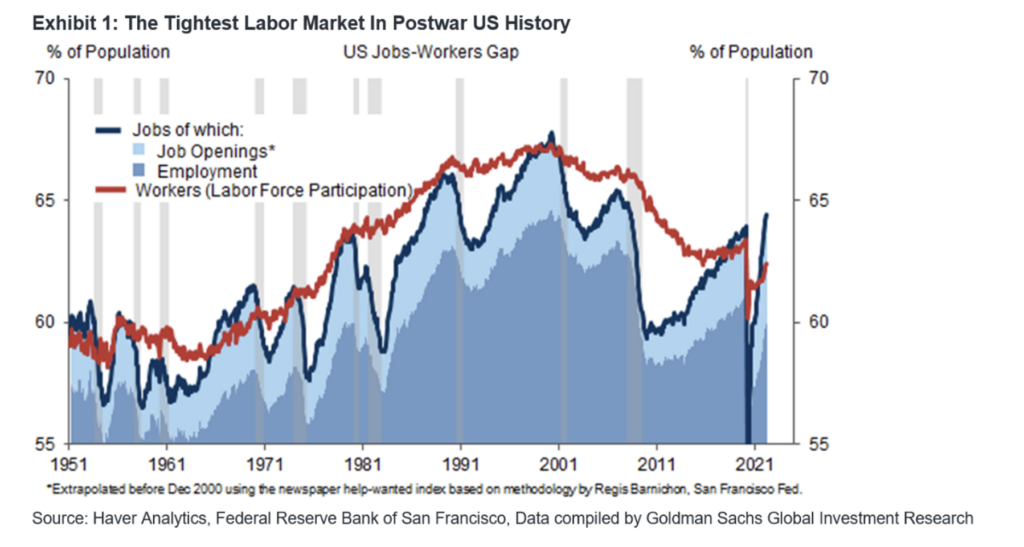 That's not going away.  It's going to take 5% fed funds to dent the housing market and other major sources of inflation.

STAGFLATION
We first predicted the return of 1970's style stagflation in our November 2021 letter.
Now others are seeing it…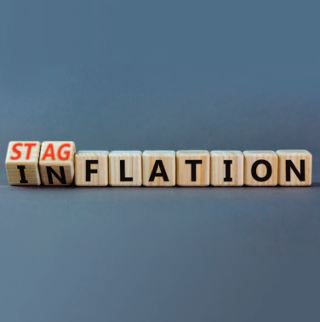 Source: Goldman Sachs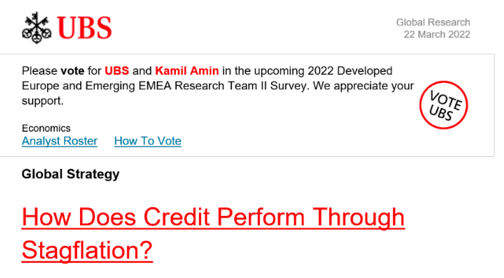 EMPLOYMENT GAP
As of January, the combination of unfilled and filled jobs has exceeded the total number of workers by the largest margin since World War II, according to an analysis by Goldman Sachs.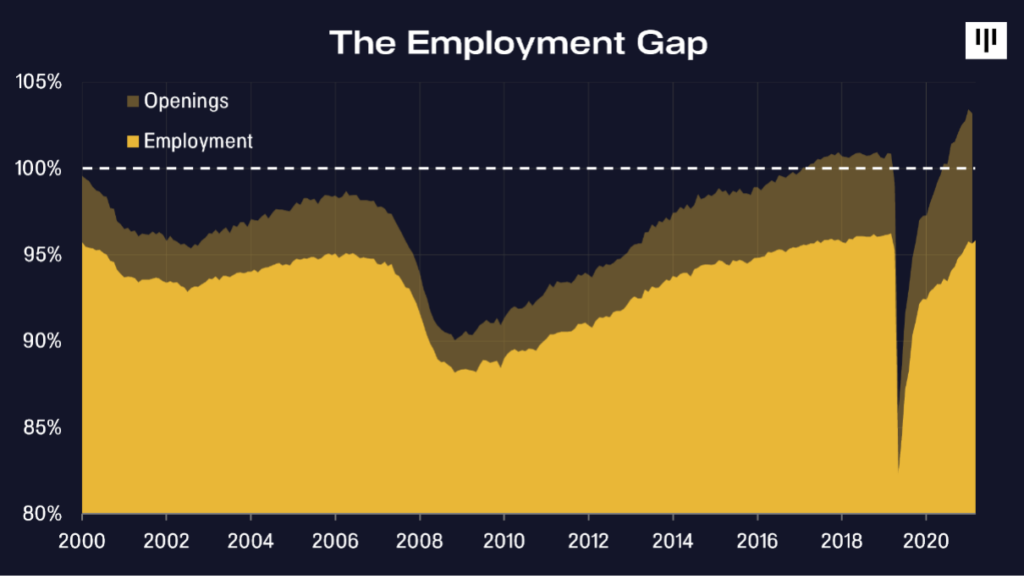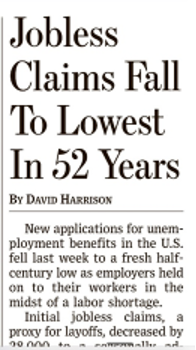 "The report marked the 11th straight month of job gains above 400,000, the longest such stretch of growth in records dating back to 1939.  The unemployment rate fell to 3.6% in March from 3.8% a month earlier, quickly approaching the February 2020 pre-pandemic rate of 3.5%, a 50-year low."
— Wall Street Journal, U.S. March Jobs Report Shows Strong Hiring Momentum, April 2, 2022

PANTERA BLOCKCHAIN SUMMIT
Pantera Blockchain Summit is an event bringing together our portfolio companies, Limited Partners, regulators, politicians, and our team for a day of learning and connection.  Our goal is to provide a platform for uncovering insights on key topics in the blockchain industry.
We started hosting the gatherings in 2013 as a way to bring industry leaders, academics, regulators, and builders together to discuss the most important topics in the blockchain space.  The first summit, a gathering of thirty crypto-enthusiasts, regulators, libertarians, Federal Prosecutors, and early developers in my house served as the basis of Nathaniel Popper's book Digital Gold.  Since then, the industry has grown into an impressive multi-trillion-dollar asset class.  This year we have 38 industry-leading speakers representing DeFi, NFTs and gaming, the Metaverse, institutional adoption, infrastructure, and more.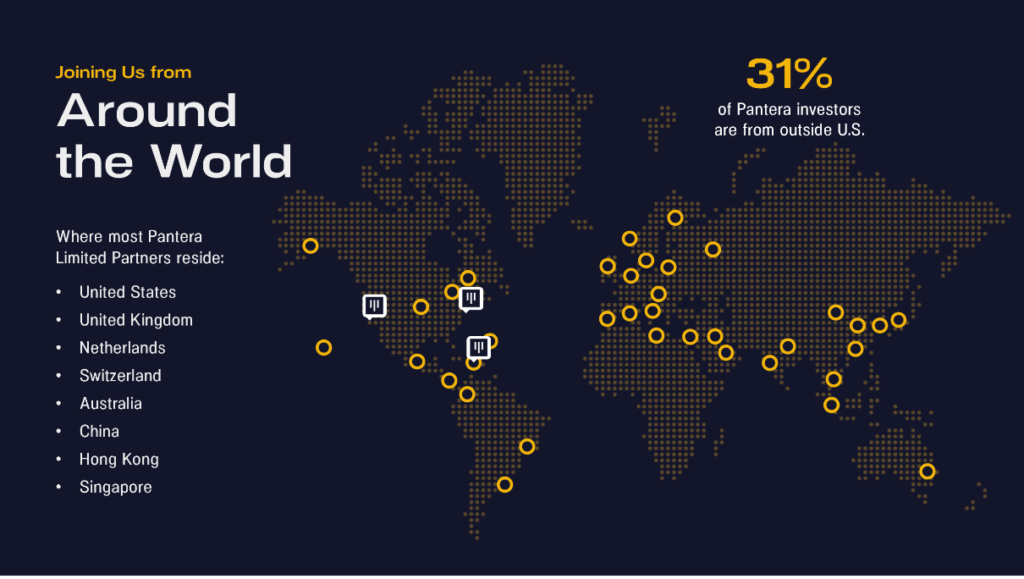 Over the next few months, we'll share highlights, transcripts, and full recordings from Pantera Blockchain Summit on our website and blockchain letters.

TWIN DISRUPTORS :: TESLA AND BITCOIN
The prior investment Pantera made before bitcoin was Tesla Motors.  I had dinner with one of the founders and was blown away.
Ron Glantz, our chief economist at the time and my former partner at Tiger Management – where he was a five-time II #1 auto analyst worked on the investment with me.  We came to believe that Tesla would radically disrupt the transportation and possibly even energy markets. 
In a fun coincidence when we began selling our Tesla shares to buy bitcoin they traded at the same price per share.  For much of 2013 bitcoin and Tesla traded at say $40, and $90, and $130 per share at the same moments.  We exchanged all of our Tesla stock for bitcoins.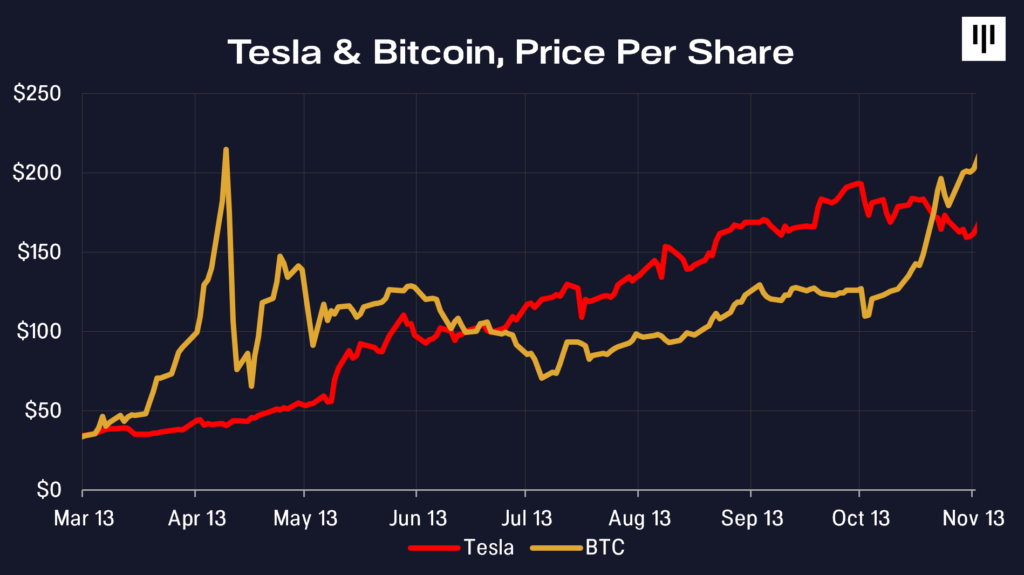 During 2013, we exchanged all of our Tesla stock for bitcoins. Tesla has split it stock a few times so that fun coincidence no longer exists.  A better coincidence has replaced it – market caps.  For the past six years the two disruptors have had about the same market cap.  The congruence of these charts is amazing.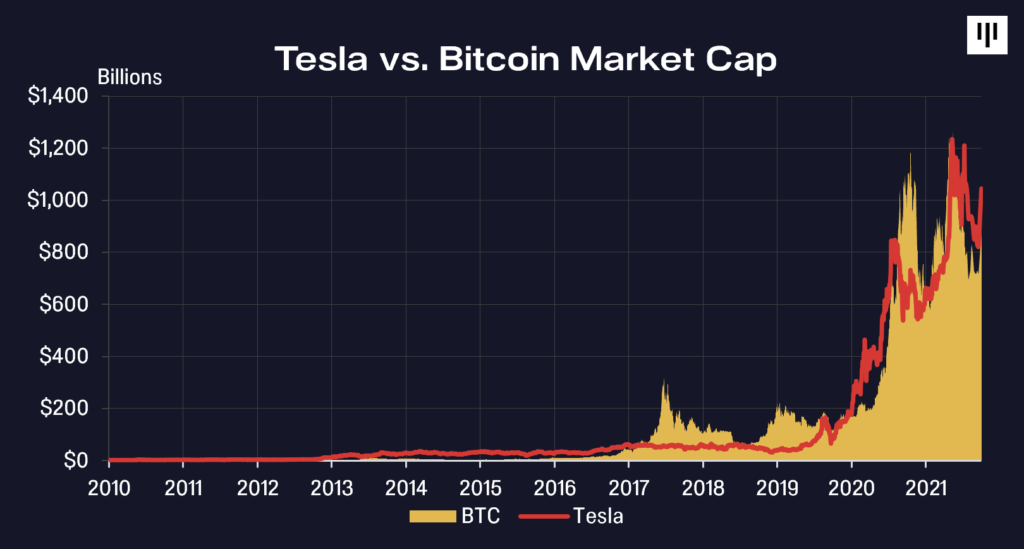 Dividing the two gives an interesting ratio:  the market cap of bitcoin relative to Tesla.  While I still drive a 10-year old Tesla and love what they can do to reduce carbon emissions, in my heart I think bitcoin will be just so much bigger in the end.  Right now you can buy bitcoin at a 14% discount to Tesla.  I think that's a good sign.  Bitcoin/blockchain will ultimately change the world.  Buying cryptocurrency here is cheap.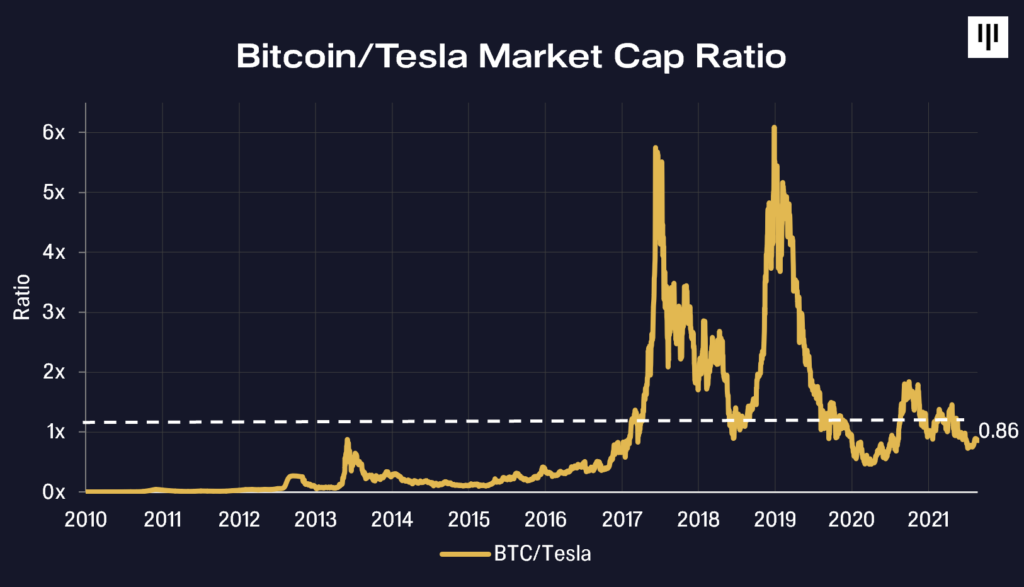 A link to the June 2013 Pantera Investor Letter on the bullish case for Tesla can be found here.  When we first invested, Tesla had a $4 billion market cap.  It's now $900 billion.

THE DECENTRALIZATION OF POWER :: PRINCETON
Pete Briger, Mike Novogratz, Joe Lubin, and I have all been friends since college.  We created an institute to promote The Decentralization of Power – based at Princeton University.
My view:
"Decentralization is devolving power from the historical centers and restoring it directly with the people.  Blockchain is the ultimate democratization – anyone with a smartphone can participate.  Cooperatively-owned and cooperatively-governed protocols will bring benefits to billions of people within this decade."
Our classmate, J.P. Singh, a Princeton University computer science professor and co-founder of Trust Machines, will be the first leader of the institute.
(In another wild coincidence, Gavin Andresen, Bitcoin's first Chief Scientist in 2010, was also a classmate.)
"The initiative on decentralization will accelerate three areas of work at Princeton:  the underlying engineering behind blockchain and related technologies;  innovative uses of the technologies not only in finance and economics but also in areas such as voting and news;  and the implications that such technologies could have for society.
"The technology is moving fast, so bringing a wide variety of experts together with the engineers who are building these platforms is critically important for students and for society.
"Work on the engineering side will bring together Princeton's already strong research groups in networking, consensus algorithms, optimization, game theory, cryptography and data structures.  Work on applying the research will include cross-disciplinary collaborations within or beyond Princeton in areas such as economics, finance, policy and humanities.
"We will be knitting together the advances in engineering with the transformative applications of those new platforms, and also understanding the societal implications of those changes in technology.  It is an excellent place for Princeton to take the lead."
— Andrea Goldsmith, Dean of the School of Engineering and Applied Science, Princeton University, March 10, 2022
The full press release can be found here.
In this video, Dean Andrea Goldsmith and Professor J.P. Singh discuss the new initiative on blockchain technology and its potential impacts.
(I know it's a bit ironic to put it at a centralized power center, but we'll work on that with DAOs, etc. over time.)

Take care,

                      @Dan_Pantera
"Put the alternative back in Alts"
---
CONFERENCE CALLS
Our investment team hosts monthly conference calls to help educate the community on blockchain.  The team discusses important developments that are happening within the industry, and will often invite founders and CEOs of leading blockchain companies to participate in panel discussions.  Below is a list of upcoming calls for which you can register via this link.
Pantera Select Fund Launch Call
A detailed dive into our new growth-stage fund.
Tuesday, April 12, 2022 9:00am PDT / 18:00 CEST / 12:00am China Standard Time
Please register (in advance) via this link:
https://panteracapital.com/future-conference-calls/
Pantera Blockchain Fund Closing Call
A detailed dive into our new "all-in-one" blockchain fund.
Tuesday, April 19, 2022 9:00am PDT / 18:00 CEST / 12:00am China Standard Time
Please register (in advance) via this link:
https://panteracapital.com/future-conference-calls/
Investing in Blockchain Conference Call
A discussion of the blockchain opportunity set and how Pantera's four funds are structured to capture value in this rapidly evolving ecosystem.
Tuesday, April 26, 2022 9:00am PDT / 18:00 CEST / 12:00am China Standard Time
Please register (in advance) via this link:
https://panteracapital.com/future-conference-calls/
Pantera Early-Stage Token Fund Ltd Investor Call
Tuesday, May 3, 2022 7:00am PDT / 16:00 CEST / 10:00am China Standard Time
Open only to Limited Partners of the fund.
Pantera Early-Stage Token Fund Investor Call
Tuesday, May 3, 2022 9:00am PDT / 18:00 CEST / 12:00am China Standard Time
Open only to Limited Partners of the fund.
Pantera Liquid Token Fund Investor Call
Tuesday, May 10, 2022 9:00am PDT / 18:00 CEST / 12:00am China Standard Time
Open only to Limited Partners of the fund.
Recordings of past conference calls are available on this page.
---
PORTFOLIO COMPANY UPDATES
Acala Launches $250 Million aUSD Ecosystem Fund to Support Builders
Acala is a decentralized finance platform and liquidity hub built on Polkadot and was the winner of the first parachain auction slot.  Acala will use the new ecosystem fund to support projects that drive demand for their aUSD stablecoin such as decentralized exchanges, money markets, payments protocols, and more.  Their goal is for the interoperable aUSD to be the primary stablecoin for the Polkadot ecosystem.  Pantera participated in the $250 million ecosystem fund alongside Alameda, Jump Crypto, ParaFi, and more.  Pantera previously led Acala's $7 million Series A round in August 2020.
Mina Raises $92 Million Round to Bolster Developer Growth
Mina Protocol is a privacy-focused Layer 1 blockchain utilizing zero-knowledge proofs for decentralized applications.  With Mina, regular Javascript developers are able to work with zk-proofs.  Mina plans to use the raise for developer grants to attract more builders to the ecosystem.  Pantera participated in the $92 million round co-led by FTX Ventures and Three Arrows Capital.
VALR Raises $50 Million Series B to Expand into Emerging Markets
VALR is a South African digital-asset exchange that offers trade in more than 60 cryptocurrencies and has fiat on- and off-ramps for ZAR and USD.  VALR's valuation has grown 10x since its $3.4 million Series A in July 2020 and plans to onboard the largest traditional finance institutions to the crypto asset market.  Pantera led the $50 million Series B round with participation from Alameda, Coinbase Ventures, and more.
Investing in Decentralized Finance Protocols
Sturdy Finance is a decentralized lending protocol offering interest-free borrowing and high-yield lending.  Sturdy will use the raise to accelerate development, allowing them to launch on more chains and add collateral assets.  Pantera led the $3.9 million round with participation from YCombinator, SoftBank, KuCoin Ventures, and more.
Swim Protocol is a multi-chain automated market maker (AMM) for native assets.  Swim aims to eliminate the need for wrapped assets and allow users to swap native assets across chains.  Pantera led the $4 million seed round with participation from FTX, Jump Capital, Coinbase Ventures, and more.
Cega Finance is a decentralized exotic derivatives platform built on Solana.  Cega is focused on development and creating a community focused on expanding product offerings, statistical modeling, and education.  Pantera participated in the $4.3 million seed round led by Dragonfly, alongside Coinbase Ventures and Alameda.
Investing in NFT Infrastructure and the Metaverse
Metaverse Game Studios is the creator of Angelic, a blockchain-based MMORPG game set in a sci-fi world.  The team is creating an AAA experience, having previously worked on games such as League of Legends, Far Cry, and Halo 3.  Pantera co-led the $10 million round alongside Animoca Brands, Solana Ventures, and Everyrealm.
Space Runners is a metaverse fashion brand focused on creating NFTs and other digital wearables.  Space Runners partners with high-profile artists, athletes, and brands to create collectible assets and aims to be the largest supplier of interoperable fashion items.  Pantera co-led the $10 million round alongside Polychain Capital.
Rarify provides NFT infrastructure to mint, manage, trade, and transfer NFTs on multiple blockchains.  They are simplifying the process of buying and selling NFTs with their commerce-focused APIs and will provide robust NFT tracking and verification tools.  Pantera led the $10 million Series A round with participation from Slow Ventures and Eniac Ventures.
---
PANTERA OPEN POSITIONS  
Pantera is actively hiring for the following roles:
Associate, Capital Formation

Associate, Capital Formation / Office of the CEO

Director, Capital Formation

Co-Head, Capital Formation

President

Platform Engineer

Quantitative Trader

Trading & Middle Office Python Developer

Executive Assistant to the Investment Team

Executive Assistant/Office Manager

Executive/Personal Assistant to the CEO

Associate, Accounting

Associate, Finance & Operations

Senior Associate, Accounting

Tax Manager

Growth Stage Investment Associate

Investment Associate/Analyst

Platform Associate/Analyst

Senior Associate, Co-investment & Opportunities Program

Security + Cryptoeconomics Auditor

Associate, Investor Relations

Chief Operating Officer
If you have a passion for blockchain and want to work in San Francisco, Menlo Park, San Juan, New York City, or London, please follow this link to apply.  Some positions can be done remotely.