MARKET VOLATILITY
A convergence of things caused the blockchain markets to go down sharply.  We'll address some of the main ones in this letter:
China "bans" bitcoin (for the third time)

Tax Day

Elon Musk's 180
The volatility has presented a very compelling opportunity.  We are eager to deploy assets of the new Pantera Blockchain Fund on June 30th. 
MOST VOLATILE WEEK IN THE HISTORY OF BITCOIN
The week of May 17th was the largest weekly trading range in history of bitcoin.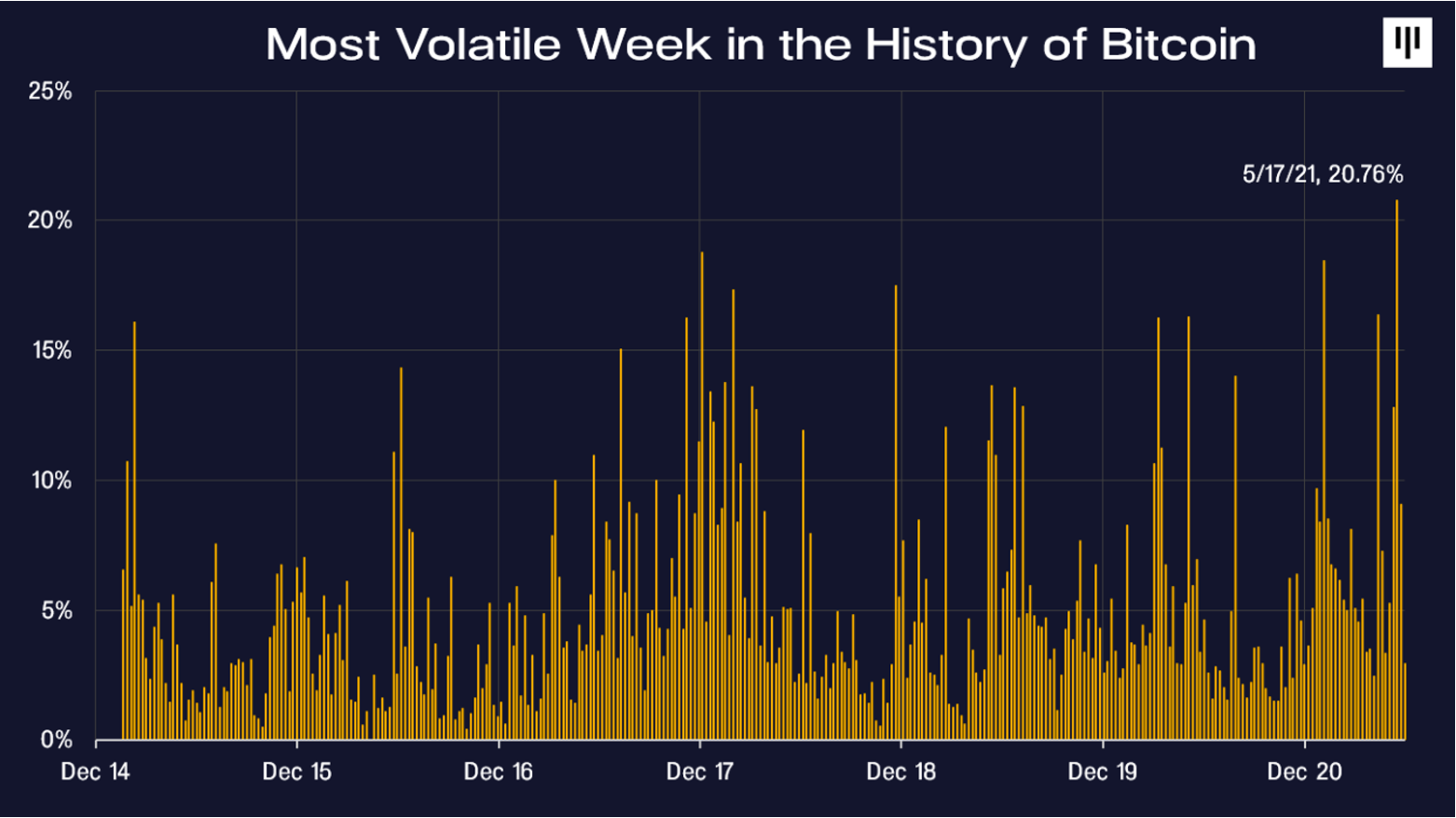 The proximate causes of the sell-off don't seem commensurate to the large size of the move.  We'll run through some perspectives here…

I FEEL LIKE WE'VE SEEN THIS MOVIE BEFORE

I love Joey's take on it:

CHINA "BANS" DISRUPTIVE TECH
OK, let's take in the latest China "banning bitcoin" thing out with a wider lens.  It feels like we've also seen **that** movie before.  
Investors who sell on China "bans" usually end up bummed…
Blocking Google, Facebook, and everything else we call the internet didn't make them not happen.  Same with bitcoin.  

TAX DAY
Tax Day can be important on crypto prices.  After the two previous big run-ups – 2013 and 2017 – bitcoin peaked four months before Tax Day and hit a low about a week before Tax Day.  That makes some sense.  A lot of crypto traders are new to investing.  You can imagine a person buying as much bitcoin as they can.  Sometime later they decide to swap it for ether.  And then, the next spring their tax preparer tells them they owe 34% of the gains in taxes.  Since they're "all-in" on crypto the only way to raise cash to pay their tax bill is to sell some crypto.  Prices fall leading up to Tax Day.
"So, if it's so obvious – why did you not see this?!?!"
We thought we did.  We were very conscious of this pattern as we came into 2021.  In late February we took off 20% of our risk.  The market quickly fell 25%.  We thought that was it.  Put our risk back on.  (That risk management has helped us out-perform this year.)
In mountain climbing there's a term "false peak".  Some mountains have two peaks.  From certain vantage points the lower one can look higher.  The New York Times recently did an article on how many of the famous climbs in history did not actually get to the highest point on the mountain.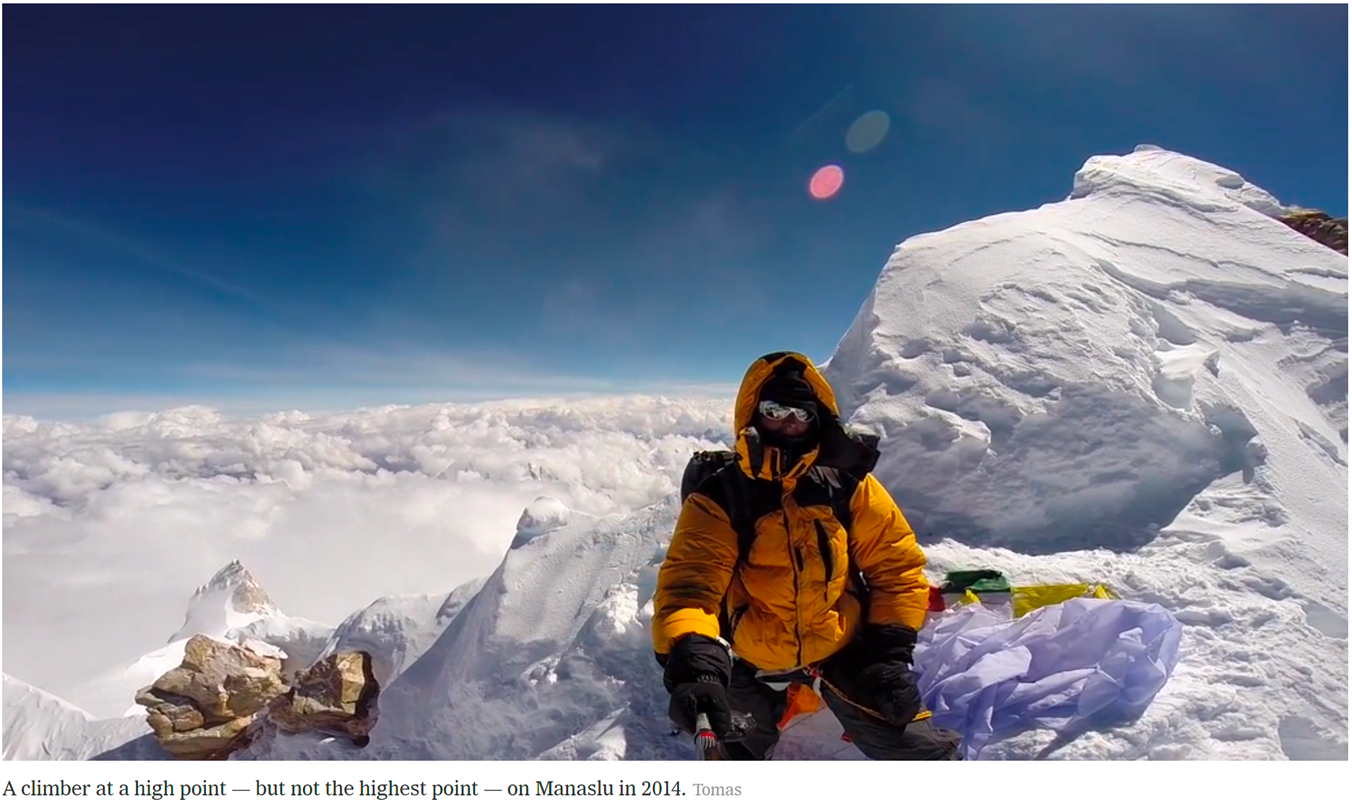 https://www.nytimes.com/interactive/2021/sports/tallest-mountain-summit.html
In hindsight February was a false peak.  When the China-Elon earthquake hit, the markets fell again.
"So, are we now at a low?"
Having missed the second high, not sure that it's worth sharing thoughts on the next question, but here goes…
My view is YES.  Previous Tax Day cycles have hit local lows seven days before Tax Day.  That makes tremendous sense.  That's about how long it takes to get your money out of an exchange and to your bank.  The bitcoin market hit a local low near $30,000 two days after Tax Day (the U.S. government pushed Tax Day to May this year).  Only nine days off the historical average and within the period that makes intuitive sense.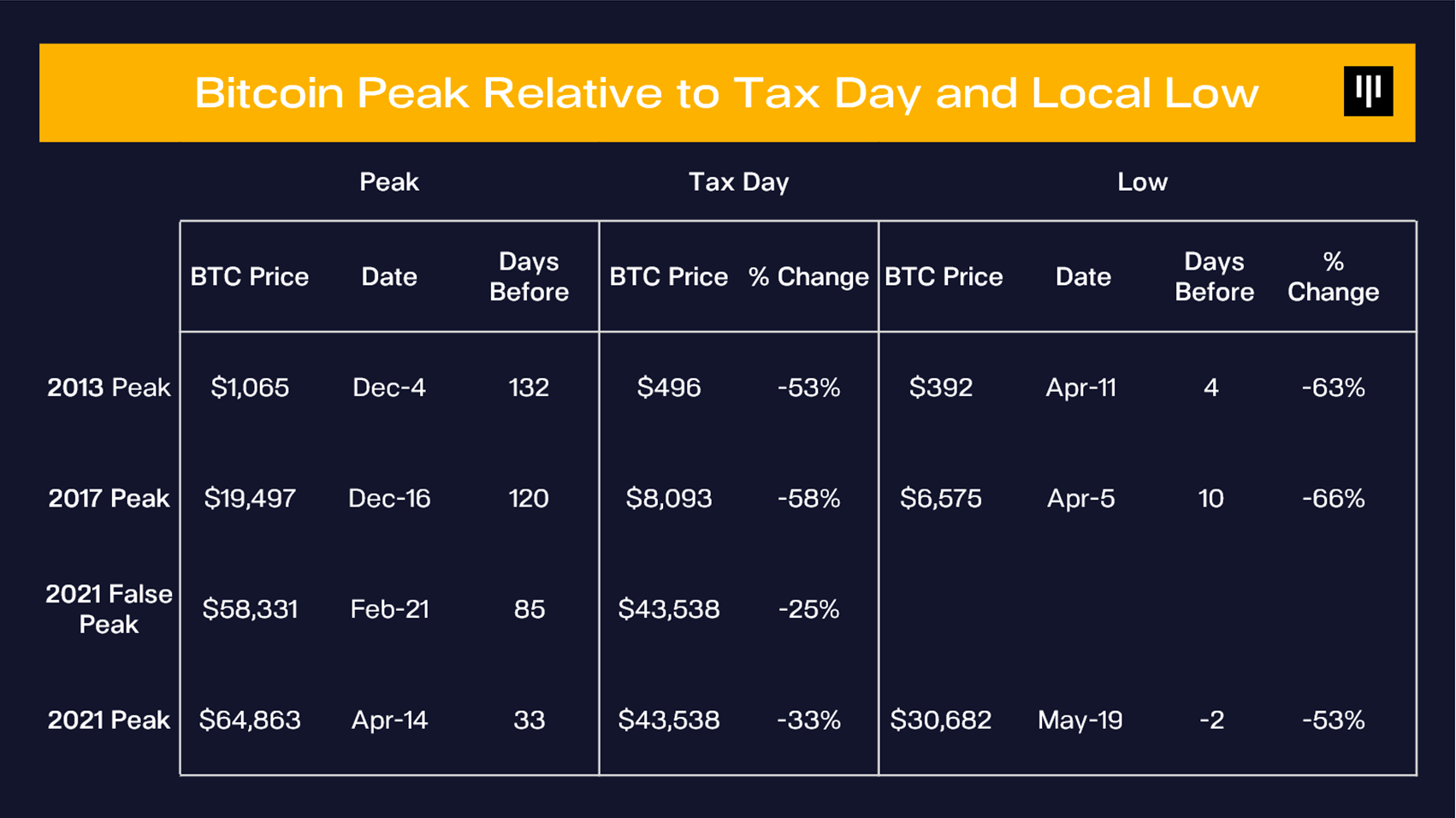 DEVIATION FROM 11-YEAR TREND
Here are a few other checks on whether bitcoin is overvalued.  
Bitcoin is currently trading 36% below its 11-year exponential trend.  Bitcoin has only spent 20.3% of its history as far under trend valuation.
At the recent peak, it went just a touch over trend value.  As you can see, past peaks were many multiples of trend value.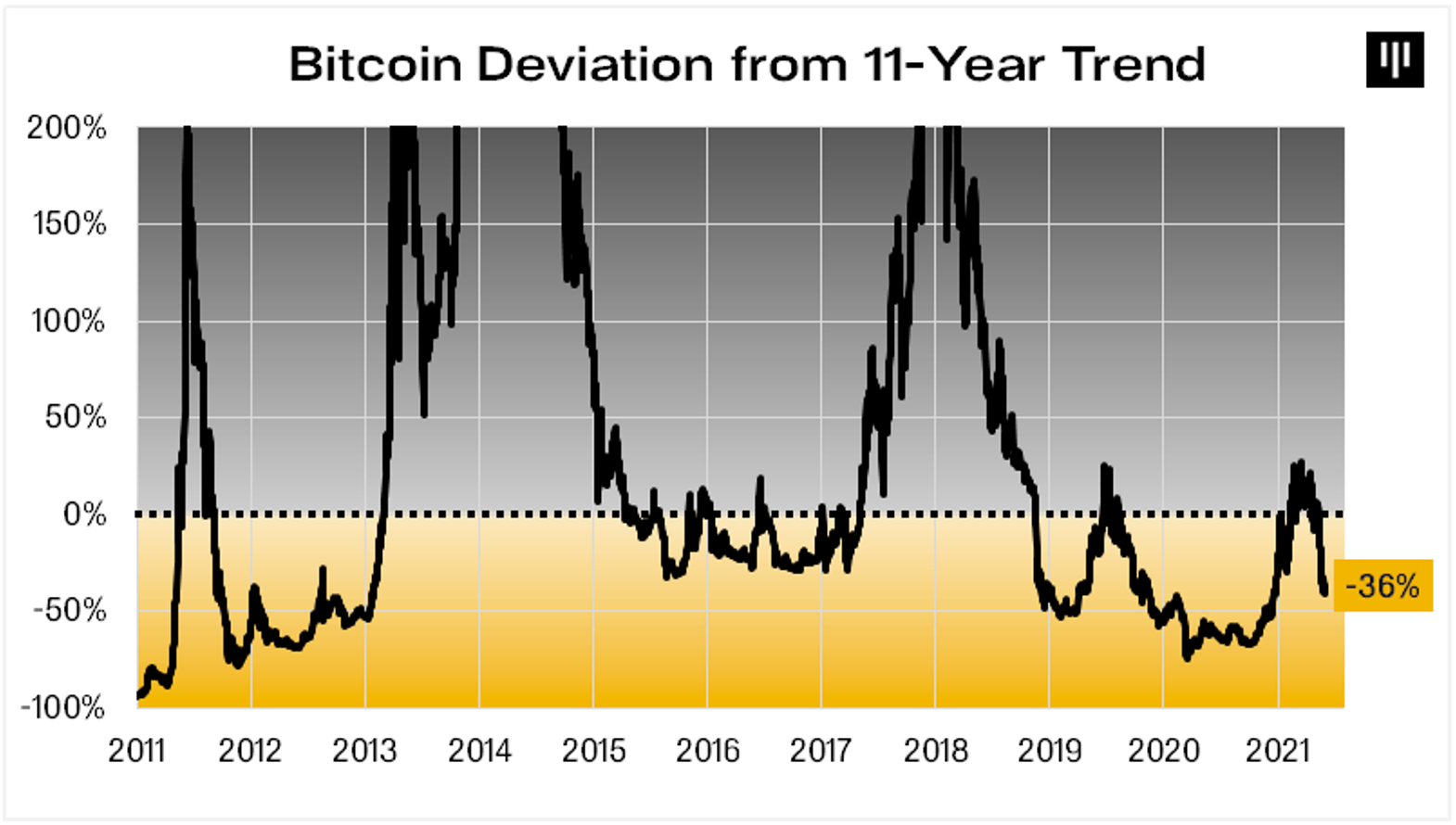 YoY
The year-on-year return never went literally off-the-chart like in past peaks.  It's currently trading at 281% year-on-year — which seems entirely plausible given the money printing that has occurred in that period.
Bitcoin's four-year-on-year return is at the lower end of its historical return.  Again, doesn't look overvalued.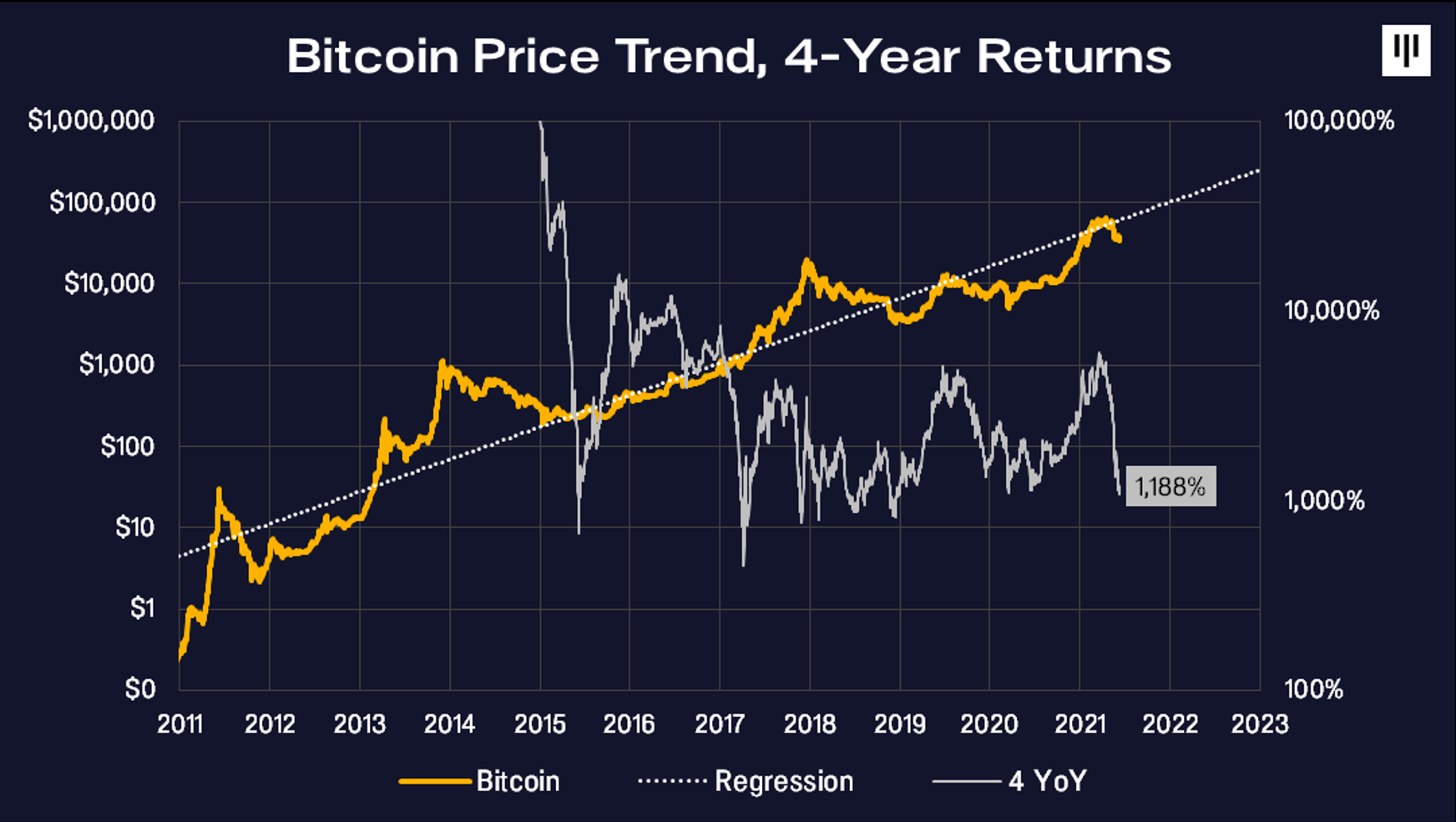 Joey Krug and I think we've seen the most of this panic.  

HUMAN NATURE IS PRO-CYCLICAL :: GO AGAINST THE URGE
Humans have an innate herd instinct.  It's what kept our ancestors alive – when those with the wild lone-wolf/contrarian tendencies got "Darwined" out.  
It's human nature that we want to buy when the market is surging up — when the FOMO devil is whispering in our ear.

When the markets are crashing – and our spouse/friends/boss are all WTF, we want to flee…we want the pain to stop.
We all do it.  
I'm probably not going to win the Nobel Prize in Physiology or Medicine for this, but I could imagine that the traits we imprinted on the plains of the Serengeti might not be optimal for trading early-stage protocol tokens.
Pantera Bitcoin Fund is the oldest cryptocurrency fund, so it has the most complete data on investor behavior over three cycles.  Here's an update to a histogram we originally published in 2014, after the 2013 peak.  We updated it in 2018, after the 2017 peak.  While it's too early to call 2021 a peak, a quick update is useful.
Going with the momentum is just human nature.
The following graphic plots the percentage of time that the price of bitcoin was in each price bucket.  We've added a new perspective this time:  the buckets are a logarithmic progression.  Each bucket is a 33% rally from the lower bucket.  They are labeled in terms of the percentage of the trend price bitcoin was trading.  
The gray bars are the percentage of time bitcoin spent trading in each price range.  The price distribution is fairly normally distributed.  Most of the time at or near trend.  A little bit of time super-cheap and a little bit way above trend.
The gold bars show the percentage of inflows in each valuation bucket.  The inflows are very skewed – massively pro-cyclical.  Very little inflows when bitcoin is extremely weak.  Very few investors wanted to buy when bitcoin was trading at or below 37 cents on the trend dollar.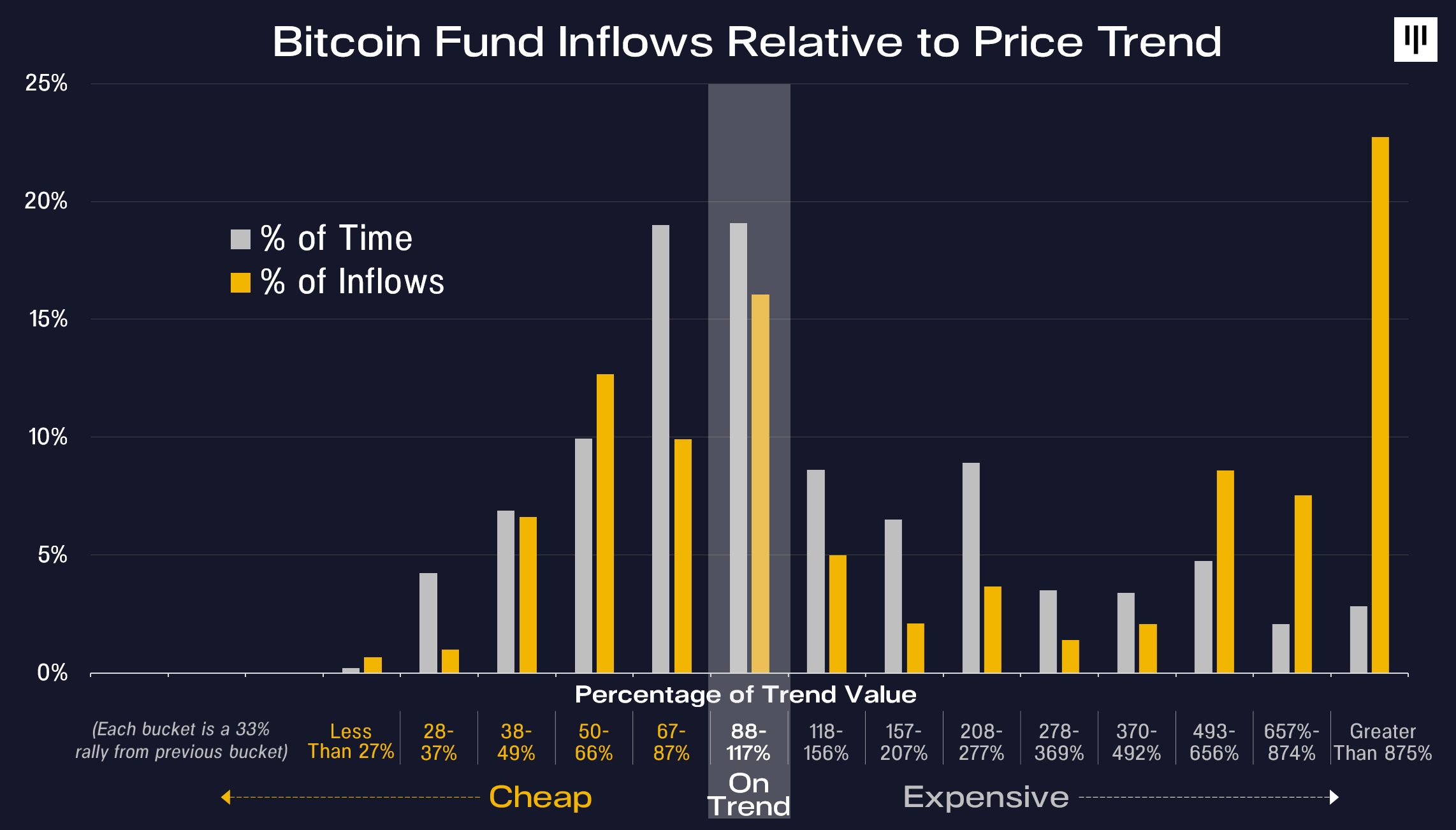 On the flipside, there have been very large inflows when it's trading well above its trend.  The majority of the money has come in well into the rallies.
For example, the market spent only 10% of the time above 500% of fair value, but 39% of inflows came in at or above that level.

This is not all bad; as we've stressed, bitcoin generally goes way up.  It has averaged more than tripling annually for ten years.  Anyone that has held bitcoin for 3.25 years has made money.  Bitcoin has only printed one calendar year with a lower low.  So, most of those investors are up big-time.  
Resist the urge to close down positions.  If you have the emotional and financial resources, go the other way.
For new investors, it's best to buy when the market is below trend.  Now is one of those times.  The market has been this "cheap" or cheaper relative to trend only 20.3% of the past eleven years.

PANTERA BLOCKCHAIN FUND :: FIRST CLOSING JUNE 30TH
Pantera Blockchain Fund is having its first closing on June 30th – an opportune time to begin deploying capital while the markets have backed off.
The Fund offers exposure to all facets of the cryptocurrency and blockchain markets.
Pantera Blockchain Fund has three main buckets of risk.  It will continue to invest in venture, investing in private companies that are using blockchain to do something better, faster, and cheaper.  When Venture Fund III is fully invested this summer, all new venture deals will go in Pantera Blockchain Fund.
We'll be investing in early-stage tokens.  The investment process is very similar to early-stage venture, meeting protocol developers when they have the genesis of an idea, investing in the project and then trying to help them grow over the three or four years it takes to become public, and to get out into the markets.  A minority of the fund will be investing in liquid tokens.  But, as we talk about below – not just Bitcoin or Ethereum.  
Protocol tokens are obviously a huge part of the value in this disruption.  It will allow us to get exposure to the space and balance that against the opportunities in venture.
Constructing the Fund this way leverages the cycles of development and growth that has always been and will continue to be the strength of this ecosystem.
Our current family of funds cover the full spectrum.  They are as well mutually exclusive.  Any single asset can only go in one fund (with the exception of bitcoin).
The new fund offers investors exposure to the entire spectrum of blockchain assets.

HOW TO INVEST
We believe this new Fund is the most efficient way to get exposure to blockchain.  It is a continuation of the strategies we have employed for eight years across eight venture and hedge funds which have collectively generated an average IRR of 110%.

As in previous Pantera venture funds, a Co-Investment Class is offered.  Limited Partners investing $15mm or more will have the option to collectively co-invest at least 10% of each venture and early-stage token deal.
The summary of terms can be found here.
Our first close will be June 30th.  Capital calls will be at fiscal quarter ends, with 25% of commitment due at an investor's first close, and the balance called quarterly at fiscal quarter ends.
Click the button below to begin the investment process online.


If you are simply interested in exploring this opportunity further, please email ir@panteracapital.com
Also, please join us for our Pantera Blockchain Fund call at 9am PDT July 13th.  You can register here.

LEARN MORE ABOUT PANTERA BLOCKCHAIN FUND
Our (vaccinated) Capital Formation partners and occasionally investment team members have begun traveling to discuss Pantera Blockchain Fund and the overall blockchain opportunity with our Limited Partners and potential investors.
We also have organized group lunches in some roadshow cities, should you want to learn more about the Fund and meet other investors who share your interest in blockchain.  If you are interested in attending one of our group lunches, please fill out the form on this page and we will be in touch regarding availability.
Chicago, June 15-16

June 16, Group Lunch | 12pm

New York City, June 23-25

June 24 & 25, Group Lunches | 12pm

Austin, June 21-22
Los Angeles, June 29-30

June 29, Group Lunch | 12pm

Boston, July 7, Group Lunch | 12pm
Philadelphia, July 14, Group Lunch | 12pm
Palo Alto, July 19, Group Lunch | 12pm
Chicago, July 21-22

July 22, Group Lunch | 12pm

San Francisco, July 28, Group Lunch | 12pm
Washington DC, July 28-29

July 29, Group Lunch | 12pm

Nashville, August 10, Group Lunch | 12pm
Amsterdam, September 20
London, September 21-22

September 22, Group Lunch | 12pm

Amsterdam, September 23
Zurich, September 24
If you are interested in a meeting, please contact the Pantera Capital Formation team at +1-650-854-7000 or ir@panteracapital.com. 

BLOOMBERG INTERVIEW wITH ERIK SCHATZKER
Q.  Dan, all of a sudden, Elon Musk, one of the biggest crypto boosters in the corporate world has issues with Bitcoin. Does that concern you?
"He's obviously a mercurial person and changing corporate strategy very quickly here.  It's important to note that Tesla's still long the $1.5 billion of bitcoin that they bought."
Q.  You surely saw his tweet in which he said, "Crypto is a good idea on many levels and has a promising future, but the environmental cost of all the coal burned to mine Bitcoin is simply too great." Does he have a point about that in your view?
"There is a point to think about — How renewable are the resources that are used to process transactions on the Bitcoin-brand blockchain?  But it's very important to remember Bitcoin is only one of many blockchains.  It's about 40% of the overall market capitalization.  The other 60% are coins that either currently use no electricity or will switch to proof-of-stake mechanisms that won't use electricity."
Q.  Does that mean Bitcoin's future is by definition dimmer?  I'm not playing on the electricity theme, but dimmer than the future for those other tokens?  Especially among institutional investors, right?
"It will have some impact.  ESG concerns have come up in the last three or four months…It's an interesting topic, but the majority of blockchains in this space don't use electricity so it shouldn't be a big issue for the industry as a whole."
Q.  What if the US government finally cracks down on crypto, either as a means of exchange or cracks down on crypto platforms in an effort to stymie the criminals who do use it for nefarious purposes?
"There's definitely a slant to that question with the 'finally cracking down' line.  Criminals commit crimes.  They've been doing it for a long time before crypto.  [A very low, single-digit percentage of crypto transactions are used] for crimes.  Remember Bitcoin has a permanent paper trail of every transaction that's ever happened.  It's published publicly every ten minutes.  That is a terrible feature for committing crimes.
Much more crime happens with cash or through regular banks…If governments today had to approve either Bitcoin or cash, there's no chance they would approve cash.  Cash is mega-sketchy.  Crypto is much better."
Q.  Would you call this a buying opportunity, this Elon Musk tweet, the finance investigation?
"I would.  Bitcoin's still well below its ten-year compound annual growth trend.  It's not like we're in overpriced territory or it's a bubble.  All these major firms and the Wall Street wealth platforms have now allowed their clients to buy Bitcoin.  Big corporations, many of whom are not called Tesla Motors or Elon Musk, are buying Bitcoin.  Those trends are just starting and this is a multi-decade disruption.  I think we have a long way to go here."

ACTIVE MANAGEMENT
There was a time that getting long bitcoin was enough.  Pretty much was all you needed.  Then bitcoin+ethereum was enough.  
This a great first step.  However, it might not cover the majority of the future opportunity.  Active management of the 150 tokens which are liquid enough to trade in size can add tremendous alpha.


Click on a fund below for more information.
Pantera hedge funds accept new investments at the end of each month and Pantera Bitcoin Fund accepts new investors on any U.S. banking day.  None of our hedge funds have lockups.  All Pantera funds are now open to non-U.S. investors. 
Please visit our website to learn more about Pantera and our offerings.  If you need additional assistance, please contact our Capital Formation team at +1.650.854.7000 or by email at ir@panteracapital.com.

PANTERA BLOCKCHAIN SUMMIT 2021
Pantera Blockchain Summit was the sixth in a series of gatherings we've hosted since 2013 – bringing together some of the brightest minds in the cryptocurrency community – programmers, regulators, lawyers, entrepreneurs, investors.
The content is available in this link:

Day One of the Summit featured discussions on cryptocurrency regulation from the regulator's perspective.  SEC Commissioner Hester Peirce spoke eloquently about the value propositions of digital currencies and the implications they have on financial markets. 
"There are a lot of benefits that can happen if we expand the reach of our capital markets.  And this is something that I think the decentralized model can do."
— Hester Peirce, SEC Commissioner
Pantera Blockchain Summit
Watch the recording here.
Brian Brooks, the former Acting Comptroller of the Currency and now CEO of Binance, and Karen Ubell, Partner at Goodwin, sat down with Joey Krug to discuss their regulatory outlook on digital assets.
Day Two featured interesting conversations with many founders and CEOs of Pantera portfolio companies.  Greg Tusar, VP of Institutional Products at Coinbase, had a fireside chat discussing his journey co-founding Tagomi (acquired by Coinbase), and building institutional-grade services in the crypto ecosystem.  I moderated a discussion with Cuy Sheffield, Head of Crypto at Visa, and Circle Founder and CEO Jeremy Allaire to talk about how stablecoins can be used in everyday commerce.
"We want to be the bridge between crypto platforms and our 70 million merchants around the world.  We see these platforms as next-generation neobanks."
— Cuy Sheffield, Head of Crypto at Visa
Pantera Blockchain Summit
Alchemy co-founders Nikil Viswanathan and Joe Lau sat down with Pantera Partner Paul Veradittakit to share their perspectives creating one of the leading infrastructure projects in the space.  You can watch the full video here.
Paul also hosted a fireside chat with FTX CEO Sam Bankman-Fried and Blockfolio co-founder Edward Moncada to discuss their journeys creating consumer facing companies in the blockchain space.  
"Traditional finance basically assumes everywhere that no transfers are certain – that anytime anyone sends money anywhere, it's only like 75% [certain] to have actually arrived….
"And then you take a step back and question 'what can crypto do about that'?  Well if you send a bitcoin to FTX, we know that the bitcoin landed there.  We're not 75% sure – we can look at the blockchain….
"With crypto rails, one of the nice things is that you actually have real settlement."
— Sam Bankman-Fried, CEO of FTX
Pantera Blockchain Summit
The final day consisted of more conversations with leading founders and CEOs in the space with discussions on blockchain scalability, Web 3.0, payments, and more.
Check out the full list of recordings here. 

OFFSHORE LIQUID TOKEN FUND
Pantera Liquid Token Fund is now available for non-U.S. investors.  The strategy is identical to the onshore version: 
Pantera Liquid Token Fund is a multi-strategy vehicle that typically invests in 10-15 liquid tokens at any point in time.  The Fund is predominantly driven by a discretionary strategy focused on decentralized finance and adjacent assets.  The Fund also deploys a quantitative strategy, trading on an hourly frequency.  This typically represents 10-25% of the fund's risk.
If you are interested in this product offering, please reach out to our investor relations team at ir@panteracapital.com for further information.

Take care,

"Put the alternative back in Alternatives"
---
CONFERENCE CALLS
Our investment team hosts monthly conference calls to help educate the community on blockchain.  The team discusses important developments that are happening within the industry, and will often invite founders and CEOs of leading blockchain companies to participate in panel discussions.  Below is a list of upcoming calls for which you can register for via this link.

---
PORTFOLIO COMPANY UPDATES
Investing in Pintu and Crypto in Southeast Asia
Pintu is the leading regulated crypto exchange in Indonesia, delivering an easy-to-use, mobile-first banking platform to over 400,000 cryptocurrency users.  Pintu is the first platform to issue a blockchain-based, asset-backed stablecoin for the Indonesian Rupiah currency, known as Rupiah Token.  By Pintu's estimate, Indonesia processed $10B in cryptoasset transactions, mostly through retail investors.  The country has the fourth-largest population in the world at over 270 million people, of which 175 million are active Internet users.  Pintu's team plans to expand its crypto-bank product offerings and build its presence across Southeast Asia.  Pantera led a $6 million Series A round for Pintu in May 2021 with Intudo Ventures, Coinbase Ventures, Alameda Ventures, Blockchain.com Ventures, and Castle Island Ventures.
Arbitrum Launches Layer 2 Solution to Scale Ethereum 50x
Arbitrum recently launched its Layer 2 chain, Arbitrum One, as the first "optimistic rollup" solution available to developers on Ethereum mainnet.  Optimistic rollups improve blockchain scalability by batching Ethereum-based transactions in a more efficient manner, then reporting the result to the Ethereum main chain.  Arbitrum can reduce gas fees by more than 50x for most workloads on Ethereum.  Over 250 teams have directly requested access, including many top DeFi platforms, like Uniswap and Compound.  The team also announced key partnerships with Etherscan, the most popular Ethereum block explorer, and Alchemy, the leading blockchain development platform (and Pantera portfolio company), to enable developers and end users to leverage Arbitrum.  Pantera previously led a $3.7 million seed round for Offchain Labs, the developers of Arbitrum, in March 2019.
Circle Raises $440 Million to Accelerate Stablecoin Adoption 
Circle provides payments and treasury infrastructure for internet businesses via public blockchain and stablecoin infrastructure, namely USD Coin (USDC).  USDC originated as a joint project by Circle and Coinbase and is currently one of the most widely-used stablecoins, with over $22 billion in circulation and $615 billion in transaction volume over the past year.  Visa recently accepted a USDC-settled payment as part of a pilot program in March 2021.  Circle's management team has recently brought on key hires, including Dante Disparte, who previously led public policy for the Facebook-founded Diem Association (fka Libra), and Mandeep Wahlia, who previously led risk and compliance efforts for Facebook's Diem-based digital wallet, Novi.  The company raised $440 million in new funding from Fidelity, FTX, Digital Currency Group, Marshall Wace, and others.  Pantera previously participated in Circle's funding rounds in May 2018 and April 2014.