FIVE ORDERS OF MAGNITUDE
It's pretty freaky deaky to have two data sets go up five orders of magnitude and have their relationship be perfectly constant.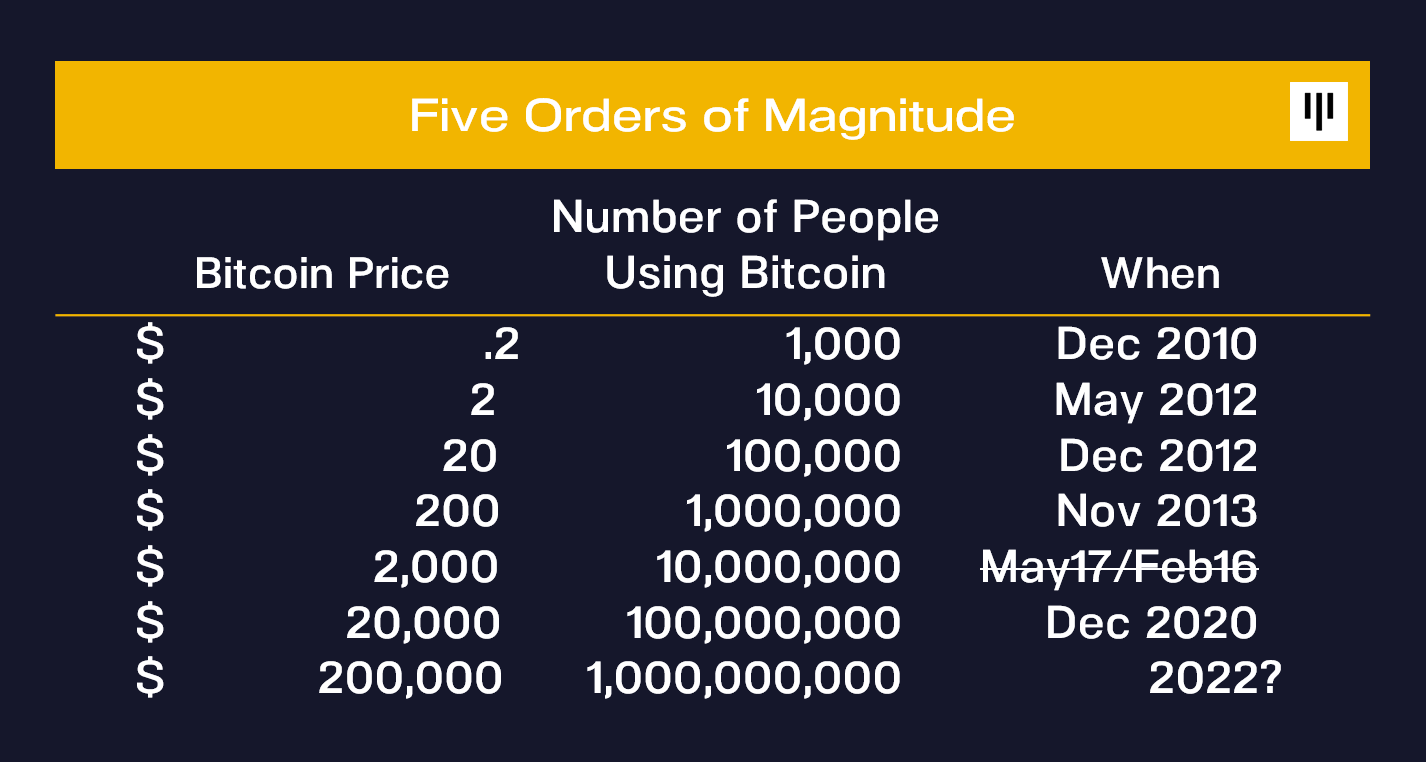 For every million new users, the price of bitcoin rises $200.  It happened every time except for February 2016, when the price was slow to hit.   
The rise in the price has been amazingly constant.  I'll leave it to some future Avogadro to figure out exactly why.  The important point is:  If this relationship holds, bitcoin will hit $200,000 in 2022.
I realize that sounds like a large caveat – but these relationships have held for a decade.  The compound annual growth rate (CAGR) of bitcoin has been 213% for more than ten years.  $200,000 a year from now would be exactly 213% higher than today.  It would be just normal trend growth.
Later in this letter we have an update on the bitcoin halving relationship from the past eight years.  In our April 2020 investor letter we used the relative stock-to-flow ratios to forecast that bitcoin could hit $62,968 this week.  It did.

DEMAND OVER TIME
In our December investor letter, we focused on supply and demand.
A Tiger cub friend/TMT investor: "We don't invest in bitcoin because there are no cash flows to discount." 
Me:  "Well, there're no cash flows to EUR/USD either, but nobody thinks twice about trading it." 
How **do** you value bitcoin?
An answer is:  Bilateral exchange rates are just supply and demand. 
I realize for some, that's an unsatisfying answer.
We've taken two perspectives on supply and demand.  The first is an Econ 101-style supply and demand chart: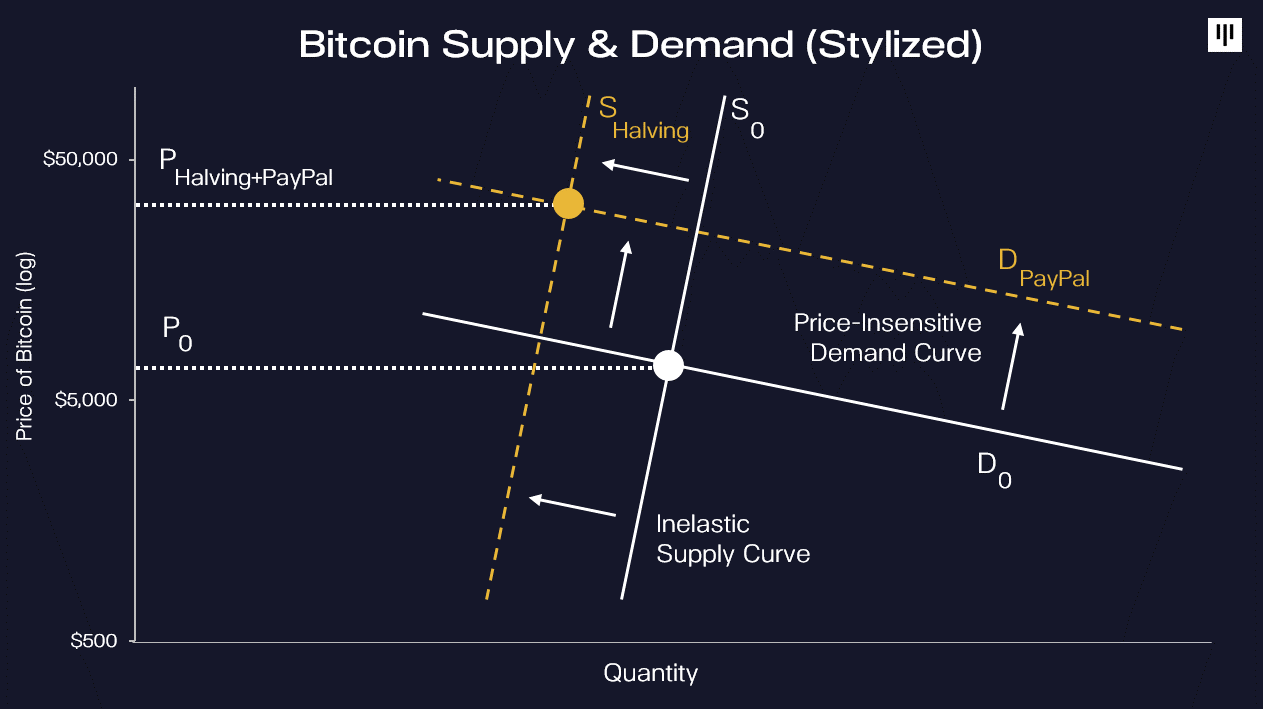 We've seen two huge shifts – one in demand, one in supply – both upwards.
On the demand side, we've had massive companies like Morgan Stanley and PayPal enter the market.  That shifts the demand curve much higher.  
At the same time, the supply of newly-issued bitcoin was cut in half last May – as part of the every-four-years halving of bitcoin issuance.
The demand curve didn't just shift once – it's been shifting like that for a decade, as new entrants discover bitcoin.
Here's our standard log price graph.  In this we've stylized the x-axis as the number of people using bitcoin.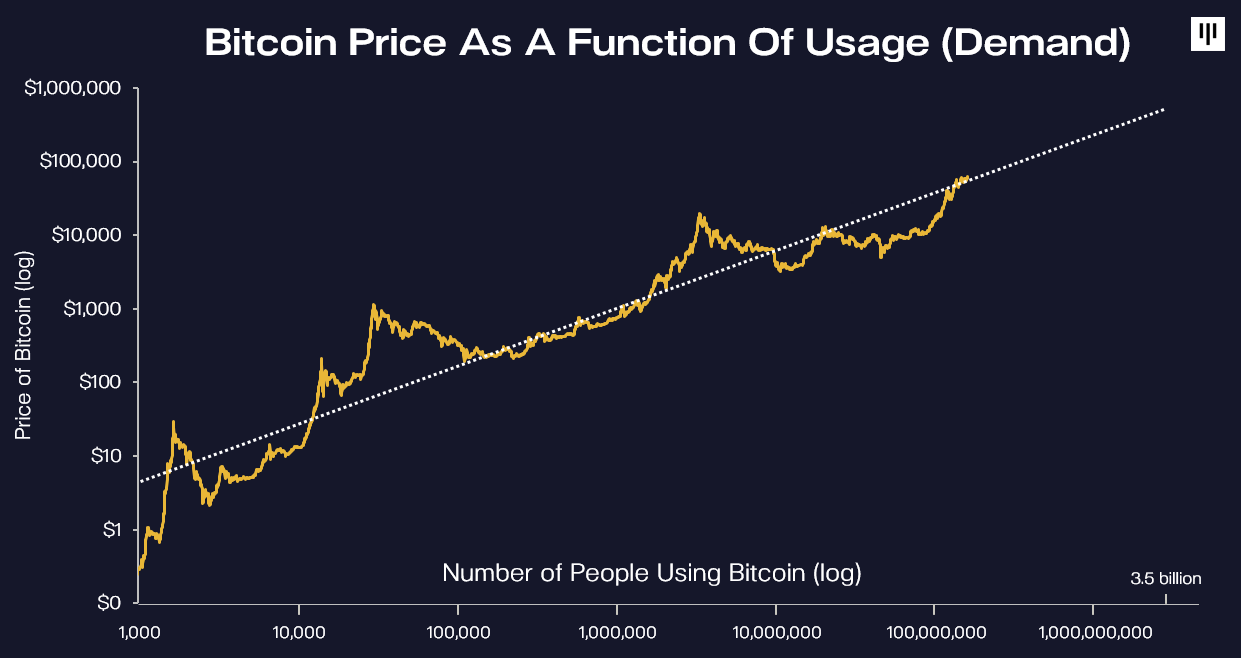 3.5 billion people have a smartphone, the only requirement to use bitcoin.  In the long, long run – it's not obvious why most of those won't use bitcoin.  That's not many more than share photos on Facebook. 

POSSIBLE TERMINAL VALUE OF BITCOIN
Using these relationships, we can postulate a possible terminal value for bitcoin.  If the price continues to rise $200 per million users, bitcoin would become fairly valued at $700,000.
At that level bitcoin would be worth $15 trillion – or 15% of global M2.  That seems totally doable.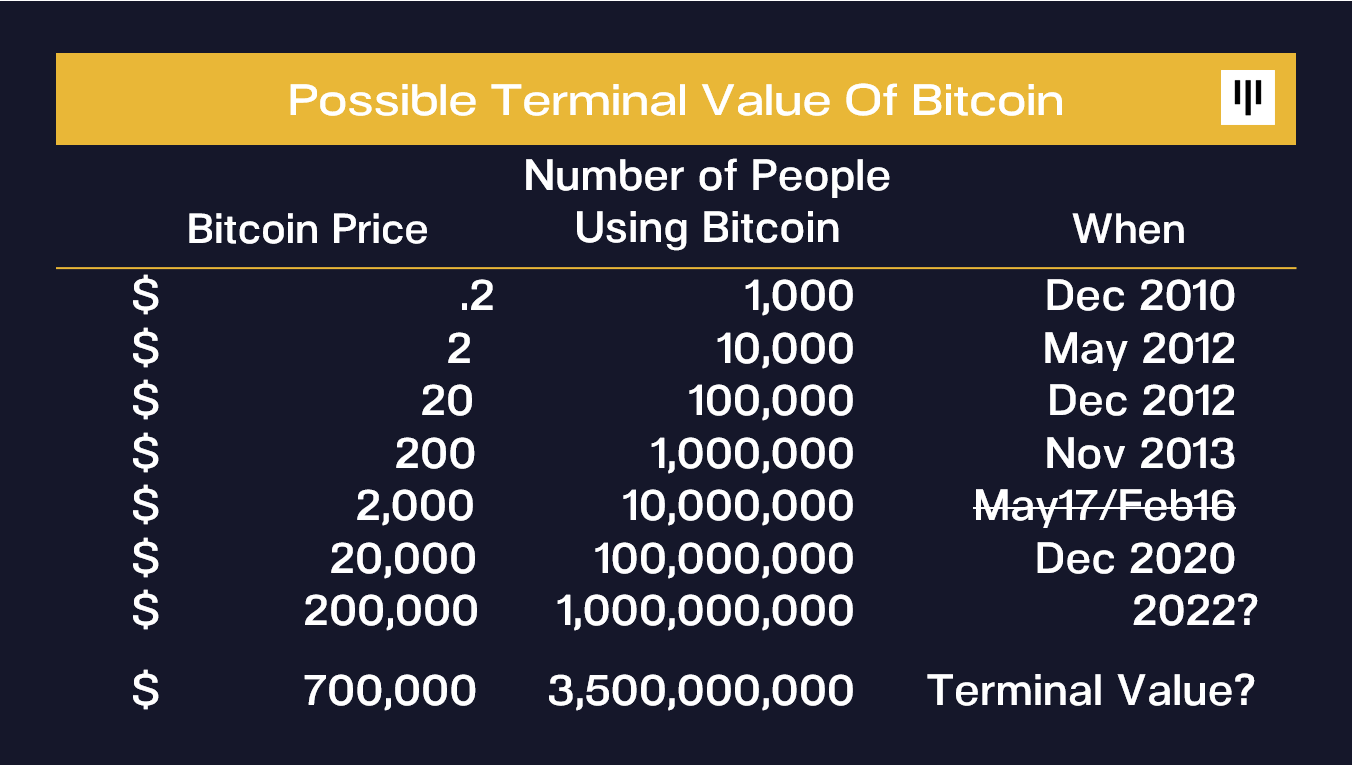 NOT JUST BITCOIN
So, that's bitcoin – but bitcoin is just one brand of blockchain.  There are many other blockchains which have important, and often quite different, use cases.   
When an investor asks, "Should I buy bitcoin?", I answer YES.  When they ask if they should buy other tokens, I say YES.  The critical first step is to get off zero – get exposure to something in blockchain.  
Bitcoin is a solid proxy for the blockchain disruption.  However, it's not everything.  Bitcoin is about half of the market cap of the industry – but possibly less than half of the future opportunity. 
In previous letters we've made the case that bitcoin will probably go up a lot, and that ethereum could go up more, and polkadot even more than that.  And that we're most bullish on DeFi and other projects built on top of ethereum and polkadot.  
Some of this is just small caps out-performing mega-caps in a bull market.  However, most of it is for underlying reasons which we have discussed elsewhere.
We wrote in our January investor letter that the market cap of bitcoin plus ethereum was 84% of the overall market.  All 5,000 other projects combined were only 16%.
It's now happening.  It's easiest to show in some graphics.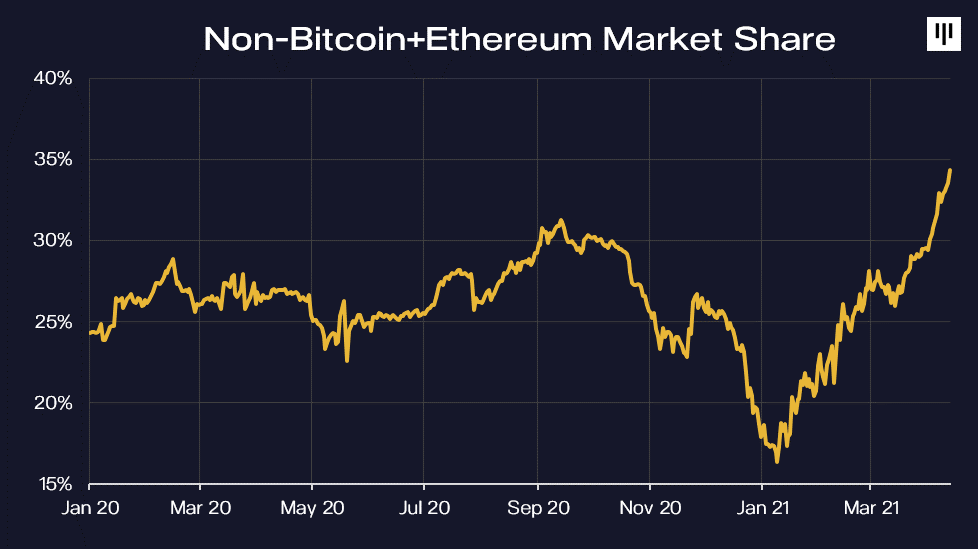 The non-bitcoin+ethereum market share has more than doubled, from 16% to 34%, in the past three months.  
Watch this space.  That's where the largest gains are likely to be.
Pantera Liquid Token fund is currently long 70% non-bitcoin+ethereum.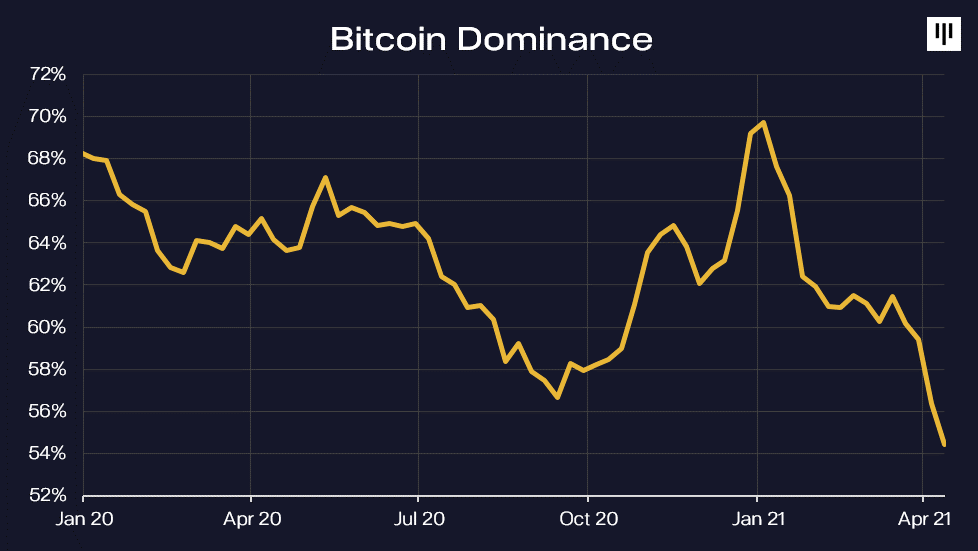 Although it's rallying "like crazy", bitcoin's share of total market capitalization ("bitcoin dominance") is falling.  It's a nice asset class to be in when something which is up 700% is losing market share.
ALPHA GENERATION
This raises a very important point for institutional investors:  getting long bitcoin or bitcoin and ethereum is a great first step.  However, active management can add tremendous alpha.
The power of active management is emerging in the returns of our hedge funds.  Actively managed funds are out-performing even the remarkable performance of bitcoin. 

Pantera hedge funds accept new investments at the end of each month.  Pantera Bitcoin Fund accepts new investors on any U.S. banking day.  All Pantera funds are now open to non-U.S. investors. 
Click on a fund below for more information.
Please visit our website to learn more about Pantera and our offerings.  If you need additional assistance, please contact our Capital Formation team at +1.650.854.7000 or by email at ir@panteracapital.com.

PANTERA HALVING STOCK-TO-FLOW PREDICTION
Bitcoin money supply is fixed (100% Quantitative Easing-free).  Every ten minutes a fixed amount of bitcoin are issued.  Every four years that "block reward" is cut in half – until 2140, when the Zeno's paradox ceases at 21 million bitcoins.  When bitcoin first came out, it was 50 BTC every ten minutes, then 25 BTC, 12.5 BTC, and last May the reward was cut again, to 6.25.  Historically, halvings have coincided with massive increases in price as the supply shortage is equilibrated at much higher prices.
In our April 2020 investor letter, we projected that bitcoin could $62,968 this week.  It just did.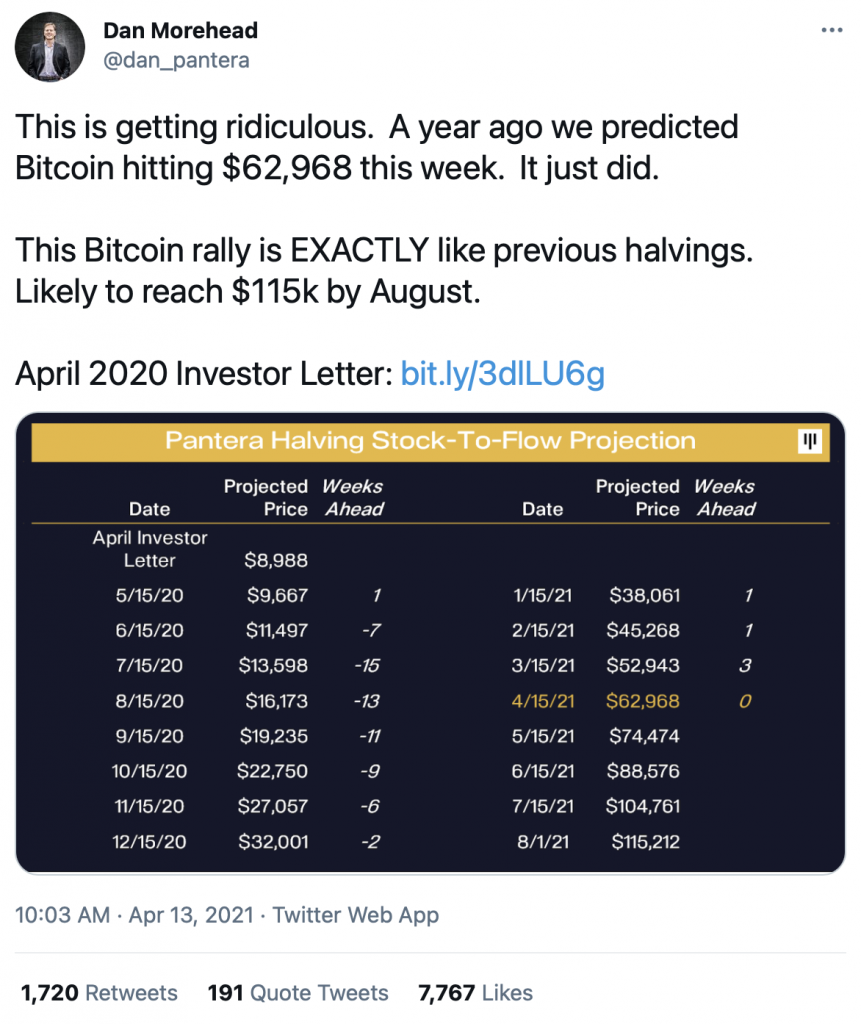 LAUNCHING OFFSHORE LIQUID TOKEN FUND
We are excited to announce that Pantera Liquid Token Fund is now available for non-U.S. investors.  The strategy is identical to the onshore version: 
Pantera Liquid Token Fund is a multi-strategy vehicle that typically invests in 10-15 liquid tokens at any point in time.  The Fund is predominantly driven by a discretionary strategy focused on decentralized finance and adjacent assets.  Currently 25% of the Fund uses a quantitative strategy, trading on an hourly frequency.  
If you are interested in this product offering, please reach out to our investor relations team at ir@panteracapital.com for further information.

NFT
NFTs are exploding into mainstream consciousness.  There was even a skit on SNL recently explaining the concept to a parody of Eminem's Without Me.  Kate McKinnon plays Treasury Secretary Janet Yellen.  You can watch here.
Non-Fungible Tokens are a type of cryptographic tool that can be used to create unique digital items.  The non-fungible part means that they cannot be replaced with an identical item and are provably scarce.  This is a huge change from other digital media which can be copied infinitely at little to no cost.
The flagship use case for NFTs is digital art and collectibles. Creators can tokenize and sign digital art, and then sell them as NFTs on various digital marketplaces. Digital art collectors can purchase and exchange these works on marketplaces like MakersPlace, OpenSea, SuperRare, Rarible, and more, cultivating an active digital art community within crypto.
2021 will see continued growth in the NFT space, thanks to ever-growing mainstream interest in crypto, better developer platforms and NFT tooling, and thriving digital creator communities. Already in February 2021 alone, NFT transactions reached $340 million, more than the entirety of transaction volume in 2020. With the growing importance of our digital identity (and consequently, digital ownership), NFTs will change the way that we conceive and exchange value on the Internet.

JOHN JONSON JOINS PANTERA AS HEAD OF CAPITAL FORMATION
We are pleased to announce that John Jonson has joined Pantera as Head of Capital Formation.  In this role, John will have a broad scope of responsibilities, including institutional capital raising, investor relations, and contributing to strategic initiatives.
John's career has spanned the family office, institutional, and venture capital worlds across the disciplines of fundraising, operations, and investments.  He has managed the high-quality scaling of multiple organizations during their periods of accelerated growth in both Silicon Valley and New York.
John most recently was a Managing Director at Lyrical Partners from 2013 to 2021, where he led the single and multi-family office, university endowment, and institutional capital formation efforts, and also helped source, due diligence, and manage the firm's venture investments. John can be reached at  john@panteracapital.com.

COINBASE
We want to congratulate our portfolio company Coinbase on their Direct Public Offering.  In a broader sense it's like the Initial Public Offering of the blockchain era.
It's getting interesting.


"Put the alternative back in Alternatives"
---
CONFERENCE CALLS
Our investment team hosts monthly conference calls to help educate the community on blockchain.  The team discusses important developments that are happening within the industry, and will often invite founders and CEOs of leading blockchain companies to participate in panel discussions.  Below is a list of upcoming calls for which you can register for via this link.
Thematic Call: The Case for Blockchain Investment :: Tuesday, April 20, 2021 9:00am PDT / 18:00 CEST / 12:00am China Standard Time (Apr 21st)

Thematic Call: The Case for Blockchain Investment :: Tuesday, May 18, 2021 9:00am PDT / 18:00 CEST / 12:00am China Standard Time (May 19th)
---
PORTFOLIO COMPANY UPDATES
Staked Launches Ethereum Trust with Staking Rewards 
Staked provides node staking infrastructure to help professional investors earn yield from proof-of-stake blockchains and DeFi-based returns.  The team recently launched the Staked ETH Trust, the first investment vehicle to offer exposure to Ether, as well as staking rewards of ~8% annually.  As a leading provider of ETH 2.0 staking services, Staked handles the technical complexity of maintaining network uptime and securing staking rewards on behalf of accredited investors.  Pantera led Staked's $4.5 million seed round in January 2019.
Abra Launches Crypto Lending and Borrowing Service with 10% Interest
Abra is an all-in-one cryptocurrency trading platform and wallet available in over 150 countries with fiat-to-crypto onboarding.  The company recently launched a lending and borrowing service for users to earn up to 10% interest on select digital assets, as well as borrow US dollars against their cryptocurrency holdings.  The features are available on Abra's mobile app globally and in 35 US states, with plans to launch in additional states in the near future.  Pantera invested in Abra's $14 million Series A round in 2015.
Amber Group Reaches $1 Billion AUM
Amber Group is a Hong Kong-based full-service crypto finance platform providing trading and asset management services to institutional and retail customers.  Amber currently serves over 100,000 users, having doubled between January and February 2021, including over 500 institutional clients.  The company's retail-facing mobile app gained $400 million in assets in the first two months of 2021.  Across its suite of investment and trading products, Amber currently serves over $1 billion in assets.  Pantera previously led Amber Group's $28 million Series A round in Feb 2020.