CENTRALIZED FINANCE VS. DECENTRALIZED FINANCE
The grip centralized finance companies have on the world's population is waning.  Power being devolved to the people is evident in the rise of decentralized finance.  Ethereum – the largest platform for decentralized finance – is now worth more than every bank except JP Morgan Chase.  At its recent rate of growth Ethereum will overtake JP Morgan Chase by the end of the month.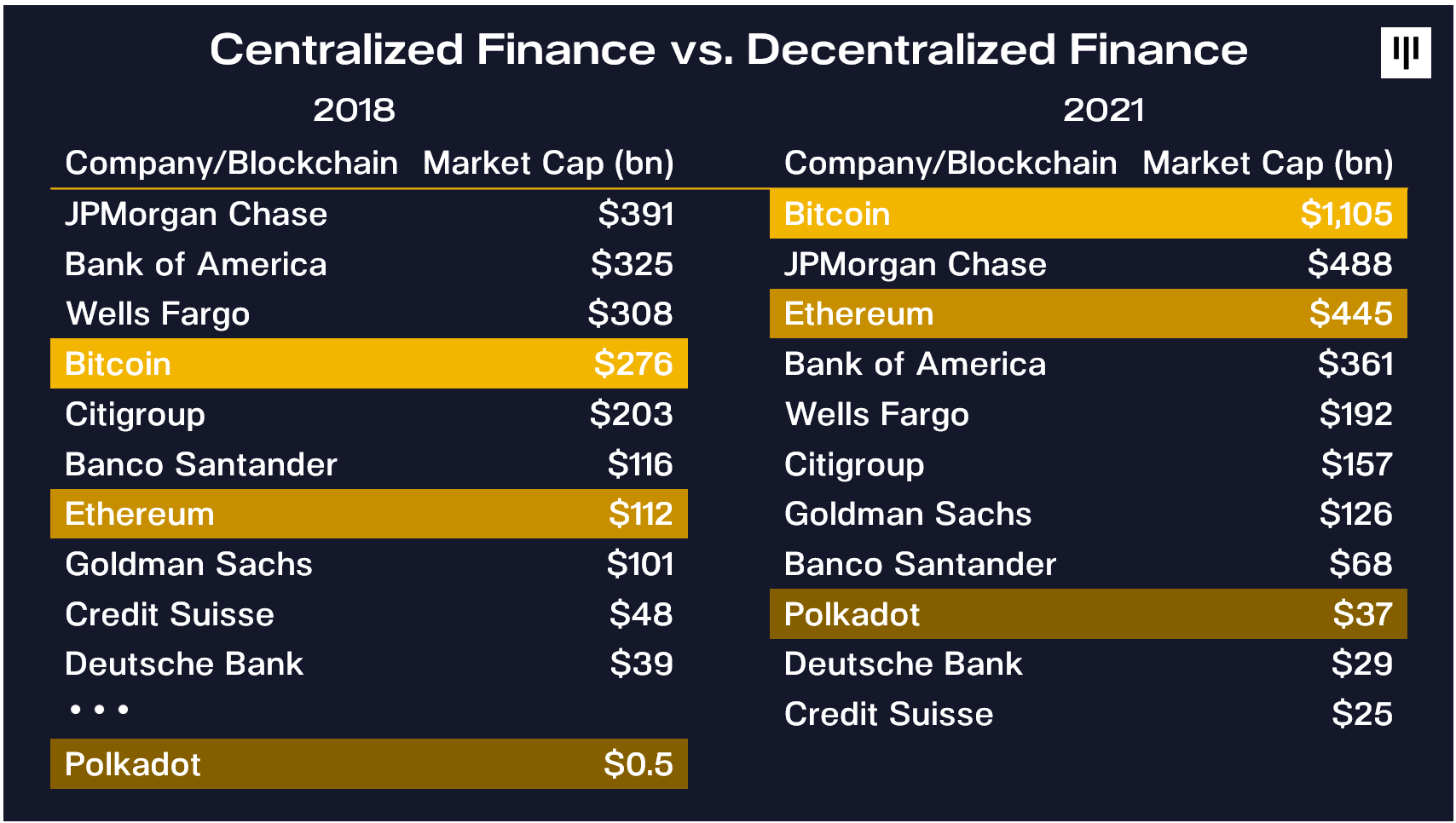 ---
WALL ST. BITCOIN SKEPTICS
I try not to read Wall St. research on Bitcoin.  Most of it is so reactionary and nonsensical that it makes my head hurt. 
In doing a quick survey of what's been written on Bitcoin ESG, I came across one of my favorite arguments ever against Bitcoin.  The title of a 20-page research report from a major Wall St. firm:
No Good Reason To Own Bitcoin Unless You See Prices Going Up
Seriously lol.  
However, I do disagree on one level:  it makes great cocktail party conversation.  Like, way better than being long some obscure yield curve spread or something.  There's definitely a vanity reason to be long Bitcoin.  
Let's assume the writer was ignoring the incredible conversational potential of Bitcoin and was sticking strictly to financial reasons.  Then, isn't that the ultimate truism?  Why else would one own an asset — unless they believed the price would go up?
I'll admit it straight out:  One of my reasons for owning bitcoin is, in fact, that I think prices will go up.  The other one is I think it will dramatically improve the lives of 3.5 billion people.
I'm staying long blockchain until this super-negative stuff stops being written.
---
"ALL-IN-ONE" BLOCKCHAIN FUND
That leads to the next question:  How should one get long blockchain?
Investors often ask us where value will accrue in blockchain – whether it's venture capital investing in companies like Coinbase and Circle, or investing in the underlying tokens before they launch, or capturing alpha in the secondary markets.  We think the answer is:  all three.
Our family of funds structure is somewhat a function of our history:  launching the first of each type of blockchain fund – we ended up with four separate funds.  
They cover the entire spectrum of blockchain assets.  They are mutually exclusive, so any asset (except bitcoin) can only go in one fund.  That's great for those with specific interests or liquidity requirements.  
Many investors view blockchain as an asset class and would prefer to have a manager allocate amongst the various assets.  This compelled us to create Pantera Blockchain Fund, a new wrapper for the entire spectrum of blockchain assets.
It will have three main buckets of risk.  Pantera Blockchain Fund will continue to invest in venture, investing in private companies that are using blockchain to do something better, faster, and cheaper.  When Venture Fund III is fully invested this summer, all new venture deals will go in Pantera Blockchain Fund.
We'll be investing in early stage tokens.  The investment process is very similar to early stage venture, meeting protocol developers when they have the genesis of an idea, investing in the project and then trying to help them grow over the three or four years it takes to become public, and to get out into the markets.  A minority of the fund will be investing in liquid tokens.  But, as we talk about below – not just Bitcoin or Ethereum.  
Protocol tokens are obviously a huge part of the value in this disruption.  It will allow us to get exposure to the space and balance that against the opportunities in venture.
One of the challenges for institutions is getting their capital put to work and in a typical venture fund it takes three or four years in the investment period to get fully invested.  Here we'll call 25% of the capital upfront and equal quarterly drawdowns for the first two and a half years.
I'm happy to share that 28% of our LPs are already in multiple Pantera funds.  Many have gotten ahead of us and created their own version of the Blockchain Fund by investing in all of our funds.
Our focus continues to be finding and growing the most promising ideas in the blockchain space, and continuing to generate outsized returns for our current and future investors.  
We believe this new Fund is the most efficient way to get exposure to blockchain.  It is a continuation of the strategies we have employed for eight years across our eight venture and hedge funds which have collectively generated an average IRR of 128%.

As in previous Pantera venture funds, a Co-Investment Class will be offered to Limited Partners of $15mm or more.  Investors will have the option to collectively co-invest at least 10% of each venture and early-stage token deal.
The summary of terms can be found here.
If you are interested in exploring this opportunity further, please email ir@panteracapital.com.  
Also, please join us for Pantera Blockchain Fund call at 12pm EDT on May 11th.  You can register here.
---
ETHEREUM
We've written extensively on being bullish Ethereum, Polkadot, and DeFi tokens relative to other blockchains.  This is a simple way to view the change happening in the markets.  The ratio of ethereum's market cap to Bitcoin's market cap has doubled in the last year.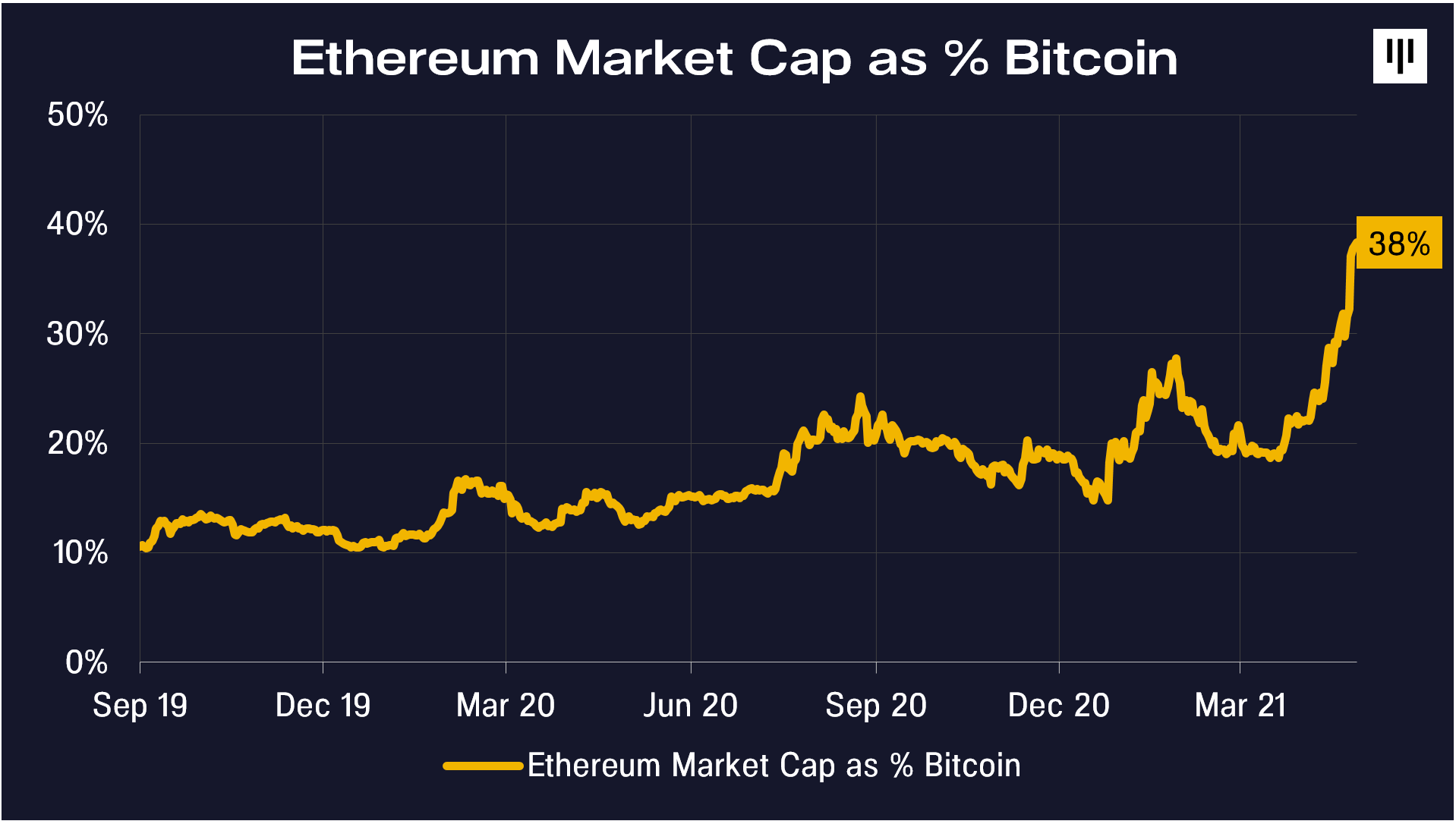 We think this is the beginning of the market re-rating Ethereum for EIP 1559 and Proof of Stake.  These two changes will lead to ethereum being a deflationary asset where each block negative ethereum are issued.  This means ETH will be a more deflationary asset than bitcoin. 
Ethereum has a massive ecosystem of decentralized finance use cases with rapidly growing adoption.  Combine these two dynamics and we think Ethereum will keep gaining market share relative to Bitcoin.
---
ALPHA GENERATION / ACTIVE MANAGEMENT
This raises a very important point for institutional investors:  getting long Bitcoin or Bitcoin and Ethereum is a great first step.  However, active management can add tremendous alpha.  Bitcoin has been roughly flat for the past two months while other projects rally strongly.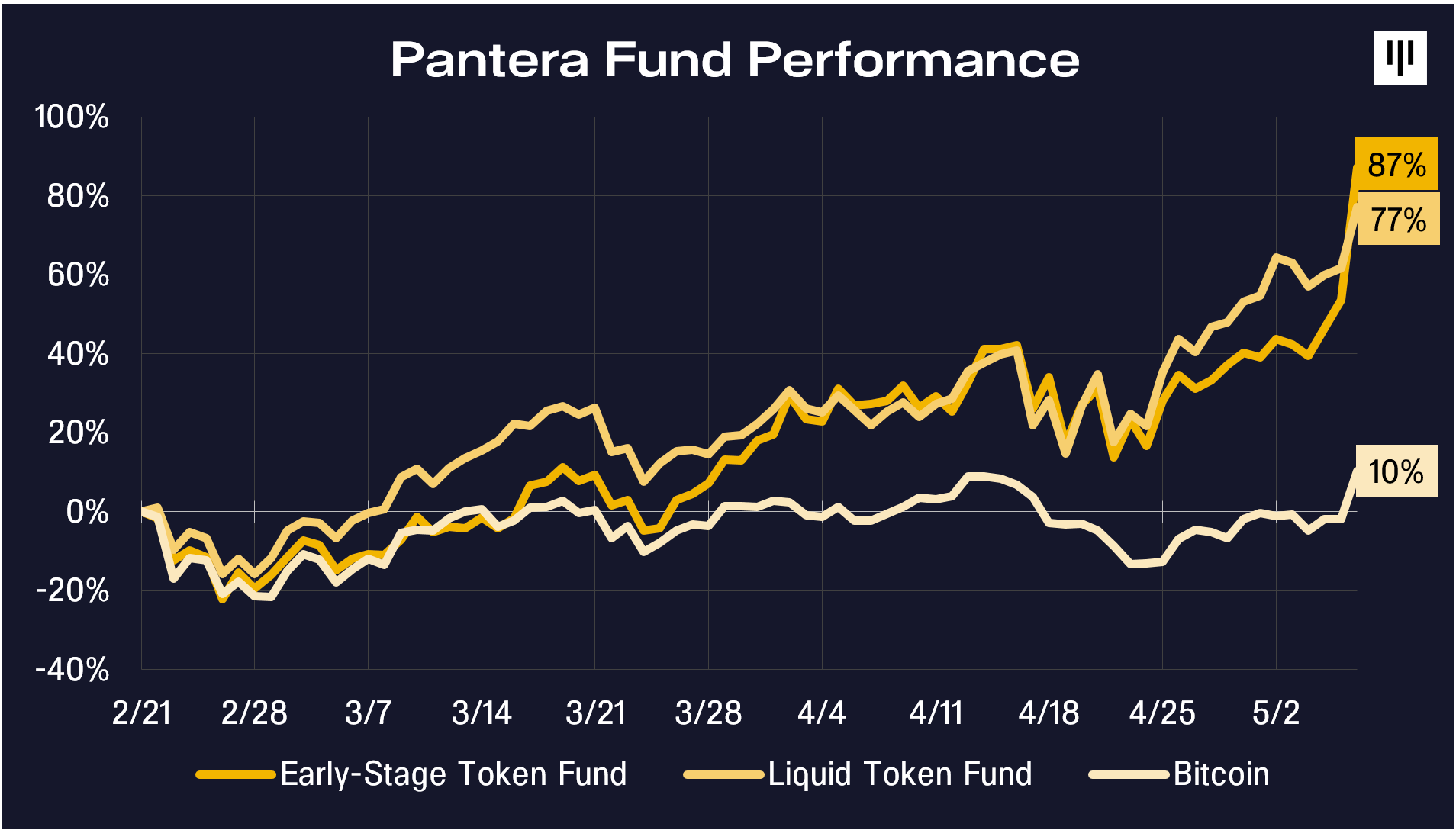 Click on a fund below for more information.
Pantera hedge funds accept new investments at the end of each month and Pantera Bitcoin Fund accepts new investors on any U.S. banking day.  None of our hedge funds have lockups.  All Pantera funds are now open to non-U.S. investors. 
Please visit our website to learn more about Pantera and our offerings.  If you need additional assistance, please contact our Capital Formation team at +1.650.854.7000 or by email at ir@panteracapital.com.
---
LAUNCHING OFFSHORE LIQUID TOKEN FUND
Pantera Liquid Token Fund is now available for non-U.S. investors.  The strategy is identical to the onshore version: 
Pantera Liquid Token Fund is a multi-strategy vehicle that typically invests in 10-15 liquid tokens at any point in time.  The Fund is predominantly driven by a discretionary strategy focused on decentralized finance and adjacent assets.  The Fund uses a quantitative strategy, trading on an hourly frequency.  This typically represents 10-25% of the fund's risk.
If you are interested in this product offering, please reach out to our investor relations team at ir@panteracapital.com for further information.
---
BITCOIN CURRENTLY AT FAIR VALUE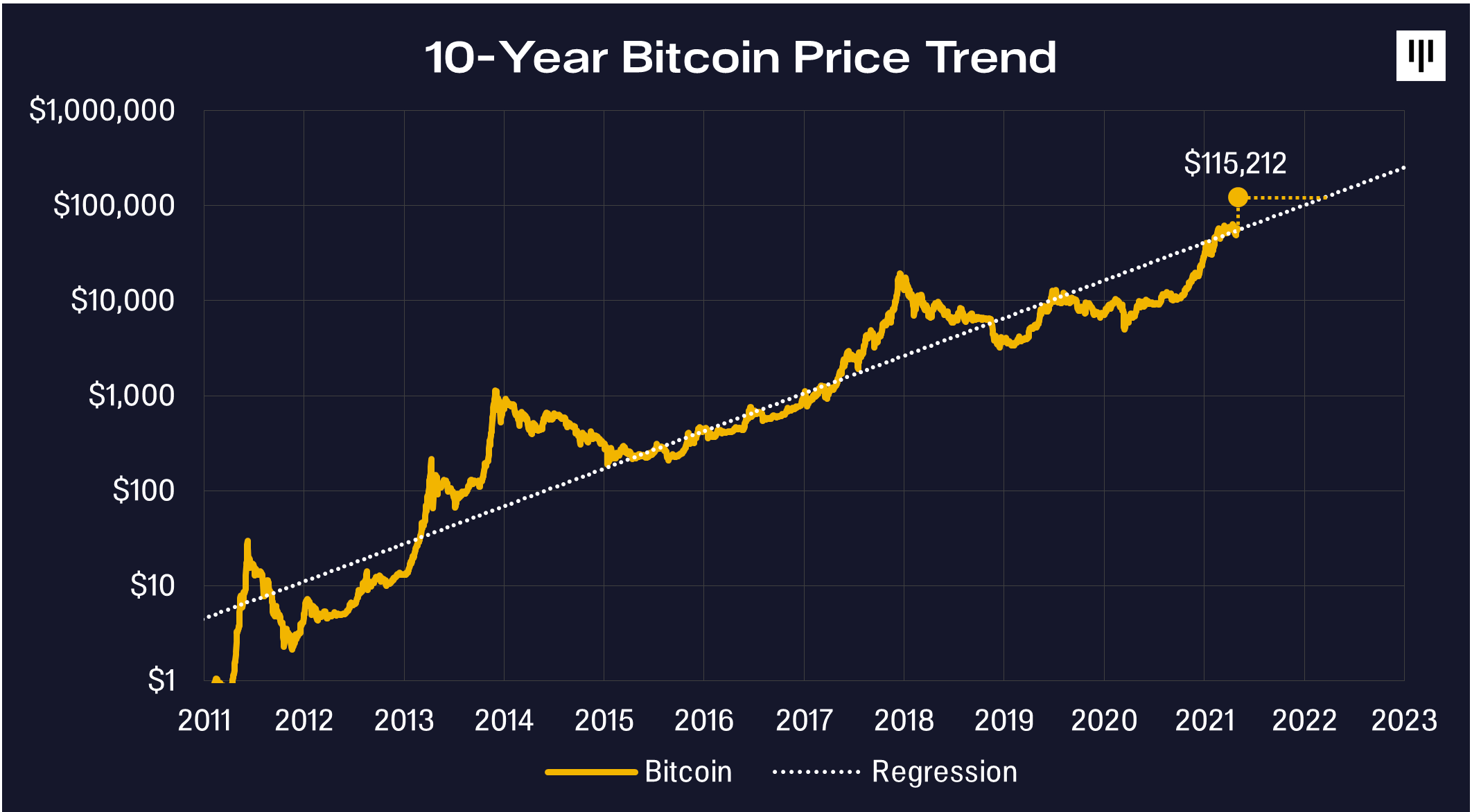 Disruptive technologies – like Apple, Amazon, and Bitcoin look crazy when you graph them in the standard format.  However, when you graph them exponentially their steady growth becomes apparent.  Bitcoin has been remarkably steady in having a compound annual growth rate of 230% — over ten years.  There've been a few bubbles…a few bursts…but generally it's been consistent.  The 10-year regression value for bitcoin today is $55,350.96 – which is exactly where it is.
So, when investors ask if now is a good time to buy – it's about fair value.  There have been some cheaper times to enter the market.  There will undoubtedly be some more expensive times.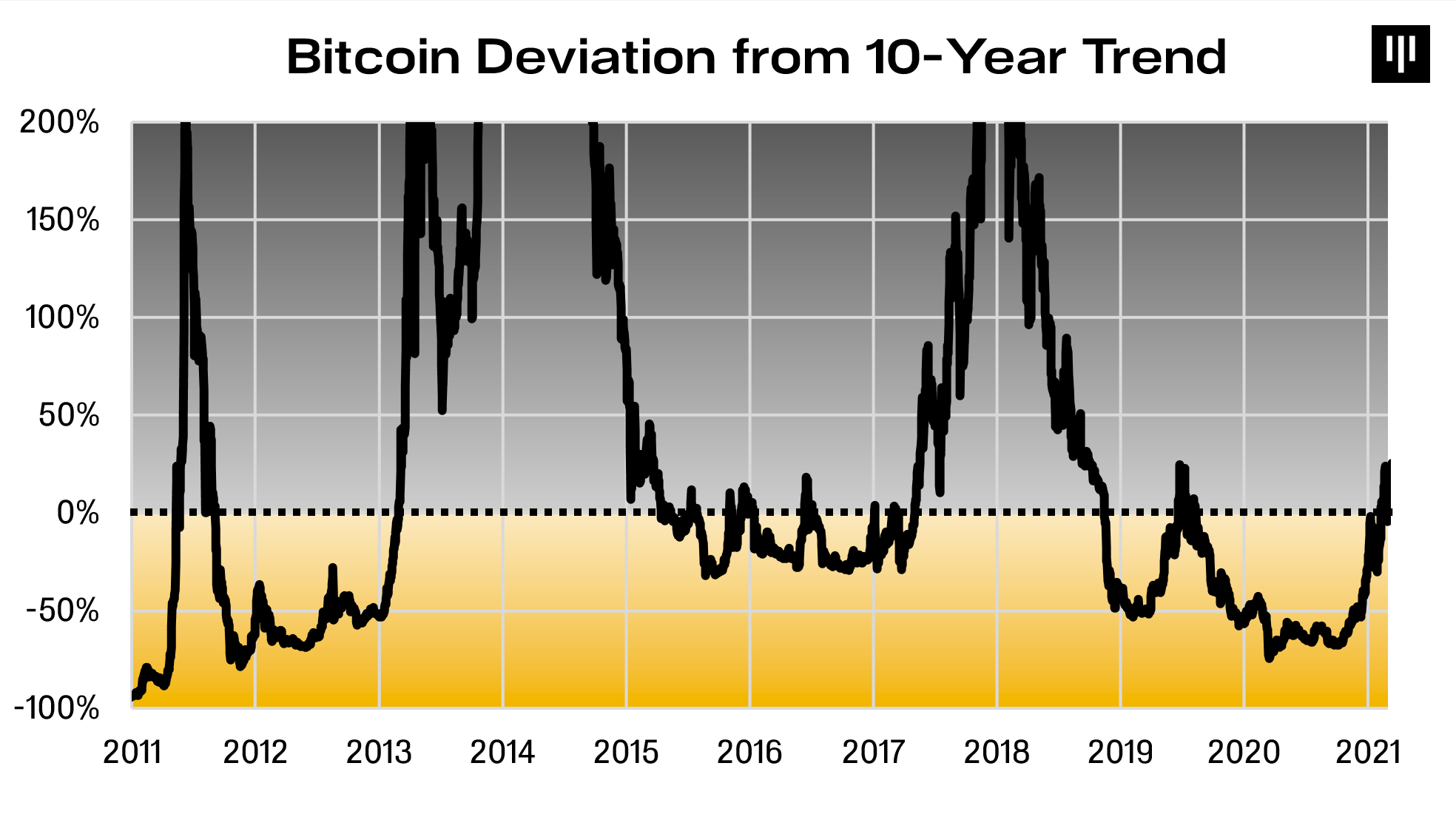 Fun Fact
In 2013, Bitcoin peaked 1,678% above fair value against the current regression model.  The 2017 peak's premium was 667%, 60% lower.  This occurred 1,477 days later.  If the same amount of time occurred between that peak and the next and the premium fell by 60% again, Bitcoin would hit $370,554 on New Year's Day, 2022.   
This is not a prediction.  Just a fun perspective.
In our April 2020 investor letter we did predict that the halving of Bitcoin supply would drive the price to $115,212 in August 2021.  As we wrote last month, the market is on pace for that to happen.  If it happened today, it would only be a 78th percentile event.  If it took longer, the natural trend growth would hit that level February 20, 2022.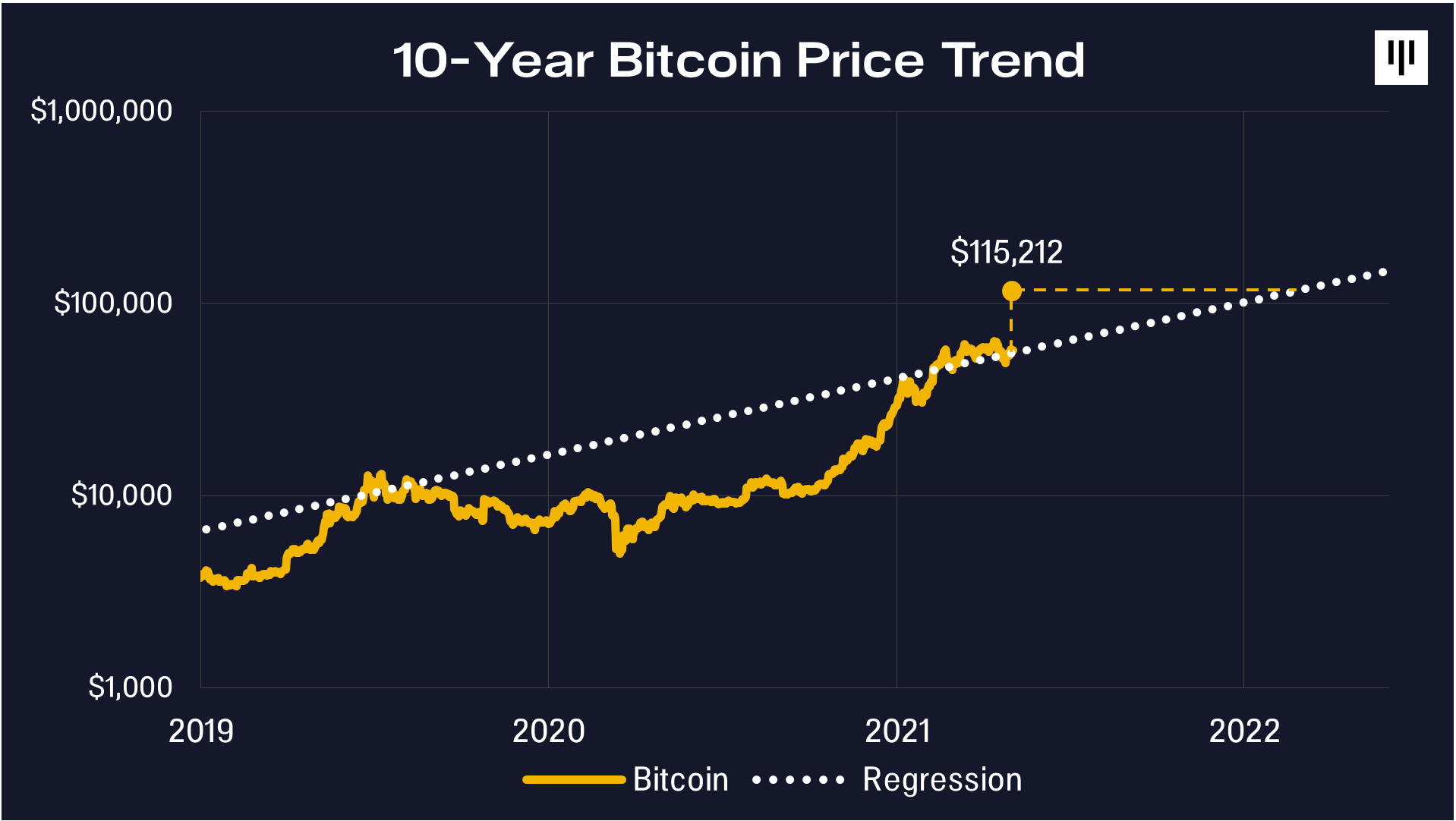 ---
PANTERA BLOCKCHAIN SUMMIT 2021
Pantera Blockchain Summit was the sixth in a series of gatherings we've hosted since 2013 – bringing together some of the brightest minds in the cryptocurrency community – programmers, regulators, lawyers, entrepreneurs, investors.
The content is available in this link:

Day One of the Summit featured discussions on cryptocurrency regulation from the regulator's perspective.  SEC Commissioner Hester Peirce spoke eloquently about the value propositions of digital currencies and the implications they have on financial markets. 
"There are a lot of benefits that can happen if we expand the reach of our capital markets.  And this is something that I think the decentralized model can do."
— Hester Peirce, SEC Commissioner
Pantera Blockchain Summit
Watch the recording here.
Binance CEO Brian Brooks (former Acting Comptroller of the Currency) and Karen Ubell, Partner at Goodwin, sat down with Joey Krug to discuss their regulatory outlook on digital assets.
Day Two featured interesting conversations with many founders and CEOs of Pantera portfolio companies.  Greg Tusar, VP of Institutional Products at Coinbase, had a fireside chat discussing his journey co-founding Tagomi (acquired by Coinbase), and building institutional-grade services in the crypto ecosystem.
"In the past year, we've seen macro investors moving from 'hey I'm going to do this from my PA' to 'hey we can put client money in here' and so that was a seminal moment mid-last year."
— Greg Tusar, VP of Institutional Products at Coinbase
Pantera Blockchain Summit
Alchemy co-founders Nikil Viswanathan and Joe Lau sat down with Paul Veradittakit to share their perspectives creating one of the leading infrastructure projects in the space.  You can watch the full video here.
The final day consisted of more conversations with leading founders and CEOs in the space with discussions on blockchain scalability, Web 3.0, payments, and more.
Check out the full list of recordings here.
---
A TRILLION HERE, A TRILLION THERE
"We're going to be proposing an entire package.  The price tag will be high.  It will be in the trillions of dollars."
— President Biden, January 8, 2021
 "The proposed $1.52 trillion in spending on discretionary programs would significantly bolster education, health research and fighting climate chance.  It comes on top of Mr. Biden's $1.9 trillion stimulus package and a separate plan to spend $2.3 trillion on the nation's infrastructure."
 — Amazon News, April 9, 2021
 "Mr. Biden may have Mr. Trump, in part, to thank for that shift.  The pandemic aid bills he signed last year, with bipartisan support in Congress, might have helped reset the public's views of Washington's spending limits; "trillion" was a red line of sorts under Mr. Obama, but no longer."
— NY Times, April 29, 2021
The U.S. government is now throwing around trillions like chocolates – like each trillion is not five grand per adult in the country.  As Senator Dirksen said three orders of magnitude ago:
"A billion here, a billion there, and pretty soon you're talking real money." 
— Senator Everett Dirksen, 1954
$5 trillion in less than two years is a ton of paper money.  (In $100 bills it would actually weigh 50,000 tonnes according to https://goodcalculators.com/money-weight-calculator.)  As recently as 2007, the accumulated debt of 231 years of government was only $9 trillion.  
Even once the pandemic is behind us, the Congressional Budget Office estimates that U.S. budget deficits will continue to exceed a trillion every year for at least the next ten years. 
Stay long cryptocurrencies.
---
THE PRICE OF PAPER MONEY
It seems like the price of everything is surging up.  At first blush, this seems odd during a worldwide financial crisis.  A better perspective is that the value of most things is relatively stable – it's just the value of paper money that is moving.  
To help visualize what Quantitative Easing is doing to the price of the US dollar we've plotted the value of the US dollar – as quoted in terms of things that cannot be quantitatively eased:
| | | |
| --- | --- | --- |
| Per bitcoin | Board feet of lumber | Shares of the S&P 500 |
| Sheets of copper | Bushels of oats | Barrels of oil |
| Ounces of gold | Grams of sugar |   |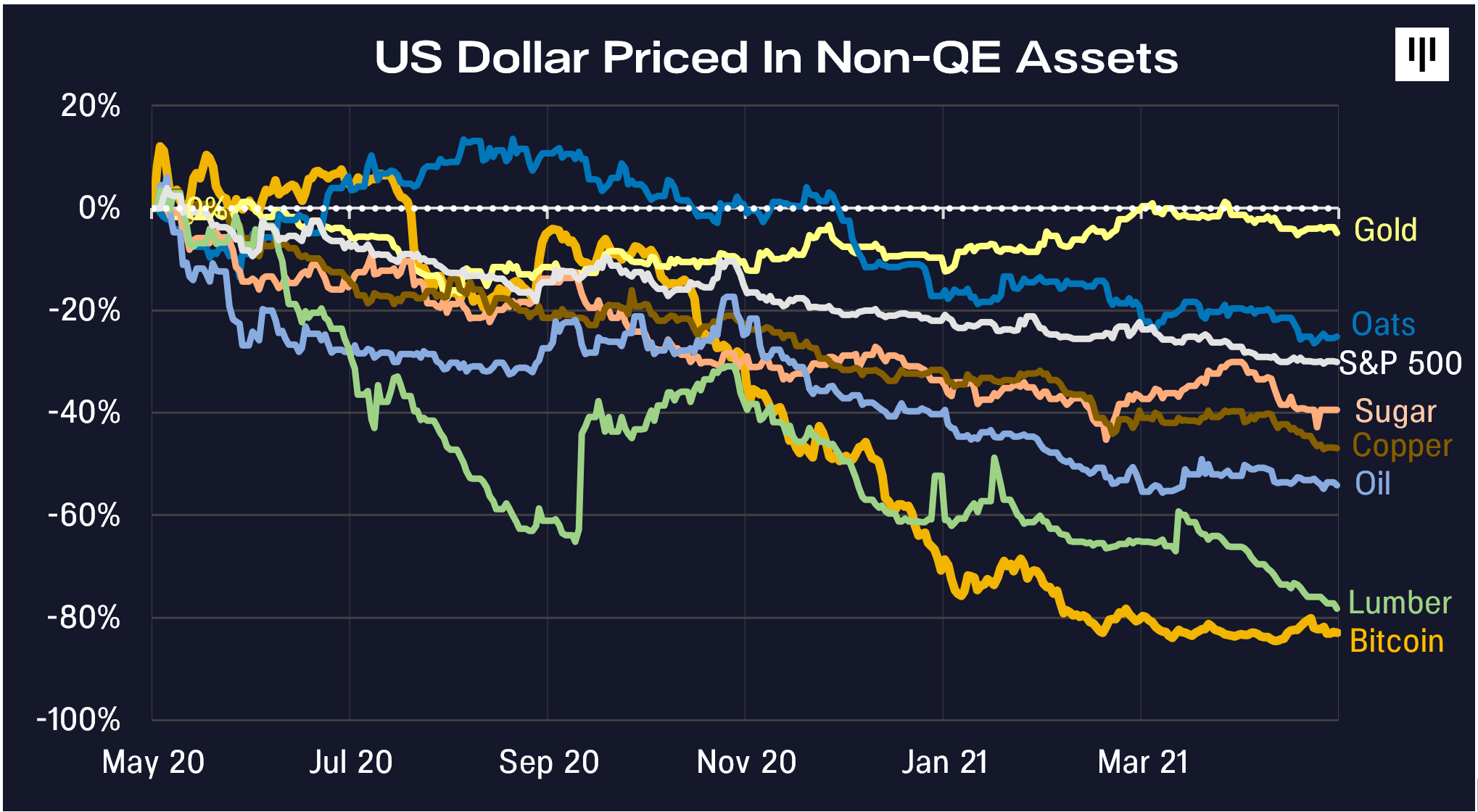 To many, the surprising one is gold.  It's the least-good performer.  Gold is losing massive market share to digital gold.
Maybe plywood futures are the new silver.
---
UPCOMING TRAVEL
Our (vaccinated) Capital Formation partners and occasionally investment team members will begin traveling to discuss the blockchain opportunity with our Limited Partners and potential investors.
We also have organized group lunches in some cities, should you want to meet other investors who share your interest in blockchain.  If you are interested in attending one of our group lunches, please fill out the form on this page and we will be in touch regarding availability.
Los Angeles, May 17-19

Austin, May 17-21

Houston, May 25-26

May 25, Group Lunch | 12pm

Dallas, June 2-3

June 3, Group Lunch | 12pm

Miami, June 2-5

Denver, June 8-9

June 9, Group Lunch | 12pm

Chicago, June 15-16

June 16, Group Lunch | 12pm

New York City, June 21-25

June 24, Group Lunch | 12pm

Austin, June 21-25

Los Angeles, June 29-30

June 30, Group Lunch | 12pm

Boston, July 7

Philadelphia, July 14

Washington DC, July 28-29

July 29, Group Lunch | 12pm

Amsterdam, September 20 and 23

         

London, September 21-22

             

Zurich, September 24

           
If you are interested in a meeting, please contact Pantera's Capital Formation team at +1-650-854-7000 or ir@panteracapital.com. 
---
It's getting interesting.

"Put the alternative back in Alternatives"
---
CONFERENCE CALLS
Our investment team hosts monthly conference calls to help educate the community on blockchain.  The team discusses important developments that are happening within the industry, and will often invite founders and CEOs of leading blockchain companies to participate in panel discussions.  Below is a list of upcoming calls for which you can register for via this link.
Pantera Blockchain Fund Launch Call :: Tuesday, May 11, 2021 9:00am PDT / 18:00 CEST / 12:00am China Standard Time (May 12th)
Thematic Call: The Case for Blockchain Investment :: Tuesday, May 18, 2021 9:00am PDT / 18:00 CEST / 12:00am China Standard Time (May 19th)
Pantera Blockchain Fund Launch Call :: Tuesday, June 8, 2021 9:00am PDT / 18:00 CEST / 12:00am China Standard Time (Jun 9th)
Thematic Call: The Case for Blockchain Investment :: Tuesday, June 15, 2021 9:00am PDT / 18:00 CEST / 12:00am China Standard Time (Jun 16th)
Pantera Blockchain Fund Launch Call :: Tuesday, July 13, 2021 9:00am PDT / 18:00 CEST / 12:00am China Standard Time (Jul 14th)
Thematic Call: The Case for Blockchain Investment :: Tuesday, July 20, 2021 9:00am PDT / 18:00 CEST / 12:00am China Standard Time (Jul 21st)
Pantera Liquid Token Fund Investor Call :: Tuesday, July 27, 2021 9:00am PDT / 18:00 CEST / 12:00am China Standard Time (Jul 28th)
Open only to Limited Partners of the fund.
Pantera Early-Stage Token Fund Ltd Investor Call :: Tuesday, August 3, 2021 7:00am PDT / 16:00 CEST / 10:00pm China Standard Time
Open only to Limited Partners of the fund.
Pantera Early-Stage Token Fund Ltd Investor Call :: Tuesday, August 3, 2021 9:00am PDT / 18:00 CEST / 12:00pm China Standard Time (Aug 4th)
Open only to Limited Partners of the fund.
---
PORTFOLIO COMPANY UPDATES
Investing in Notional Finance and Decentralized Fixed-Rate Lending
Notional Finance enables decentralized fixed-rate borrowing and lending on Ethereum.  The protocol has facilitated $10 million in loans since launching in January 2021.  The majority of today's crypto lending markets are floating-rate loans that shift based on real-time supply and demand.  In traditional debt capital markets, fixed-rate volumes are over 20 times larger than floating-rate volumes.  Notional's unique model allows users to borrow against their crypto holdings at predictable interest rates and meet their cash obligations, including one example of a user who paid off their mortgage with a Notional-enabled loan.  Pantera Capital led a $10 million Series A round for Notional Finance in April 2021.
Investing in Alchemy and Blockchain Developer Tools
Alchemy is the leading blockchain developer platform providing developers with the infrastructure and tools needed to create and run blockchain applications at scale.  Alchemy's infrastructure powers over $30 billion in transactions across every blockchain vertical, including exchanges, custodians, DeFi protocols, banks, and every major NFT platform.  The platform's role in the Web 3.0 developer stack is similar to that of Amazon Web Services for Web 2.0.  The company grew its revenues by 600% in 2020 and doubled its customer base in Q1 of 2021.  Alchemy raised $80 million at a $505 million valuation in a Series B round led by Coatue and Addition Ventures in April 2021, with Pantera participating.  Pantera previously led Alchemy's $15 million Series A round in December 2019, with participation from Coinbase Ventures, SignalFire, Samsung, Stanford University and others.
Investing in Bitso and Crypto Access in Latin America 
Bitso is the leading regulated crypto exchange in Latin America, with over 2 million customers across Mexico, Argentina, and Brazil.  The company processed more than $1.2 billion in cross-border payments in 2020, driven by crypto-enabled remittance and B2B payment activity.  Bitso's transaction volumes in Q1 of 2021 exceeded its 2020 full-year volumes.  They plan to expand to new countries, including Colombia, where Bitso was recently authorized to join the country's regulatory sandbox and crypto pilot program.  Bitso raised $250 million at a $2.2 billion valuation in a Series C round led by Coatue and Tiger Global, with participation from Pantera, BOND, Valor Capital, and Paradigm.  Pantera previously invested in Bitso's $15 million Series A round in October 2019 and $62 million Series B round in December 2020.